Does Pandering (PC 266i(a)(2)) Require Trying to Find John?
When the pandering was made a crime as set forth in Penal Code § 266i(a)(2), no legislator probably foresaw the scheme that Eliberto Cruz Jacobo concocted using Facebook to appeal to seven females under age 18.
Why This Article Matters: To convict someone of pandering (Penal Code § 266i(a)(2)), the prosecution does not have to prove that defendant helped another find someone interested in engaging in prostitution, for example, a "John."

In Riverside County, from 2013 through 2015, Mr. Jacobo, a middle-aged man, used a Facebook account he created with a fictional female he named "Marlissa" to send friend requests to seven females under age 18, each of whom accepted Marlissa's friend request. As anyone who has used Facebook probably knows, Jacobo – using Marlissa as his cover – probably sent friend requests to more than just seven females. Marlissa's profile included photographs of a scantily-clad woman holding up money.
Once these other real females accepted Marlissa's friend request, Jacobo sent private messages to each minor (one being only 13 years old), encouraging them to become prostitutes. Four of them eventually agreed and Marlissa (actually Jacobo) arranged for each one to have a "date" with Jacobo in exchange for money. In one date, Jacobo picked up the girl from in front of her high school and took her directly to a motel nearby. In each "date," Jacobo took photographs and/or videos of the minors, had vaginal intercourse with them and performed other sexual acts with them.
Following a presentation on human trafficking at high school, two of the minors reported to their teachers their Facebook communications with Marlissa.

A subsequent investigation by the Riverside County Sheriff's Department sex crimes unit revealed that Jacobo had used the Marlissa Facebook persona to communicate with seven minors and encouraged each one to become a prostitute, asking each if they wanted to make "easy money" and explaining to each that they would work as an escort "taking care of a guy in bed." His laptop computer contained the photographs and videos he had taken of some of them.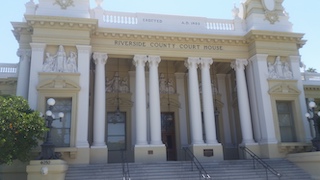 Riverside Superior Court
At trial in Riverside Superior Court, a jury found Jacobo guilty of 60 sex offenses, including aggravated human trafficking (Penal Code § 236.1(c)(2)), contacting a minor with intent to commit a sexual offense (Penal Code § 288.3(a)), sending harmful matter to a minor (Penal Code § 288.2(a)), oral copulation with a person under age 18 (former Penal Code § 288a(b)(1)), unlawful intercourse with a minor more than three years younger (Penal Code § 261.5(c)) and several other sex offenses. The trial court judge sentenced him to 105 years to life in state prison (seven consecutive 15-year terms for each of the seven human trafficking counts) and a determinate term of 14 years and 4 months.
Jacobo appealed the verdict and his sentence on several grounds to the Fourth Appellate District.
This article will only cover his argument that there was insufficient evidence to support his conviction for aggravated human trafficking (Penal Code § 236.1(c)(2)) on a pandering theory because the evidence showed he intended to be the minor's only client. In other words, he argued, the evidence did not show he intended to involve the minors with third parties, i.e. Johns, as Jacobo argued was implied as required under Penal Code § 266i(a)(2). The reader of this article may understand, at least intellectually, this argument because Jacobo only wanted the girls to have sex with him.
The Fourth Appellate District Court of Appeal, in People v. Eliberto Cruz Jacobo (2019 DJDAR 6224), disagreed. It began its analysis by noting that the gist of pandering is "persuading or encouraging another person to become a prostitute by recruiting someone to enter the prostitute trade for the first time." People v. Zambia (2011) 51 Cal.4th 965, 973.
In looking at the statutory language of 266i(a)(2), the appellate court concluded that no third party was referred to in the statute and that pandering can be committed when only two persons are involved – namely, the panderer and the victim who the panderer persuades or encourages to become a prostitute.

The fact that Jacobo really did not intend to become a pimp profiting from the prostitution services of the underage girls with third parties did not make his scheme any less than pandering because his Facebook messages invited the girls to become escorts with men, implying Johns.
We agree with the appellate court's opinion. We think what Jacobo did was truly sickening and are glad that the appellate court disagreed with his attempt to sugar-coat his conduct as anything less than truly human trafficking under a pandering theory.

The citation for the Fourth Appellate District Court ruling discussed above is People v. Eliberto Cruz Jacobo (4th App. Dist., 2019) 37 Cal.App.5th 32.

For more information about pimping and pandering, please click on the following articles:
Contact us.