Does Dissuading a Witness (PC 136.1) Apply to Future Crimes?
The Gist of this Article: Dissuading a witness (Penal Code § 136.1) applies to telling a witness not to report past crimes, not future crimes defendant may commit.

The following case is certain to spark the curiosity of many who have been represented by a public defender or have a distrust of public defenders due to some bad experience. However, the situation at issue is more common than one may think and this summary covers a broad range of conduct that we must navigate almost daily.
Octavio Joseph Reyes was a public defender in Solano County and represented Jacques Olivas in more than just one case. At the time, Reyes had been practicing for less than three years. In resolving one of the cases, Olivas was served with a protective order not to contact his mother, Evelyn Olivas, and not to have any uninvited contact with her. Such terms are commonplace.
Mr. Olivas then violated the terms of the restraining order by attempting to break into his mom's mobile home at a trailer park. Ms. Olivas called the police, who came to the scene and interviewed her. She explained that her son had been hanging around the trailer park two days ago, but she did not call the police because about two months earlier, she received a phone call from her son's district attorney, who she identified as Mr. Reyes, who told her not to call the police, but to call him instead.
The police became very curious about this and Ms. Olivas explained further that Reyes identified himself as "Jacques' district attorney" and provided her his e-mail address and telephone number. According to Ms. Olivas, Reyes also told her that Jacques was being released from jail that day.
She then sent Reyes an e-mail with a letter for Jacques and Reyes responded by saying he would review the letter and asked for the phone number of Darla Estes, with whom Jacques had a child. Evelyn provided that phone number.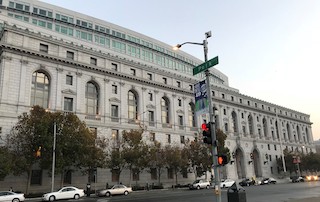 Court of Appeal First Appellate District San Francisco
The police then interviewed Estes, who told the police that she spoke with Reyes by phone and Reyes asked her to tell Jacques' mom that if Jacques violated the restraining order to call him and not the police.
The Solano County District Attorney's Office then filed a criminal complaint against Reyes, charging him with violating Penal Code § 136.1(b)(1) as a felony.
At the preliminary hearing for the case, the magistrate found probable cause to bind Reyes over for trial. Reyes then filed a motion to dismiss under Penal Code § 995, arguing that Penal Code § 136.1(b)(1), which prohibits an attempt to dissuade any victim of or witness to a crime from reporting that victimization to law enforcement, only referred to past crimes, not future crimes.
The trial court judge, the Honorable William Harrison, granted the 995 motion and the People appealed this order to the First Appellate District, arguing that 136.1(b)(1) should be interpreted broadly to encompass future crimes as well.
The People also appealed the dismissal of a second count for Reyes violating Penal Code § 137(b), which prohibits the attempted inducement of any person, "by the use of fraud" to "withhold" "true material information pertaining to a crime" from law enforcement. This article will not discuss the appellate court's ruling on whether Judge Harrison made an error in also dismissing this second count.

The First Appellate District affirmed the dismissal of the charge for Reyes' alleged violation of § 136.1(b)(1). It explained that the statutory language included the term "victimization," which refers to a past or completed crime in the context of the whole statute, but acknowledged that "the meaning of a statute may not be determined from a single word or sentence; the words must be construed in context, and provisions relating to the same subject matter must be harmonized to the extent possible." Lungren v. Deukmejian (1988) 45 Cal.3d 727, 735, citing Dyna-Med, Inc. v. Fair Employment & Housing Com. (1987) 43 Cal.3d 1379, 1386-1387.
We present this article not to encourage anyone to dissuade someone from reporting future crimes, as that can land someone in trouble under the more broadly worded Penal Code § 137(b), but to show that an unhappy family member of a client can be dangerous. Indeed, in the appellate court's description of events, it noted that Jacques' family did not like Reyes because he was reluctant to answer questions from the family and the mother of the client's baby (Ms. Estes). The appellate court suggested that the family may have fabricated the claims to reciprocate for what they perceived as less than great legal services, which is sad.
The citation for the First Appellate District Court ruling discussed above is People v. Octavio Joseph Reyes (1st App. Dist., 2020) 56 Cal. App. 5th 972, 271 Cal. Rptr. 3d 68.
For more information about dissuading and/or intimidating a witness, please click on the following articles: