Do You Need a Hearing Delayed for More Time to Prepare?
As the time for a hearing gets closer and closer, one often realizes what should have been done was not done. This is especially common among young attorneys and, with more experienced attorneys, this should be less common. What should one do when this takes place?
The Point of This Article: Asking the judge for more time to prepare can be tough to request, so doing so in the proper manner is critical. This article suggests one way that has worked for this attorney and turned an embarrassing situation into one that caused the judge to respect our legal work more, not less.

One certainly should do everything reasonable to prepare in the time remaining, but if one decides to seek a continuance from the judge, a good starting point for such a request is to state that the right to counsel (under the Sixth Amendment to the U.S. Constitution and Article I, § 15 of the California Constitution) includes the right to adequately prepare a defense. People v. Maddox (1967) 67 Cal.2d 647, 652, 63 Cal.Rptr. 371.

This right includes the right to prepare and argue motions and objections before, during and after trial. Cooper v. Superior Court (1961) 55 Cal.2d 291, 302, 10 Cal.Rptr. 842; People v. Sarazzawski (1945) 27 Cal.2d 7, 17, 161 P.2d 934; see also Penal Code § 1049 (5-day period to prepare for trial after plea). It also includes the right "not to be brought to trial too soon, i.e. without adequate opportunity for preparation of his defense." People v. Maddox (1967) 67 Cal.2d 647, 653, 63 Cal.Rptr. 371 (forcing defendant to go to trial in less than five days required by Penal Code § 1049 is a denial of due process).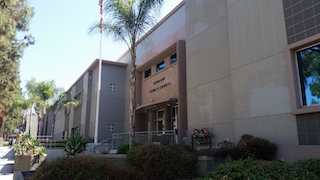 Burbank Courthouse
This right to a reasonable time to prepare applies equally to one representing oneself as to one represented by counsel. People v. McKenzie (1983) 34 Cal.3d 616, 194 Cal.Rptr. 462; People v. Maddox (1967) 67 Cal.2d 647, 653, 64 Cal.Rptr. 371.
It is important to note that new counsel to a case has the same right to a reasonable time to prepare as did previous counsel. People v. Simpson (1939) 31 Cal.App.2d 267, 88 P.2d 175. However, it is good to know that a judge can deny a request to continue trial to prepare for trial and a request to represent oneself if the court would have to continue trial close to the trial date. The basis would be that the request was untimely. People v. Windham (1977) 19 Cal.3d 121, 137 Cal.Rptr. 8; People v. Hill (1983) 148 Cal.App.3d 744, 757, 196 Cal.Rptr. 382.

An exception to this would be if defendant shows reasonable cause for the lateness of the request. People v. Hernandez (1985) 163 Cal.App.3d 645, 654, 209 Cal.Rptr.809 (defendant must show that the event causing the lateness of the request occurred recently and constitutes reasonable basis for dissatisfaction with present counsel's representation).

When counsel does request a continuance, he or she does not have to specify in great detail, other than in general terms, what counsel needs to do in the period of the continuance. This lack of detail is fundamental to preserve defendant's right against self-incrimination. See Prudhomme v. Superior Court (1970) 2 Cal.3d 320, 85 Cal.Rptr. 129. If the judge insists on more detailed information that seems to counsel to invade the attorney-client privilege or trial tactics, counsel should request an ex parte in camera hearing that is completely confidential. See, e.g., People v. Cruz (1978) 83 Cal.App.3d 308, 324, 147 Cal.Rptr. 740 (in camera hearing conducted to decide whether pro per defendant should be granted continuance); see also People v. Worthy (1980) 109 Cal.App.3d 514, 522, n2, 167 Cal.Rptr. 402 (similar procedure suggested for showing foundation for motion to appoint expert to assist defense).
In other words, one should be respectful and careful in seeking a continuance, but firm in requesting more time so as to defend oneself or one's client properly based on the status of the case.
For more information about court proceedings, please click on the following articles:
Defendant Is Guilty of Dissuading a Witness from Testifying When He Asks Victim to Settle Dispute Through Muslim Custom and Not Trial
Contact us.