Did the Prosecutor Threaten Perjury If Defendant Testifies?
Prosecutors in Orange County have a reputation for being bullies, being patronizing even to defense attorneys who have been practicing more years than the prosecutor is old, for failing to produce exculpatory discovery and refusing to plea bargain cases a Los Angeles County District Attorney would plea bargain without hesitation. The following summary of a reported Fourth Appellate District Court of Appeal decision concerns prosecutorial conduct that is consistent with this poor reputation.
The Reader's Digest Version: When a prosecutor threatens to prosecute a defendant for perjury if he or she testifies in a certain way (especially if such testimony is true), the verdict in the trial that proceeds is subject to reversal, as the following case summary exemplifies with an Orange County prosecutor.

The Fourth Appellate District Court quickly recognized the misuse of power exercised by the prosecutor in
People v. Steven Force
(2019 DJDAR 8471).
The facts of the case were rather sad. Steven Force had been abused sexually as a child. Once he became a teenager, he began committing sex crimes himself. In 1980, at age 21, he exposed himself in a playground to a young girl and then pressed his erect penis against her buttocks. When the girl tried to get away, he grabbed her arm and made her touch his penis. This crime resulted in his being committed to Patton State Hospital, where he was treated as a mentally disordered sex offender for two years.
In 1985, a few years after he was released, he forced an eight-year-old girl to orally copulate him in an elevator. He served three years in state prison for that offense.
After he was paroled, he got married in the hope of turning his life around, but ended up molesting his wife's young relatives and was sentenced to 20 years in state prison.
Mr. Force served about half of that sentence before being transferred to Coalinga State Hospital, where he was committed as a Sexually Violent Predator (SVP).
In 2010, he exposed himself to a nurse at Coalinga and in 2015, his petition for conditional release was denied.
In 2017, he filed another petition for conditional release, which the present ruling and this article concerns. At trial on the petition, Mr. Force waived a jury. He admitted he had a sexual disorder, but asked to be placed in a conditional release program called CONREP to treat his exhibitionism and pedophilia.
Two medical doctors, Dr. Malinek and Dr. Brown, felt Force could be safely maintained at CONREP. However, the director of CONREP and three other psychologist who evaluated Force did not consider him a suitable candidate for conditional release.
Before Force was to testify, the Orange County prosecutor spoke with Force's attorney about Force committing perjury if he testified. Defense counsel became worried that the prosecutor told her he "would charge" Force with perjury if he testified in a certain way.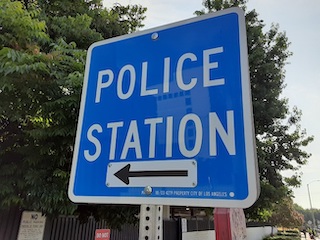 Sign to Police Station
This bothered the judge, Judge Steven D. Bromberg. He told the prosecutor, "You can't do that. There is a case that says you can't." The prosecutor then denied making this threat, but admitted he told defense counsel that Force "could be" charged with perjury.
According to defense counsel, the prosecutor told her, "I hope he [Force] testifies, because I can charge him with perjury. It would be great." Defense counsel said the prosecutor said this several times.
The judge then commented that it was okay if the prosecutor said "could" rather than "would". If he told defense counsel that Force "would" be charged, the prosecutor would be in big trouble and "might be working in a flower shop next week."
In the end, the judge astutely suggested it would be a good idea for the prosecutor to grant Force immunity to testify, which would make the intimidation issue go away. However, the prosecutor declined to accept the judge's suggestion and Force decided not to testify, fearful that he would possibly be charged with perjury.
Judge Bromberg then denied Force's request for conditional release and Force appealed to the Fourth Appellate District. Force argued that he was denied a fair trial because the prosecutor interfered with his constitutional right to testify by threatening to prosecute him with perjury before trial.
The Fourth Appellate District reversed and remanded the case back to the trial court. The appellate court strongly criticized the prosecutor's conduct, finding that he violated American Bar Association standards that prohibited a prosecutor from acting a way "to intimidate or unduly influence any witness" and should not discuss the potential criminal liability of any witness in a manner that was likely to "intimidate the witness . . . or to change the witness's decision about whether to provide information."
The citation for the Fourth Appellate District Court ruling discussed above is People v. Steven Force (4th App. Dist., 2019) 39 Cal.App.5th 506.

Contact us.