Did SB 1437 Unconstitutionally Amend Proposition 7?
Brief Synopsis: The California Legislature did not unconstitutionally amend Proposition 7, which concerns the penalties for murder, by passing Senate Bill 1437 in permitting resentencing of those convicted of felony murder or as an aider and abettor under the natural and probable consequences doctrine because 1437 addressed the mental state required for certain types of murder and Prop 7 only dealt with punishment for murder.

In 1996, Jose Alberto Lopez was charged in the Clara Shortridge Foltz criminal courts building in downtown Los Angeles with murder and the complaint alleged that he committed it for the benefit of and in association with Mara Salvatrucha, a well-known criminal street gang (Penal Code § 186.22(b)(1)), as well as three counts of attempted murder (Penal Code §§ 664/187).

In the underlying case, it was alleged that Lopez and another Mara Salvatrucha member were standing in front of an apartment building on Westmoreland Avenue in Los Angeles. He saw two other Mara Salvatrucha gang members drive up and speak to two people standing on the sidewalk. As these other two young men from Lopez's gang drove away someone from inside the apartment complex threw a bottle at their car.
The two young gang members stopped their car, got out and gave chase to the bottle thrower. Lopez joined in the chase, running into the apartment complex, where a fist fight broke out., which Lopez jointed in for a short time.

Lopez then left the building, but as he was exiting, he heard shots fired. He did not have a weapon; he did not shoot anyone and he did not know who had fired the shots.
After months of litigating that case, he finally entered an open plea to the judge and was sentenced to second-degree murder. The judge sentenced him to fifteen years to life. Then over the prosecutor's objection, the judge dismissed the three attempted murder charges and suspended the sentence and placed Lopez on ten years of probation.

In doing so, the judge noted Lopez's extreme youth – he was 18 at the time – and his minor role in the confrontation, as well as his minimal prior criminal history. The judge noted, "he was not the shooter, he was not the initiator. He was not involved in the robbery if there was one. He cooperated with police by providing names and identifying suspects.

Soon after sentencing, Lopez violated probation and on March 27, 1997, he was sent to prison for fifteen years to life.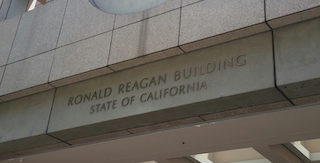 CA 2nd Appellate District LA
On January 2, 2019, he filed a petition for resentencing under Penal Code § 1170.95 (Senate Bill 1437). The People opposed the petition on grounds that SB 1437 is unconstitutional and Lopez does not qualify for resentencing under the new law in any event.
Judge Kathleen Kennedy, hearing the petition in downtown Los Angeles, denied the petition in agreeing that SB 1437 is unconstitutional because it impermissibly amended Propositions 7 and 115.
Lopez appealed the ruling to the Second Appellate District Court in downtown Los Angeles, just a few blocks away from the Clara Shortridge Foltz criminal courts building.

The Second Appellate District began its analysis by noting that "there is a strong presumption favoring the constitutionality of the Legislature's acts. Amwest Sur. Ins. Co. v. Wilson (1995) 11 Cal.4th 1243, 1253. Moreover, "courts will presume a statute is constitutional unless its unconstitutionality clearly, positively and unmistakably appears; all presumptions and intendments favor its validity." People v. Falsetta (1999) 21 Cal.4th 903, 912-913.
Turning to the lower court's ruling that SB 1437 violated Prop 7, the appellate court noted from the outset that Prop 7 dealt with the penalties for murder, increasing the minimum penalty for first-degree murder from life with the possibility of parole after seven years to a term of 25 years to life. The punishment for second-degree murder was increased to 15 years to life from a term of five, six or seven years. In addition, Prop 7 expanded the list of special circumstances under which an individual could be convicted of first-degree murder and would be subject to a sentence of death or life without the possibility of parole.

By contrast, SB 1437 did not address punishment at all, but instead amended the mental state requirements for murder, "which is perhaps as close as one might hope to come to a core criminal offense element." Apprendi v. New Jersey (2000) 530 U.S. 466, 493. The definition of a crime is distinct from the punishment for a crime. Punishment is not an element of a crime and SB 1437 did not alter the punishment for murder, but simply created a post-judgment procedure for obtaining relief from a felony-murder conviction or a murder under a natural and probable consequences theory which does not satisfy the elements for first- or second-degree murder because of the changes to Penal Code sections 188 and 189. Consequently, SB 1437 cannot be considered an amendment to Prop 7.
Turning to the prosecutor's argument that SB 1437 amended Prop 115, the Second Appellate District succinctly disagreed with Judge Kennedy, finding that SB 1437 did not augment or restrict the list of predicate felonies on which felony murder may be based, which is the pertinent subject matter of Prop 115.
The Second Appellate District therefore reversed the trial court's ruling on Lopez's petition and remanded the case for further analysis of whether Lopez qualified for relief under SB 1437 based on the facts of the case, which Judge Kennedy never reached.

The citation for the Second Appellate District Court ruling discussed above is People v. Jose Alberto Lopez (2d App. Dist., 2020) 51 Cal. App. 5th 589, 265 Cal. Rptr. 3d 265.

For more information about Senate Bill 1437, please click on the following articles: