Defendant Not Misled in Decision Not to Testify at Trial
Brief Synopsis: A judge's comment that if he issued a tentative ruling on a defense motion in limine "it might create an issue on appeal" was not misleading as defendant claimed when he then decided not to testify. The defendant's decision not to testify was knowing, intelligent and voluntary, so he was not misled by the judge. We think this was a twisted, strained argument that actually makes little sense because had he testified, the judge would have ruled on the motion in limine, which then would have been appealable and could have saved defendant from the death sentence he received.

In May 1999, Defendant Anh Te Duong shot and killed four other nightclub patrons from close range while they were sitting in a booth at the International Club in El Monte, a popular hangout for first generation Chinese.

The shooting was apparently gang-related, as Duong was a Lao Family gang member and was at the nightclub with several other Lao Family gang members. Prior to the shooting, there was an argument in the restroom apparently about a girl and then the shooting followed. The victims were apparently members of the Black Dragon gang. Duong shot between nine and thirteen shots at the victims.

After the shooting, Duong left the nightclub and the nightclub owner, fearing retaliation by the Lao Family gang, burned the surveillance video camera films so he would not be perceived as helping arrest and convict a Lao Family member.

Police did not arrest Duong for over two years after the shooting, but was charged with the four murders. He was arrested while playing basketball at a gym in Costa Mesa. The case against Duong was filed at the Criminal Courts Building (CCB) in downtown Los Angeles (this building has been renamed the Clara Shortridge Foltz building since then).
During trial, the prosecution presented evidence of defendant's involvement in four uncharged robbery-related shootings, two before and two after the murders at the International Club. One involved a robbery and shooting outside a supermarket in San Jose, wherein Duong apparently stole $300,000 the supermarket manager was bringing into the supermarket from a bank. The manager identified Duong as one of the robbers. Duong admitted his involvement to his girlfriend at some point.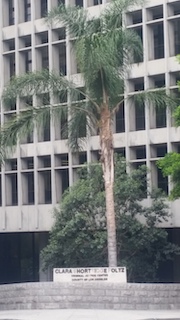 Clara Shortridge Foltz Courthouse
Another involved a shooting in Fremont at a computer parts factory, wherein Duong's fingerprints were on maps of the factory. Duong also admitted his involvement in the robbery to his girlfriend.
The third other event involved a robbery with a shooting at Traditional Jewelers, a Newport Beach jewelry store. This took place after the shooting at the International Club. Duong apparently carried an AK-47 during the robbery, but the robbery was unsuccessful.

The fourth other robbery also took place after the International Club incident and involved another jewelry store in Cupertino, wherein shots were fired and Duong, with three others, stole $53,000 in jewelry.
Most of the evidence was introduced through Duong's girlfriend, who testified under a grant of immunity.
The prosecution advised the defense that if Duong testified, the prosecution would question him, to impeach him, about "other people he has shot" because "that would be critical as to intent on the issue of self-defense," which was Duong's defense on the four murders at the International Club.

The defense argued that such questions would be beyond the scope of the direct examination and filed a motion to suppress. The prosecution argued that if self-defense was asserted, it should be able to question him about other instances where he killed because the scope of impeachment should not be limited by the scope of direct examination.
The judge indicated he would not rule on the motion until defendant testified on direct.
Defense counsel then asked to make an offer of proof as to what defendant would testify to and then for the judge's ruling on allowing the prosecution to ask about other uncharged killings. The judge indicated he would let the prosecution cross-examine Duong about such other uncharged acts.
Consequently, defendant decided not to testify at all.
After he was convicted and sentenced to death, an automatic appeal followed, during which he argued his decision not to testify was not knowing, intelligent and voluntary. He argued that he was misled to believe that he could appeal the trial court's tentative ruling regarding the admissibility of uncharged crimes evidence if he did not testify. He argued that he was misled by the judge's comment, in expressing reluctance to issue a tentative ruling, that "it may create an issue on appeal." So once the judge did issue a tentative ruling, it became an appealable issue.
The appeal eventually reached the California Supreme Court, which ruled his waiver of his right to testify was knowing, intelligent and voluntary. The court observed that the judge was not required to but his waiver to testify on the record (but the judge did so) because there was no apparent conflict between defendant and his counsel as to whether he should take the stand. Defendant did not argue his counsel was ineffective.

The argument implied by defendant was that if he could not appeal the tentative ruling, he would have testified. However, the tentative ruling also stated that if defendant testified, the judge would instruct on the heat of passion defense and an accidental shooting, so his decision not to testify was certainly a knowing, intelligent and voluntary waiver with a full understanding of what he was doing.
We present this summary in a rather complicated case because it shows how, absent a conflict of interest between defendant and his counsel, such a decision not to testify is simply considered defendant's assertion of his Fifth Amendment right to remain silent, which is what happened here. Ironically, we think defendant should have testified because then the tentative ruling would have become a true ruling and thus an appealable issue, which ultimately may have saved him from death.
The citation for the California Supreme Court ruling discussed above is People v. Anh Te Duong (2020) 10 Cal. 5th 36, 267 Cal. Rptr. 3d 231, 471 P. 3d 352.

For more information about the Fifth Amendment right to remain silent, please click on the following articles: