Defendant's Right Not to Testify & Not Take the Stand
In entering into a plea bargain to avoid going to trial, one of the rights one waives is the right to remain silent and not take the stand. When told that this is an important right that one is waiving, it is often not explained or if explained, an attorney may say, "For example, the judge cannot say, 'O.K., ladies and gentlemen of the jury, now we are going to hear testimony from Defendant, Mr. X. Mr. X, please take the stand and prepare to testify.' You have a right that this cannot happen if you go to trial."
However, there is much more to such a right that is often not explained, but that this article hopes to.
In a Nutshell: There is no easy answer of whether a defendant should exercise his or her right to remain silent and not testify at trial or simply testify at trial because the jury "wants" or "needs" such testimony, especially if defendant presents well, is articulate and the crime is minor.

Broadly speaking, statements from a defendant, whether inculpatory (indicating criminal liability) or exculpatory (indicating innocence), obtained in violation of a person's right against self-incrimination are inadmissible against that person in any criminal case. U.S. v. Blue (1966) 384 U.S. 251, 255, 86 S. Ct. 1416. In other words, even if the statement indicated a defendant's innocence, it can be inadmissible if defendant was not first properly advised of his or her right against self-incrimination first.

This is the fundamental Fifth Amendment to the U.S. Constitution protection and its California constitution equivalent. Cal. Const. art I, § 15 (also codified in Evidence Code § 930 and § 940).
California Evidence Code § 930 provides that "a defendant in a criminal case has a privilege not to be called as a witness and not to testify." While a defendant can waive this privilege and choose to testify, the prosecutor cannot call the defendant to the stand just to make the defendant explicitly claim the privilege in order to suggest to the jury that defendant is hiding something. People v. Cabrellis (1967) 251 Cal.App.2d 681, 685.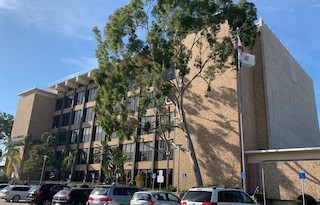 Torrance Courthouse
The prosecutor similarly cannot comment to the jury that defendant chose to remain silent or that defendant exercised this privilege against self-incrimination. When a prosecutor tells this to the jury, it is called a Griffin error. Griffin v. California (1965) 380 U.S. 609, 85 S.Ct. 1229; Brecht v. Abrahamson (1993) 507 U.S. 619, 113 S. Ct. 1710, People v. Denard (2015) 242 Cal.App.4th 1012. However, it is not a Griffin error for a third-party witness to comment on a defendant's choice not to testify. People v. Noriega (2015) 237 Cal.App.4th 991, 1003.
If defense counsel advises the judge and the prosecution that he or she will call defendant to testify in trial, the judge is not required to then advise the defendant of his or her right not to testify. A judge also is not required to advise a self-represented defendant of the privilege against self-incrimination before he or she testifies, even if the prosecution calls defendant as a rebuttal witness (to cross-examine) after defendant testified on direct. People v. Barnum (2003) 29 Cal.4th 1210, 1217. However, the trial court judge may advise defendant of this right as long as doing so "does not stray from neutrality toward favoring any one option over another." Id. at 1226.
So far, the California Supreme Court has not addressed whether a prosecutor commits misconduct or violates Evidence Code § 930 if the prosecutor calls a self-represented defendant as a witness in its case-in-chief if the defendant indicated he or she would testify at trial. Barnum, supra, at 1227 n4; but see People v. Valle (1952) 111 Cal.App.2d 650, 662. We at Greg Hill & Associates believe that this would be misconduct and a violation of Griffin and § 930, but that it would not be misconduct if the prosecutor simply cross-examined the self-represented defendant after she or he testified in defendant's case-in-chief.
It should be noted that Griffin is considered in a narrow context, rather than broadly. For example, Griffin does not prohibit a prosecutor from arguing to the jury that jurors should find defendant guilty because defendant failed to call logical witnesses that would refute the evidence, which the prosecutor claims shows defendant's guilt. Such witnesses, clearly, could include defendant, but such an argument by the prosecutor does not violate Griffin. People v. Hovey (1988) 44 Cal.3d 543, 572.

For more information about a defendant's right to remain silent, please click on the following articles:
Contact us.