Carefully Invoke Your Fifth Amendment Right to Remain Silent
When one asserts his or her right against self-incrimination and then remains silent, police, prosecutors, judges and even juries often skeptically see this as engaging in gamesmanship or trying to cause delays.

After all, if one were innocent, why wouldn't the person simply explain the facts that show the person is indeed innocent? This rhetorical question, posed by millions of police officers in pressure-packed interrogations, has led to more convictions and many careless admissions.
Brief Synopsis: If one decides to remain silent in the face of police questioning, do so without later talking "as just a quick comment" or, as we have seen, by saying, "I'm just going to answer this one question." If one does this, the jury can be instructed by the judge that it can infer guilt from silence because speaking up after invoking the right to remain silent forfeits the Fifth Amendment right sought earlier.
Indeed, our office estimates that more than half our clients convict themselves by naively attempting to talk their way out of a suspected offense or by simply answering questions posed by the police. This willingness to speak to police is based on a misguided trust in our police to protect everyone, even suspects. Nothing could be farther from the truth.
Our other clients, who do not try to discuss their case with the police, have an equal faith in invoking their right against self-incrimination that it will cure all their criminal problems. This is also not entirely true, but it is a much better way to start their case. Indeed, "the talkative parrot is shut up in a cage; other birds, without speech, fly freely about" (Saskya Pandita).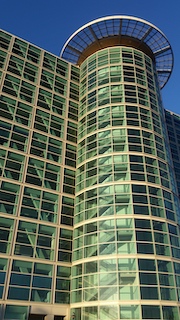 Airport Courthouse
The right against self-incrimination does have its limitations. The privilege to not incriminate oneself, either by refusing to speak or refusing to produce evidence, does not prevent prosecutors from finding the same evidence elsewhere. As one court stated, "[A] party is privileged from producing the evidence, but not from its production." Johnson v. United States (1913) 228 U.S. 457.

To assert this right, one is wise to do so as broadly as possible, even stating that the intention to invoke this right is done in the broadest sense possible. However, a blanket refusal to appear in court is improper. Warford v. Medeiros (1984) 160 Cal.App.3d 1035, 1045. Instead, the defendant or a witness seeking to invoke the Fifth Amendment must appear in court and assert the privilege on the record.
When the jury is then tasked to consider the facts, the judge must instruct the jury that it cannot draw an inference of guilt from a defendant's failure to testify about facts relevant to his case. Griffin v. California (1965) 80 U.S. 609. In a civil case, by contrast, a jury can draw a negative inference by a party's silence. Consequently, in a criminal case, jurors often do the same thing, especially when the crime involves moral turpitude. As Justice Brandeis said, "silence if often evidence of the most persuasive character." United States ex rel. Bilokumsky v. Tod (1923) 263 U.S. 149, 153-154.
In a criminal case, thus, a defendant may feel the urge to testify. This is often feared, especially in a big case where the prosecutor may be very experienced and skilled at cross examination. However, if a party is to claim a privilege or defense necessary for victory, the defendant may simply need to testify at trial.

If this is the situation, defense counsel ought to seek immunity from the client's testimony being used in a related civil matter, or to have the transcript sealed. Judges, however, are wary of signing such orders.
Alternatively, if the client is fearful of a criminal case being filed, the civil judge could delay the civil proceeding so that the client could testify in it after the statute of limitations has run for filing a criminal case. The astute defense attorney in the civil case should seek a protective order to bar such testimony, i.e. at a deposition, until after the statute of limitations (one to three years most commonly) has passed.
For more information about the right to remain silent, please click on the following articles:
Suspect's Fifth Amendment Rights Not Violated When He Volunteered Statements About His Killing Another
Contact us.