Death Sentence Reversal & Defendant's Mental Illness
Some people may believe that anyone who commits a crime punishable by death must have some form of underlying mental illness. Indeed, when someone kills another person under circumstances that our laws punish with death to the suspect, that suspect most likely had a defect in his anger management, anxiety control or self-control abilities.
Therefore, when a person convicted of a crime faces a death sentence, judges anticipate defense attorneys arguing that the defendant committed the crime due to some mental illness.
About This Article Briefly: A death sentence in the following case was reversed by the Ninth Circuit when it was shown that then-defense counsel did little to develop mitigation evidence about defendant's history, making the imposition of a death sentence cruel and unusual punishment in violation of the Eighth Amendment.

In the first-degree murder case of George Russell Kayer v. Charles L. Ryan (warden for the Arizona Department of Corrections), trial counsel presented no evidence of Mr. Kayer's underlying mental illness at sentencing. Mr. Kayer was then sentenced to death.
After being so sentenced, Mr. Kayer appealed his sentence through the Arizona state court system, exhausting all recourse there, before moving on with his appeal in federal court to the United States District Court of Appeals for the Ninth Circuit in Pasadena.
While Kayer's conviction arose under Arizona law, his appeal was governed by federal law because he alleged cruel and unusual punishment under the Eighth Amendment and ineffective assistance of counsel under the Sixth Amendment to the United States Constitution. Thus, his claims called for ruling under federal standards, which would govern a similar case arising in California. Therefore, the Ninth Circuit's rulings should be considered for anyone in California facing sentencing in a serious case.
The underlying facts are, as one might expect in such a case, rather brutal. On November 30, 1994, Mr. Kayer, his girlfriend Lisa Kester and their friend Delbert Haas went from Arizona to Laughlin, Nevada on a gambling trip. After their first night in Laughlin, Nevada, Kayer told Haas that he had "won big" and asked for a $100 loan to maximize on his "hot streak." Kayer was aware that Haas had just received money from an insurance settlement, so he knew that Haas had money to lend.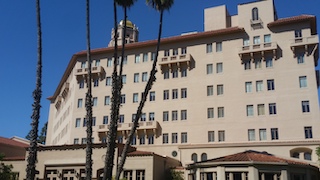 U.S. Ninth Circuit Court of Appeals Pasadena
Haas gave Kayer the $100, which Kayer lost the next day. However, Kayer told him that he "won big" again, but someone robbed him of all his winnings. Kayer's girlfriend then asked Kayer what he was going to do with no money and Kayer replied that he would rob Haas. The girlfriend then commented that Haas would easily be able to identify him and he'd get in trouble. Kayer responded, "I guess I'll just have to kill him."
The next day, the three drove back to Arizona. While driving back, they drank a case of beer. Haas and Kayer then argued over how Kayer would repay the $100 loan from Haas.

Kayer, who was driving, then turned the car off the main highway, telling Haas that he was taking a shortcut. He then pulled over to the side of the road, purporting a need to urinate. Haas also got out to urinate and Kayer then shot him in the head while he was urinating.

Kayer then dragged Haas' body into the bushes, took his wallet, watch and jewelry, got back in the van and drove away with his girlfriend. Kayer then realized he forgot to get Haas' house keys, so he drove back to the body, got the keys and shot Haas again.
Kayer and his girlfriend then went to Haas' house and stole several items to pawn and sell at flea markets.
Ten days later, Kayer's girlfriend reported the murder and Kayer was arrested. Kayer's girlfriend and Kayer were then charged with murder. The girlfriend entered a plea bargain and received six and a half years. Kayer was sentenced to death.
At sentencing, Kayer's court-appointed attorney (in her fourth year of practice) observed that "there was no focus on mitigation as far as [the] penalty phase." She was substituted out at some point and two other public defenders took over and a mitigation specialist was appointed to work on the case, but only about six weeks before sentencing.
The mitigation expert discovered that Kayer may have suffered from a fetal-alcohol syndrome. Prior to filing his petition for a writ of habeas corpus, Kayer had other mitigation experts investigate his past and prepare reports that detailed how Kayer was slow in all his developmental stages, how he had trouble falling asleep when young, was dyslexic, that he began using drugs at age sixteen (smoking marijuana every day, as well as using speed and LSD), dropped out of high school at the end of his junior year or part way through his senior year and then enlisted in the Navy. While in the Navy, he had two unauthorized absences (UA's) in the first eight months, later being referred to Bethesda Naval Hospital with a diagnosis of "schizoid personality." His impairment was described as "severe."

The remainder of his life up to the time of his murder of Haas can be best described as very sad and a "train wreck" in terms of unemployment, failed marriages, lost jobs, alcohol abuse and compulsive gambling.

On appeal, the Ninth Circuit found that had this mitigation evidence been presented at time of sentencing, there was a "reasonable probability that, but for counsel's unprofessional errors, the result of the proceeding would have been different." Strickland v. Washington (1984) 466 U.S. 668, at 694.
The death penalty sentence was therefore reversed with instructions to remand the case back to the trial court for re-sentencing.
We present this case summary not so much to criticize an attorney, but to remind the reader that, if a family member of someone charged, please provide counsel with mitigation evidence, including information about defendant's difficulties in life, either caused by drugs or alcohol or simply bad family circumstances. It is very important and may, as in the case of Mr. Kester, avoid a death sentence.

The citation for the Ninth Circuit Court of Appeal ruling discussed above is George Russell Kayer v. Charles L. Ryan (9th Cir., 2019) 923 F.3d 692.

For more information about mitigating evidence and mental or cognitive issues, please click on the following articles: