Criminal Threats on Facebook - We ''Like'' This Ruling
Our office frequently has clients getting in trouble for statements posted on Facebook. They may comment about a DUI or shoplifting arrest, assuming no one but their friends will ever read the post, but the police and / or prosecutor does. The post may contain admissions or explain events in a way that police can use to recommend prosecution when police otherwise were going to drop the case.
Brief Synopsis: Criminal threats conviction in federal court vacated by U.S. Supreme Court, which held that a posting on Facebook must be evaluated by the effect on the reader of the posts and not the author's mental state. In the case summarized below, the author repeatedly tried to distance himself from any criminal intent by clarifying that he did not want his repeated posts to cause fear or anxiety, ironically acknowledging that what he was doing was criminal, but trying to sanitize such posts nonetheless as therapeutic and cathartic for him.

Facebook has become, in other words, a place where people seek affirmation, advice or vent, as well as simply communicate like they used to on the phone.
The case of Anthony Douglas Elonis posting on Facebook fits this trend. He was left by his wife, lost his job and was upset. Using a different name on Facebook, Tone Dougie, he posted rap lyrics describing violence as to his wife and co-workers.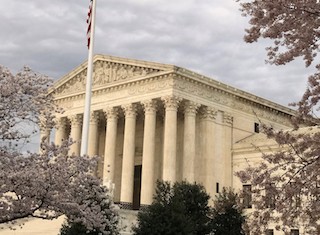 U.S. Supreme Court
At one point, he posted that he knew it was illegal for him to say he "really, really think[s] someone out there should kill my wife." He also noted that his lyrics were "fictitious" and not intended to depict real persons. He also reminded readers that he was exercising his First Amendment rights.
His employer became aware of the lyrics and notified the FBI. The FBI then looked over the postings and eventually charged him with making criminal threats through interstate commerce. Elonis was then arrested, charged and went to trial, where he was convicted of violating 18 U.S.C. § 875(c).
At trial, the jury was instructed that it must find whether the threat was a "true threat" by using a "reasonable person" standard. The judge told the jury that Elonis could be found guilty if a reasonable person would foresee that his statements would be interpreted as a threat. The reader of this article may recognize this as kind of a civil negligence standard being applied to a criminal case.
Elonis appealed his conviction to the United States Court of Appeal for the Third Circuit. The Third Circuit affirmed the conviction.
Elonis then appealed the Third Circuit ruling to the U.S. Supreme Court. The U.S. Supreme Court reversed, agreeing with Elonis that the trial court applied the wrong standard in its instruction to the jury.
The U.S. Supreme Court began its analysis by noting that threats are defined by what the statement conveys, not the author's mental state. However, this distinction does not mean that innocent conduct can be a crime if the statement fits the definition of a threat.
In this regard, and Elonis' repeated attempts to distance himself from the required mental element are relevant, as "wrongdoing must be conscious to be criminal, "and that a defendant must be "blameworthy in mind" before he can be found guilty."
Morissette v. United States
(1952) 342 U.S. 246 at 252. The general rule is that a guilty mind is "a necessary element in the indictment and proof of every crime."
United States v. Balint
(1922) 258 U.S. 250, 251. In other words, criminal statutes are generally interpreted "to include broadly applicable scienter requirements, even where the statute does not contain them."
United States v. X-Citement Video, Inc.
(1994) 513 U.S. 64, 70. Scienter means state of mind.
The U.S. Supreme Court understood that it was vulnerable to being misunderstood on this point, clarifying that section 875(c)'s mental state requirement was satisfied if the defendant transmits a communication for the purpose of issuing a threat or with knowledge that the communication would be viewed as a threat. It deliberately stated the U.S. Supreme Court would not address whether criminal recklessness would suffice, which by even commenting on this issue hints that Elonis was reckless.
The significance of the ruling for those facing charges of criminal threats in a California court is that the U.S. Supreme Court has reaffirmed already existing law that the effect on the recipient of the threat is what matters. It does not matter what an average, reasonable person would think about the threat.
What matters is not only that the author intended to cause anxiety or fear of imminent harm or danger, but that the recipient of such a threat experienced such fear or anxiety for more than a few moments.
If the Facebook poster, such as Elonis admitted here, was posting his rants as a catharsis, it may not be threat. Elonis posted, "[m]y writing it therapeutic. I'm doing this for me" and later, it "helps me to deal with the pain." He also was well aware that he was pushing the limits by saying his postings were "fictitious" and not intended to depict real persons, but his postings no doubt were voluminous enough and persistent enough to certainly create anxiety by their message nevertheless.
We like the ruling, but predict judges and prosecutors will not.
The citation for the U.S. Supreme Court ruling discussed above is Anthony Douglas Elonis v. United States (2015) 575 U.S. ____, 135 S. Ct. 2001, 192 L. Ed. 2d 1.

For more information about the issues in this case, click on the following articles:
Contact us.