Costa Mesa, Client Found with Cocaine & Heroin, Prop 47
In 2007, when our client was 40 years old, he banged his head accidentally on something in his garage, causing him to bleed profusely.
Our client's neighbor saw our client bleeding and called 911. Costa Mesa Police Department officers came to the location and asked him if he needed medical help. Our client politely told the police that he was fine and did not need any help.

Police apparently suspected that our client was a chronic heroin or cocaine user, so they asked our client to show them he had enough ice and towels to treat himself. Our client replied he was fine, insisting he did not need any help. Police then asked him, "Do you mind if we check out your kitchen before we leave? We want to make sure you can treat yourself."
Our client repeated that he was OK. Police then gave an ultimatum that if they could not inspect the inside of his house, they would call paramedics. Reluctantly, our client relented and police burst into his house, finding exactly what they hoped to find – evidence of heroin, Vicodin, LSD and cocaine use in the kitchen area. They also found marijuana (which was illegal to possess in 2007, pre-Prop 64) and drug paraphernalia. Our client allegedly was asked if he had a prescription for any of the substances and conceded he did not.
Our client was promptly arrested on suspicion of possession of a controlled substance (Health & Safety Code § 11350), then a felony.
The client was first taken to a hospital to get treatment for his rather significant head injury and then to the police station, where he was booked and bail was set higher than our client could afford to post.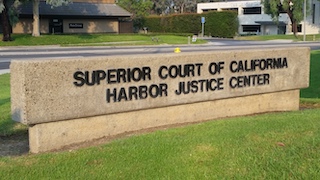 Newport Beach Courthouse
Two days later, he was arraigned in the Newport Beach Superior Court (Harbor Justice Center) and faced four counts of violating Health & Safety Code § 11350(a). As this was his first criminal case, he was offered PC 1000 to resolve the case and avoid a conviction, but he had to enter a plea of guilty to two counts.

Our client was then released from jail to start the PC 1000 program, but soon thereafter picked up a second possession case out of the same courthouse and PC 1000 diversion was revoked, only to be reinstated such that he complete Prop 36 for both cases.
Over the next two years, he worked hard and completed the program, eventually earning a dismissal of both cases in 2009.

Ten years later, he was living in Eugene, Oregon and owned a used car lot that specialized in selling classic cars and in employing recovering addicts. It was a laudable gesture by our client to employ those who struggled with addiction like our client had.
However, due to this dismissed felony, our client had difficulty traveling outside the United States to buy the cars that he wished to sell in Eugene.
He had heard about Prop 47, but was unclear if a judge could reclassify a case or conviction in a case that had been dismissed. It was a legal purgatory that he wanted to explore.
He called Greg Hill at Greg Hill & Associates. He explained his situation in having a dismissed felony, but being affected by a felony nonetheless.
Greg said he could go back to court and ask the judge to apply Proposition 47 under Penal Code § 1170.18 to reclassify the felony as a misdemeanor, even though the case had actually been dismissed more than a decade earlier. Greg explained how this was so under the analogous provisions of Penal Code § 17(b) to an expunged felony, so it should likewise be available under Prop 47 to a case dismissed under Prop 36, too.
Greg admitted that he had not seen any published decision on this, so our client might be the first one in California history to have this done, or even request this. Greg wanted to be somewhat creative in applying the law and this was a good case for this.
The client enthusiastically said he wanted to try, so Greg Hill & Associates prepared a petition for reclassification of the client's expunged felony convictions to misdemeanors under the provisions of Penal Code § 1170.18.
Greg Hill & Associates then filed the petition and the usually combative Orange County District Attorney's office did not oppose the petition, quite curiously. After about six weeks from filing, the petition was ruled upon in chambers, without even a hearing. The judge granted the petition. The client was very happy.
We present this summary for the reader because it exemplifies being creative and aggressive in applying the newest provisions of California law in ways legislators perhaps did not foresee (and judges do not expect).

For more information about Prop 47, please click on the following articles: