Conspiracy to Commit Murder for Gang Reversed on Appeal.
About This Article Briefly: Conviction for conspiracy to commit murder with special allegation that it was done to promote, further or assist a criminal street gang is reversed because appellate court finds that defendants did not even know such murders were committed by fellow gang members and therefore, they could not have promoted, furthered or assisted in such murders.

On April 11, 2011, Dereck Peppers, a respected 5/9 Brim gang member known as an "original gangster" was killed in Brims territory in San Diego County. The Brims are a set of the Bloods Gang. Police suspected that a rival Crips gang member had murdered Peppers.

Following Peppers' death, Brim and the West Coast Crips (WCC) started a gang war and spiked the number of homicides attributable to African American gangs.
Victor Ware, Nicholas Hawkins and Dionte Simpson were Brim members and knew Peppers. They were all part of a Brim subset called Tiny Hit Squad. Young Hit Squad was another Brim set. At some point, Tiny Hit Squad and Young Hit Squad merged, creating a co-mingled group known as Hit Squad.
A "hit" means to kill someone. A gang that has been the target of a shooting is expected to retaliate or "get back" at the rival gang. A rival gang graffitiing in another gang's territory would also require retaliation. Failure to retaliate would make the gang appear weak and invite other gangs to prey upon its members. The retaliation was to be equal to the harm suffered, but is preferably "one step above."
Over the two years following Peppers' death, police identified nineteen members of the 5/9 Brim and arrested all nineteen based on various acts of violence, mostly against WCC, around San Diego County.

They were charged with and convicted in San Diego Superior Court with conspiracy to commit murder (Penal Code §§ 182(a), 187) for the benefit of a criminal street gang (Penal Code § 186.22(b)(1)), as well as attempted murder (Penal Code §§ 664, 187(a)) involving the personal use of a firearm (Penal Code §§ 12022.53(b), (c) and (e)(1)) for the benefit of a street gang, as well as assault with a deadly weapon (Penal Code § 245(b)) for the benefit of a street gang. Some of those arrested were only arrested for being a felon in possession of a firearm (Penal Code § 29800(a)(1)). Many of those arrested had prior strike convictions and prior serious felony convictions that triggered various additional sentencing enhancements.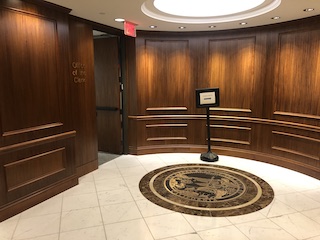 Fourth Appellate District Court of Appeal Div 1 San Diego
Victor Ware, Nicholas Hawkins and Dionte Simpson were among those 19 arrested, charged and convicted. The trial court judge sentenced Ware to 27 years plus 40 years to life, Simpson to 36 years plus 25 years to life and Hoskins to 25 years to life.
Each of these three alleged gang members appealed their convictions, arguing insufficient evidence was introduced to support their convictions for conspiracy to commit murder and being part of a criminal street gang conspiracy because of the murder convictions reached, they were not proven through a jury verdict, but through plea bargains each defendant reached and no evidence was shown that there was any conspiracy to commit murder involving the three defendants appealing. They also argued that the jury was allowed to hear evidence of overt acts after the conspiracy was terminated and such overt acts were not proven.
The Fourth Appellate District Court in San Diego agreed, reversing the gang conspiracy convictions and remanded the matter for resentencing. The Fourth Appellate District came to its ruling by reminding that for attempted murder, the prosecution must prove defendant possessed the specific intent to kill and engage in the commission of a "direct, but ineffectual act toward accomplishing the intended killing."
Gang conspiracy takes place when a defendant "willfully promotes, furthers, assists or benefits from any felonious criminal conduct by members of the gang." Penal Code § 182.5.
While the appellate court acknowledged that the two murders proven were committed by Brim gang members, there was no proof that any of the three appealing defendants had any knowledge of the crime to take place prior, so jurors were left to speculate that the three were somehow involved, but speculation is not evidence.
We bring this case summary to the reader's attention to emphasize how rigorous tracking of evidence for each crime must be performed by defense counsel so that speculation does not take over for a jury in reaching convictions, as it did in this case because of the mountain of evidence of various random shootings. However, as to the specific murders that the prosecution sought conspiracy convictions for, there were holes in the evidence, which the appellate court agreed were significant.
The citation for the Fourth Appellate District Court ruling discussed above is People v. Victor Ware, et al. (4th App. Dist., 2020) 52 Cal. App. 5th 919, 266 Cal. Rptr. 3d 217.

For more information about gang crime issues, please click on the following articles: