Compton, Prostitution Sting, Judicial Diversion, Dismissal
Our client was driving his GMC Suburban to a mandatory AA meeting for a recent DUI conviction he suffered. The AA meetings were at a building off Long Beach Boulevard in Compton. This was a tough chapter in his life, as it was his second DUI, his first being thirteen years earlier.
It was about 6:30 p.m. on a weeknight in December, so it was dark. Our client's attention was drawn to the other side of the street where there was a Hispanic woman, wearing a very short skirt and standing along the side of the street, waving to passersby. Our client, age 44, gawked at her, drawing her attention, then drove down the street, turned around and approached her, slowing down and pulling over to tell her she was beautiful.
In a Nutshell: Client on probation for DUI arrested in prostitution sting operation on Long Beach Boulevard, just north of the 91 Freeway, in Compton. Client agrees to $60 for sex with the decoy. Case resolved in Compton Courthouse for judicial diversion (which he actually was disqualified from due to his recent conviction for DUI), a program that is no longer available.
The woman was a police decoy, however, our client did not realize this (or that she was recording the conversation on tape). She thanked him for the compliment. Our client then asked her if she was looking for a date. The decoy responded that she was a working girl, which is a way of saying that she is a hooker, and asked him what he wanted. He responded sex and she told him her fee was $60.
Our client agreed and then said, "well, get in," meaning enter his car.
The decoy deferred, telling him there was too much traffic at her present location, suggesting she might be visible to police. She therefore told our client to move forward and pull around the corner onto Bullis Road so she could meet him there instead.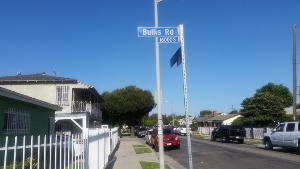 Bullis Road
Our client obeyed, pulling forward. However, after moving about 30 feet and turning the corner, he stopped and rolled down his window, saying "get in, get in!"
The decoy waived him forward with her hand, which angered our client, so he decided to leave instead and go to his AA meetings as originally planned. However, before he could drive 100 more feet, police officers pulled him over and arrested him for solicitation of prostitution.
Our client felt like his whole world was caving in around him. This would be his third misdemeanor in 13 years, endangering his employment. He had worked for the same company for 22 years straight and now it was all in jeopardy of being wiped away.
He called Greg Hill & Associates and explained what had happened. He described how his job was in jeopardy if he was convicted, so he needed to have the case dismissed.
Greg explained eligibility for judicial diversion (under AB 2124, the first judicial diversion program, ending in 2017), which would lead to a dismissal, was limited to those who had no convictions in the last ten years, so our client's recent DUI excluded him. However, Greg described how on occasion, a prosecutor would not run a rap sheet on a defendant in a crime such as prostitution, so it was possible that his recent DUI would not be known.
Greg then appeared on the client's behalf at the arraignment in the Compton Superior Court. The District Attorney was extremely young, perhaps just out of law school. Her offer was that our client plead to a violation of Penal Code § 647(b), solicitation of prostitution, and be placed on three years of summary probation, serve ten days in county jail, pay a fine of $300, plus penalties and assessments, take the AIDS education class and HIV test and stay away from the area where arrested. Greg tried to negotiate with the young DA, who said she could not alter the plea bargain without her supervisor's approval.
Greg noted that the file materials given to him did not include our client's rap sheet, so the recent DUI conviction was not known to the prosecutor or the judge.
Greg then explained to the judge that the file materials showed our client was eligible for judicial diversion and that the judge could order this. Greg then requested such an order. The judge agreed and ordered our client's case dismissed in a year if our client performed 80 hours of community service and took an AIDS education course and HIV test.
Greg explained what had happened to the client, who was extremely happy for his good luck and Greg's handling of the case, as he will now be able to keep his job of 22 years and not be fired.
For more information about prostitution, please click on the following articles:
Appeals Court Affirms LAPD Officer's Conviction for Solicitation of Prostitution (Penal Code § 647(b))
Contact us.