Compton, Lewd Conduct in Public, PC 647(a), Diversion
Our client, age 42, was well known by the Compton Police Department. He had over 20 tattoos and the prison time for two residential burglaries, as well as other less serious convictions, to mark him as someone to watch.
So when our client was spotted allegedly driving up and down a certain stretch of Long Beach Boulevard known as "the blade," police watched him closely, following him in an unmarked car. It was about 8:00 p.m. on an April evening, so it was just past dark.
The police then observed what they anticipated might happen. A woman, most likely a prostitute if one were to judge her by her clothing, waved at our client. Our client immediately pulled his truck over to the side of the street near Agnes Street to speak with this lady wearing a white long sleeve shirt with a bare mid-drift, no bra, tight blue leggings and boots. Our client rolled down his passenger-side window and talked to her, the police estimated, for about a minute before she opened the truck door and got in.
The police then followed our client and the woman, age 20, a few blocks before the police called in a marked police vehicle to make a traffic stop.
According to the police report, when the arresting officer approached our client from the driver's side window, our client exhaled, looked down, and spontaneously muttered, "Damn, I knew it was wrong."
The police then also spoke to the woman, who was not a decoy. She allegedly told the police that our client was "a regular client that I meet about once a week." She also stated that the two had agreed that he would pay her $30 for sexual intercourse.
Police then arrested both our client and the prostitute. The prostitute had four condoms and about $50 in cash in her pockets.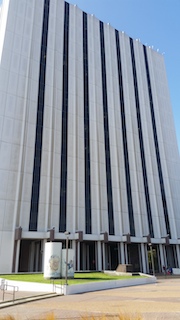 Compton Courthouse
Our client was less cooperative and perhaps, a bit more concerned about what would happen. Despite having served eight years and four years on separate stints in state prison for residential burglary, he worked as a plumber. He was concerned his boss would let him go if he found out about this arrest.
Our client therefore "clammed up," but police threatened him with making the arrest for pimping and pandering, which is a much more serious offense, with significant bail if he did not sign a confession that he agreed to pay the woman $30 for sexual intercourse. Our client agreed to write the statement and was released.
The client then called our office, quite nervous about what he faced. He described what had happened and his prior criminal history, which also included a misdemeanor charge for receiving stolen property, possession of methamphetamine and a solicitation of prostitution conviction twelve years earlier. He explained that he used to be in a gang, but not anymore.
Greg explained that with a second solicitation of prostitution conviction, he faced a minimum of 45 days in county jail. This concerned our client quite a bit, with his work.
Greg then appeared at the arraignment and surprisingly, the District Attorney's Office did not charge him with solicitation of prostitution, but instead with lewd conduct in public (Penal Code § 647(a)), which is a misdemeanor normally associated with gay men meeting in park restrooms. A conviction for it does not require registration as a sex offender under Penal Code § 290.
The prosecutor handling the case was extremely busy the day of the arraignment and did not seem to appreciate the difference between 647(b), solicitation of prostitution, and 647(a), lewd acts in public. She quickly flipped through the police report, but not our client's rap sheet and casually said, "O.K., how about six months diversion, AIDS Education and Testing and 20 hours of community service. If he does that and stays out of trouble for six months, dismissal."

Greg had a hard time believing what he just heard and agreed, saying "fair enough, sounds good."
When Greg explained to the client the comedy of errors at the arraignment, the client was very happy.

We present this summary to exemplify how cases are often resolved without an intense discussion of the facts or legal issues and that when a prosecutor is busy and taking a casual approach towards a case, that can be very good. However, a good defense attorney is prepared for a thorough discussion, but ready to forgo that for expediency and leniency, as in this case.

For more information about lewd acts, please click on the following articles: