Compton, Credentialed Teacher Charged with 2 Counts 273a(b)
Our client, age 38, had two young boys, age seven and nine, who were going through a tough patch because their parents were going through a divorce.
The seven-year old was acting out in school and the nine-year old was fond of teasing his younger brother. This put the mother, our client, at wits end. Her parents had disciplined her regularly with physical force, so she decided to follow their example with her sons. After all, she regarded her parents' discipline as effective for her.
Her seven-year old returned from a short camp at school and the teacher chaperones had notified our client that her son had acted out several times, causing a disruption among the other students. This was embarrassing for our client and her nine-year old apparently sensed this, nagging on the seven-year old, which only increased the frustration level for our client.
Our client then calmly sat down both boys and explained to them that she was deeply disappointed in their recent behavior. She was not acting in anger, but with purposeful intent to teach the boys to change their behavior, both in and out of school. She wanted each one to appreciate that she loved them, but wanted them to behave better.
She then took out an extension cords and instructed each boy to lower his trousers. She then hit each one with the extension cord about five to seven times. This caused her boys to writhe in pain and bruises developed. The skins swelled up and the boys then went to bed.
The boys then went to school the next few days and returned each day to our client.
On the following weekend, the father had custody of the boys and noticed the bruises. He immediately notified the Compton Police Department and our client was arrested. Our client then spent two nights in custody, which was a big jolt to her, as she had no prior criminal history at all. She was told that she was being charged with two counts of misdemeanor domestic violence to a child of her own (Penal Code § 273a(b)), also known as child abuse.
Such a conviction, let alone two, would result in mandatory revocation of her teaching credential. She had worked for approximately fifteen years in education, earning a master's degree in education. She was now just a few classes short of earning her Ph.D. in education, so she saw this case as potentially wiping away her career and having to completely start over in a new career.
She then called Greg Hill & Associates and spoke to Greg. Greg listened to the client describe what had happened and what Greg had done in similar prior cases. Greg told the client that the biggest issue would be the photographs of the injuries and how, depending upon such injuries, the case might remain as a 273a(b) case, or resolve for misdemeanor battery (Penal Code § 242) or even misdemeanor false imprisonment (Penal Code § 237(a)), the two which would preserve the client's teaching credential.
Greg also recommended that the client start attending parenting classes and anger management classes. Greg made it clear that he was not making any judgment of whether this was needed for her, but that showing proof of attending such classes would help him in negotiating a better plea bargain.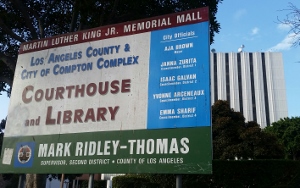 Compton Superior Courthouse
Over the next five or six court hearings, Greg negotiated with the handling District Attorney and then later, with her supervisor. At first, the offer was that the client serve 120 days in county jail, but then, little by little, this offer was changed to less time and then converted to Cal-Trans and then community service.
The client consulted also with a licensing attorney who wrote a letter stating that a conviction for a violation of Penal Code § 273a(b) would result in revocation of the client's teaching credential.
Finally, Greg wrote a Defense Position Letter to the head district attorney, requesting a resolution for a violation of two counts of Penal Code § 242, simple battery. The letter included exhibits such as her proof of having attended, to that point in time, 19 anger management classes and 18 parenting classes, most taken at the rate of one per week.
The head district attorney agreed to resolve the case for a plea to battery, much to the client's relief, with dismissal of the two charges of child abuse. Pursuant to the plea bargain, the client was place on sixty months of summary probation, with a requirement that she attend 52 parenting classes (credited for 18), attend 52 anger management classes (credited for 19), perform 200 hours of community service and pay a court fine of $300, plus penalties and assessments (total of about $1,100).
The client was happy to avoid jail time and keep her career.
For more information about child abuse issues, please click on the following articles:
Contact us.