Compton, Client Defeats Order Sought by Parents of Ex
Our client, age nineteen, had broken up with his fifteen year old girlfriend about six months earlier.
The girlfriend and her family had moved out of town and she was going to a new high school.
Our client had graduated from high school and started college. He was half way through his first semester.
These facts were apparently insufficient to assure the fifteen year old's parents that our client would not be seeing their daughter again. The parents wanted a court order to ensure the two would never get back together again.
Condensed Version of This Case: Our client, age 19, was in love with a 15-year old girl. The parents of the girl filed a petition for a restraining order against our client in Compton Superior Court. Our client prevails on the restraining order when the judge denies the parents' request.

Our client came to us apoplectic. He was infuriated that the parents were not only seeking attorney fees if they were the prevailing party (although they had no attorney), but that they alleged our client was a stalker and sexual pervert. He told us he was in true love with the fifteen year old and wanted to marry her immediately once she turned 18.
He wanted to fight the restraining order, especially when we advised him that if the order were entered, the CLETS system would record the court order against him, possibly hurting his employment opportunities and his eligibility for further student loans.
He became more adamant about opposing the request for a restraining order when we described how once armed with a restraining order, a person often fabricates a violation of the order to call the police and have the other person arrested, charged with a crime (violation of a domestic violence restraining order, Penal Code § 166(a)(4)) and, then possibly convicted of a crime.
Greg Hill looked over the CH-100, which is the judicial council form used by one seeking a restraining order, and found two significant problems. First, the parents of our client's former girlfriend did not even allege that their daughter considered our client a danger to her, that he was harassing her or stalking her. Yet she would be the protected person. Second, the parents did not allege that there was any threat of future stalking or harassment. In short, the parents appeared to be appealing to the judge's sense that a nineteen year old simply should not be dating a fifteen year old, regardless of the facts.
Greg then prepared a brief in opposition to the restraining order and cited the California cases that have ruled on other restraining order requests with similar deficiencies and denied such requests. Greg also brought two witnesses to the hearing who were prepared to testify that the former girlfriend never found our client harassing in the least. In fact, she resented her over-protective parents' meddling in her personal affairs.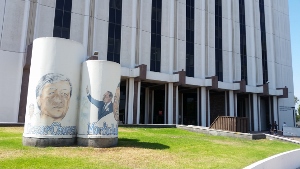 Compton Superior Courthouse
At the hearing on the restraining order in the Compton Superior Court, the judge agreed with our client, for every reason stated in the brief we filed. Moreover, the former girlfriend did not even show up to testify, meaning anything her parents intended to say would be hearsay about what their daughter would have testified.
The judge denied the restraining order, but did not award our client his attorney fees in having to defend and defeat such a frivolous filing. Nevertheless, our client was happy to win, feeling vindicated that the parents were denied validation of their concerns about our client.
For more information about the issues in this case summary, click on the following articles:
Watch our video about restraining orders by clicking
here
.
Contact us.