Compton, 3rd Time DUI, 0.19% BAC, License Reinstated
Our client was depressed. He was going through a divorce and he was away from home on business. He was in Carson for a few days for work, staying at a hotel.
Why This Summary Matters: In any measurement of one's blood alcohol content (BAC), the measurement is irrelevant without knowing how much time lapsed after the client last drove to when the measurement was made. When more than three hours passes, the DMV cannot presume that the measured BAC is the same as when the client last drove. This principal is exemplified in the following case summary.
After work one day, we went to a bar and, as he later told police, downed "six or seven" shots of Jagermeister. He then got in his rental car and drove to a nearby restaurant for dinner. As he sat in the restaurant waiting for a table to open up for him, the effect of the alcohol took hold.
The waitress noticed the smell of his breath and the way he was acting. Nevertheless, she seated him, took his order for dinner and served him. He took longer than normal to eat, as he had no where to go except back to his hotel. He took about an hour for dinner.
He was feeling quite intoxicated after dinner so instead of driving back to his hotel, he sat in the lobby of the restaurant. After all, he had two prior DUI's, so he was aware of what might happen if he were arrested for DUI a third time. Plus, he was clearly aware that it was unsafe to drive while being so drunk. This was at about 7:45 p.m.
After an hour of watching our client sitting in the restaurant lobby, the waitress called the police, fearful that our client might drive. The Compton Sheriffs arrived after about fifteen minutes, or at about 9:00 p.m.
Once they saw our client, who was quite drunk, they asked him to perform certain field sobriety tests, which he failed. They then asked the waitress if she saw him driving to the restaurant, which she said she did not. She said he simply walked in. Our client, however, told law enforcement that he did indeed drive to the restaurant. The Compton Sheriffs then arrested him on the spot, apparently because he seemed drunk and had driven a car in the past that evening.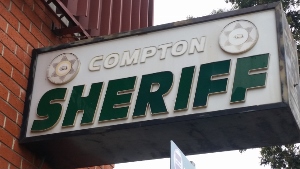 They then drove him to the Compton Sheriff's station where they had him give a breath sample about an hour later. The breath machine registered a 0.19% BAC. This was at about 10:30 p.m.
A police report was then prepared, but it was strangely silent on when our client last drove a car.
Our office realized this and went to the restaurant, where we found the waitress and had her sign a declaration stating that our client entered the restaurant at about 6:45 p.m. at the latest.
At the DMV hearing, we showed the DMV Officer the declaration from the only witness to the alleged driving, which really was not even actually watching our client drive, but only significant as to when the driving occurred. We argued that the breath test, based on the waitress' declaration, was given much more than three hours after our client drove. This meant that the results of the breath test could not be used to estimate our client's BAC when driving under Vehicle Code § 23152(b), which provides for a presumption that any BAC measured within three hours of driving can be assigned as the BAC when the suspect was driving. We argued such a presumption does not apply here and therefore the DMV had no proof of our client's BAC when he last drove.
We also argued that it is error to reverse extrapolate a BAC by adding to the BAC based on the rate an average person metabolizes alcohol. For example, it would be erroneous and speculative to assume that our client's BAC would be higher three hours earlier when he drove because there was no proof of how our client individually metabolized alcohol.
Lastly, we argued that since our client downed "six or seven" shots and then jumped into his car for a short drive, the alcohol from the shots may not have even been digested enough to affect his brain or boost his BAC to an illegal level while he was driving.
The DMV Hearing Officer agreed with our arguments and reinstated our client's driving privileges.
This was a huge relief to our client, as he needed a driver's license for work or else he would have lost his job. It was also a bright spot in his life, a small success, amidst his ongoing divorce.
For more information about , click on the following articles:
Watch our video about DUI by clicking here.
Contact us.