Commercial Burglary versus Shoplifting and Prop 47?
Under Proposition 47, certain low-level theft felonies have been reclassified as misdemeanors. The new legislation, passed into law by popular vote in November, 2014, also added Penal Code § 459.5, which created the crime of shoplifting as a distinct or distinguishable crime from commercial burglary, Penal Code § 459, and from petty theft, Penal Code § 484.
Brief Synopsis: To prove burglary now, a prosecutor must disprove shoplifting when the crime involved entering a commercial establishment during normal business hours and stealing something worth $950 or less.

As stated by several judges, "Proposition 47 changed the law by defining a new crime of misdemeanor shoplifting and, in effect, 'carrying out' this 'lesser crime' from the 'preexisting felony' [of burglary]." People v. Colbert (2019) 6 Cal.5th 596, 602, quoting People v. Martinez (2018) 4 Cal.5th 647, 651.
Section 459.5 amended section 459 to exclude certain wrongful conduct which previously was second-degree burglary. In re E.P. (2019) 35 Cal.App.5th 792. Now, to prove that a defendant committed section 459 burglary based on a theory of intent to commit larceny when entering a commercial establishment that is open during regular business hours, "the prosecution [has] the burden of proving beyond a reasonable doubt that [the defendant] did not commit shoplifting." This obligation includes presenting proof that the item's value is higher than $950. Id.
This rather lengthy explanation of the new law of shoplifting is presented to better frame the issues in the case of Brian Christopher Jennings and his conviction for four counts of burglary (Penal Code § 459) and one count of attempted burglary (Penal Code §§ 664, 459) out of San Diego County Superior Court.
On Christmas Eve in 2016, Mr. Jennings and friend broke into the Planck Aero Systems' main office in San Diego. They took two commercial drones selling for $19,000 to $25,000, although the expense to produce the first was between $1,000 and $2,000 and the second between $3,000 to $5,000. He also stole a Pelican carrying case for each drone to total four items taken.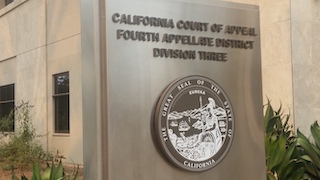 4th Appellate District Division 3 Orange County
About two weeks later, on January 6, 2017, Mr. Jennings went into Discount Hobby Warehouse with one of the drones. Discount Hobby sells, among many things, radio-controlled cars, helicopters and drones. Jennings offered to trade the drone he had stolen for a radio-controlled car, but Discount Hobby declined his offer. Jennings then left, but was later arrested with the two drones.
Jennings was charged with burglary of both Planck Aero Systems and Discount Hobby Warehouse. He had five prison priors within the meaning of Penal Code § 667.5(b) and had been convicted of a prior serious felony within the meaning of Penal Code §§ 667(a)(1), 668 and 1192.7(c).

He then represented himself at trial. He testified (he should not have done this!) at trial that his intent in entering Discount Hobby was to trade one of the drones for a radio-controlled car or truck, which he then intended to give to his neighbor, who had four children. Jennings' intent was to "get rid of" the stolen drone. The jury then convicted Jennings and the judge sentenced him to four years in state prison for one count of the burglary of Planck Aero Systems, plus sixteen months on each of three other counts relating to Planck, and 16 months for burglary of Discount Hobby. The judge then added one year for one of the prior prison term enhancements, for a total of nine years and eight months.
Jennings then appealed his convicted for commercial burglary of Discount Hobby, arguing that he intended to take property valued at greater than $950.
The Fourth Appellate District agreed with Jennings that his conviction was made in error (People v. Brian Christopher Jennings (2019 DJDAR 11052)). The appellate court based its opinion on its finding that the prosecution never established that the item Jennings sought to obtain from Discount Hobby had a value in excess of $950. He did not indicate any specific radio-controlled car that he wanted. The People also did not elicit any testimony that the radio-controlled cars were worth more than $950. Therefore, due to insufficiency of the evidence, the conviction for burglary of Discount Hobby was reversed, meaning Jennings reduced his state prison sentence to eight years and four months.
The citation for the Fourth Appellate District Court ruling discussed above is People v. Brian Christopher Jennings (4th App. Dist., 2019) 42 Cal.App.5th 664.
For more information about commercial burglary, shoplifting and Prop 47, please click on the following articles: