Client Found Asleep in Car on 110 Freeway, 0.18% BAC
In a Nutshell: Client found asleep on the freeway while stopped for an accident in front of him. Client has a 0.18% BAC. Case resolved at Metro Courthouse for minimum fine and just a three-month alcohol awareness class, the AB 541, rather than the nine-month class that would be otherwise expected with such a high BAC.

Our client, age 32, went to a bar in Downtown Los Angeles with a friend of his from growing up in Maryland. The two drank quite a lot, so they used Uber to return to a third friend's house near U.S.C., where they planned to spend the night.
Their plans changed at some point and our client agreed to drive his friend home to Torrance. Our client drank yet more alcohol before leaving to drive his friend home. The friend would sit in the passenger seat, but he quickly passed out from not only the alcohol, but the fact that it was 2:00 a.m.
The two drove on the southbound 110 Freeway, heading to Torrance, when they came upon a traffic accident of some sort that brought all traffic to a stop. Our client brought his car to a stop alongside and with dozens of other cars waiting for the freeway to clear.
Our client then fell asleep at the wheel, too, in the number one lane of traffic. The surrounding traffic continued onward, but our client was fast asleep, with his friend fast asleep, too.
Our client awakened to the tapping on his window of a sheriff's deputy from the CHP. Our client quickly woke up and the CHP directed him to pull off the freeway at the Century Boulevard exit.
Our client was a credentialed teacher with a master's degree in education. He worked at a charter school teaching selected students with learning disabilities. He was well aware of what having a DUI could mean for his teaching credential and even his job.
Our client gave a breath sample at the scene along Century Boulevard. His blood alcohol content (BAC) was measured at 0.18%. He was then arrested and taken to the CHP station off Figueroa Avenue, just north of Alpine Village, where he gave another breath sample to measure his blood alcohol content. This time it was 0.17%. He was held for seven or eight hours and then released with a promise to appear in the Metropolitan Courthouse in Downtown Los Angeles (at 1845 South Hill Street).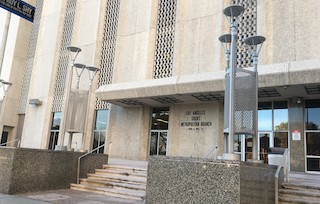 Metro Courthouse
The client was quite concerned about his future as a teacher. He called up Greg Hill & Associates and met with him on a Saturday afternoon. The client explained what had happened and asked what he could expect.

Greg explained that the time of the client's last driving would be an issue, which could mean that the breath sample given at the CHP station may have been over three hours after he brought his car to a stop on the southbound 110 Freeway. Greg explained how under Vehicle Code § 23152(b) that there is a presumption that the BAC measured is the same as when the client was driving as long as the BAC is measured within three hours of last driving.
The client also explained that he would be moving back to Maryland and then to Atlanta for a new job. He was unsure how he could comply with the alcohol awareness classes and the ignition interlock device (IID).
Greg explained how the judge will usually allow a defendant to fulfill the terms of DUI probation with an online class, but the California DMV will not permit this. The DMV will not reissue a driver's license following a suspension of one's driving privileges after a DUI conviction unless the person takes an in-person class in California.
This requirement, however, can be waived, as our client would need to seek, through a 1650 waiver, which Greg explained was a once-in-lifetime waiver for people who moved out of California to another state and needed their California license reinstated so they could get a driver's license, for example, in Georgia, as Georgia would not issue a new license if California has suspended it.
Greg also explained Senate Bill 1046, a new law, that allowed a driver involved in a DUI to avoid the "hard suspension" period of a driver's license suspension after DUI by installing an IID prior to the actual suspension. Greg explained how the client would need to have an IID installed in Maryland and then get permission to drive with it to Georgia before having it removed.
The case in court resolved at the second court appearance when the Los Angeles City Attorney agreed to offer a plea bargain wherein our client would plead to a violation of Vehicle Code § 23152(b) and be placed on three years of informal, or summary, probation with an obligation to enroll in and attend an approved AB541 three-month alcohol awareness program, pay a fine of $390 plus penalties and assessments (less credit of $125 off the base fine of $390 for one day in custody) and attend ten Alcoholics Anonymous (AA) classes. There would be no jail time.
The client was happy to only have to do a three-month program, as with his BAC, a nine-month DUI program (AB1353) was expected.
For more information about DUI issues, please click on the following articles:
Contact us.