Client Cited for 647(b) in Garage with Woman in Car, No File
Brief Synopsis: Client cited in Koreatown after he picks up a woman (not a decoy) who was suspected of being a prostitute by the police. Police follow the client into a locked parking garage and confront him. Our client states he and the woman agreed to have sex, but he did not admit to agreeing to exchange money for sex. Greg writes a letter to Los Angeles City Attorney's office and explains problems with case. Case a DA reject.

Our client, age 20, had arranged with and then met a woman who agreed to accept money in exchange for sexual favors. She was not a police decoy. Our client had picked up the woman and driven her back to his apartment in Koreatown. Our client worked as a cook in a Koreatown restaurant.
Little-known to him, but the Los Angeles Police Department had been watching this woman, who they suspected of being a prostitute. They observed her get into our client's car at about 4:45 a.m. when he pulled alongside her standing by the curb on Wilshire Boulevard. She was dressed like a prostitute with a bright red mini-skirt, high heels and wore a low-cut, black blouse.
Police then followed our client's car as he drove a few blocks to his apartment complex and entered the gated entry to the underground parking area. Police saw the gate open up and quickly parked their car to block the gate from closing. They then approached our client's car before our client could even exit his car.
Much to our client's surprise, as he opened his car door, he was met face-to-face with a uniformed Los Angeles Police Department officer.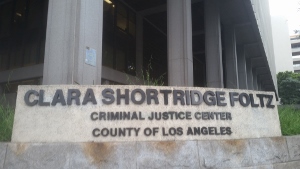 Clara Shortridge Foltz CCB Courthouse
For a person just twenty years old, our client was remarkably savvy in how he responded to police inquiries if he agreed to pay the woman for sex. The woman was unable to speak any English and there was no Korean-speaking officer available to question her, so police let her walk away, out the parking structure and into the night.
Our client told police that he and she had agreed to meet to have sex, but he refused to answer any questions from police, after they read him his Miranda rights, whether he agreed to pay her for such sex. Miranda v. Arizona (1966) 384 U.S. 436, 86 S. Ct. 1602; 16 L. Ed. 2d 694. It was perhaps clear as day to everyone in the parking garage that this was the case, but police did not force such an admission or confession from our client.
In frustration, police cited our client for solicitation of prostitution (Penal Code § 647(b)) and had him sign a promise to appear in the Clara Shortridge Foltz Criminal Courts Building (CCB) at 210 West Temple, Los Angeles, CA 90012 in about three months.
Our client was relieved that he was not taken into the station and the police left. Our client, quite shaken up by the surprise, went up to his apartment and fell asleep.
A few days later, he called Greg Hill & Associates and spoke with Greg Hill. The client described what had happened and his concern with a criminal conviction and if that meant he would lose his job as a cook. He was also quite worried about having to serve time in jail.
He had no prior criminal history.
Greg explained to the client how such cases are generally handled by the Los Angeles City Attorney's Office in the Clara Shortridge Foltz building, or CCB. However, because the client was deliberate about refusing to admit to police that he agreed to pay the woman for sex and the police otherwise could not elicit such information from the woman, Greg told the client that he believed the case may not be filed and may be, at most, referred to the Neighborhood Justice Program, or NJP, a program the Los Angeles City Attorney's Office referred minor misdemeanors to involving younger defendants who had no prior criminal history.
Greg then offered the client a deal wherein the client would only pay half the retainer fee (and no more) if the case was not filed, or was referred to the NJP. Greg then wrote the Los Angeles City Attorney's Office and proposed that the case be referred to the NJP or simply not filed, arguing that police never established that our client agreed to pay the woman in exchange for sex and thus, no crime at all took place.
Greg enclosed the client's resume and described how our client, age 20, was a cook who may lose his job with a conviction. Greg further stated that our client was very traumatized by the interaction with police, who were demeaning and intimidating to him.
The Los Angeles City Attorney's Office did not respond to Greg's letter, so when the date for the arraignment approached, Greg appeared in the Clara Shortridge Foltz courthouse for the client. However, no case was filed and the clerks' office advised Greg that the case was considered a DA reject.
While we will never know if Greg's letter helped the Los Angeles City Attorney's Office come to this decision, the client was extremely relieved, nonetheless and thankful that our office did not charge him the full retainer fee.

For more information about prostitution, please click on the following articles: