CDCR Prop 57 Regulations Excluding 290 Registrants Invalid
The California Department of Corrections and Rehabilitation (CDCR) has violated Proposition 57 yet again, it seems, as a recent California Supreme Court case held that the CDCR's early parole regulations excluding previously convicted or currently convicted sex offenders conflicts with Prop 57.
This ruling, in the case of In re Gregory Gadlin (2020 DJDAR 132617), exemplifies, we think, why more oversight of the CDCR is appropriate.
About This Article Briefly: The California Supreme Court holds that the CDCR's may not exclude serving a nonviolent registrable offense (290 registrant upon release from prison) from Prop 57 early parole eligibility.

In November 2016, California voters approved Proposition 57, the Public Safety and Rehabilitation Act of 2016. The initiative amended California's constitution so as to provide, "any person convicted of a nonviolent felony offense and sentenced to state prison shall be eligible for parole consideration after completing the full term of his or her primary offense."
The initiative directed the CDCR to "adopt regulations in furtherance of these provisions" and instructed the Secretary of the Department to "certify that these regulations protect and enhance public safety."

The CDCR then adopted regulations that excluded from nonviolent offender parole consideration any inmate who "is convicted of a sexual offense that currently requires or will require registration as a sex offender under the Sex Offender Registration Act, codified in Sections 290 through 290.24 of the Penal Code.
Gregory Gadlin was convicted of assault with a deadly weapon (Penal Code § 245(a)(1)) in 2007. The jury sustained allegations that he suffered two prior serious felony convictions under Penal Code § 667(a)(1): forcible rape (§ 261, former subparagraph (2)) in 1984 and forcible child molestation (§ 288(b)) in 1986 each which rendered him a registered sex offender.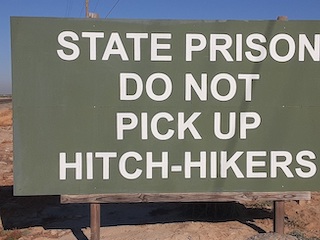 Prison
When Gadlin was convicted in 2007, he was sentence to 35 years to life, consisting of 25 years to life for the assault with a deadly weapon under the Three Strikes Law (Penal Code § 667(b) – (i), 1170.12) and an additional five years for each prior serious conviction. His judgment was affirmed on appeal.
After California voters approved Prop 57, Gadlin filed a petition for writ of habeas corpus in the Los Angeles County Superior Court. The petition challenged the CDCR's determination that he did not qualify for nonviolent offender parole consideration and specifically challenged the provision of the regulations excluding from nonviolent offender parole consideration inmates like petitioner who had been convicted under the Three Strikes law.
The trial court judge, William Ryan, denied the petition, finding that the then-applicable regulations properly excluded inmates serving third strike sentences from eligibility for nonviolent offender parole consideration.

Gadlin then appealed to the Second Appellate District. The CDCR opposed Gadlin's appeal on two grounds. First, it argued that the CDCR was proper in denying early parole consideration because Gadlin was serving an indeterminate term pursuant to the Three Strikes Law. Second, early parole consideration did not apply because Gadlin had suffered a prior conviction for a sex offense requiring registration under Penal Code § 290.
The appellate court held that the CDCR regulations improperly excluded petitioner from nonviolent offender parole consideration based on his two prior sex offense convictions. People v. Gadlin (2018) 31 Cal.App.5th, at pp. 789-790. The court of appeal determined that Prop 57's reference to "convicted" and "sentenced" only refer to "the conviction on which an inmate is now serving a state prison sentence, rather than prior criminal history." Id. at 789.
The court rejected the CDCR's contention that it could exclude offenders with prior sex offense convictions in order to protect public safety, noting that the "plain text of section 32(a)(1)" does not provide for this.
The court declined to express any opinion concerning whether the exclusion of inmates based on a current conviction for a nonviolent sex offense also violates the Constitution, as amended with Prop 57.

The Court of Appeal granted the petition and ordered the CDCR to consider petitioner for parole within 60 days.

The CDCR then appealed this ruling to the California Supreme Court and affirmed the Second Appellate District. The Supreme Court went further, adding that the CDCR may not exclude a person serving a registrable felony from nonviolent offender early parole eligibility if the CDCR regulations define that sex offense as nonviolent.
The citation for the California Court ruling discussed above is In re Gregory Gadlin (2020) 10 Cal. 5th 915, 272 Cal. Rptr. 3d 879, 477 P. 3d. 594.

For more information about Prop 57, please click on the following articles: