CDCR Acted with Deliberate Indifference to Risks of COVID-19
The following summary of a First Appellate District Court ruling is not about criminal defense, but about prisoner rights, which is often an area of questions our clients have.
Brief Synopsis: The First Appellate District Court ruled that the CDCR acted with deliberate indifference to prisoner rights at San Quentin in its handling of the risks associated with the COVID-19 virus in how it balanced public safety with inmate exposure to the virus.

The COVID-19 outbreak hit the California state prisons hard for many reasons, including lack of social distancing, poor air circulation and pre-existing medical conditions among prisoners, especially older prisoners.
Ivan Von Staich, now age 64, was convicted in 1986 for second-degree murder with use of a firearm and attempted murder. He is currently a prisoner at San Quentin State Prison. He is serving a sentence of 17 years-to-life for the murder consecutive to a 13-year sentence for the attempted murder.
In May of 2020, he filed, in pro-per, a petition for writ of habeas corpus, arguing that he was being illegally held in custody because the CDCR was not adequately prepared to respond to an outbreak of COVID-19 at San Quentin, which violates the prohibition against cruel and unusual punishment embodied in article I, section 17 of the California Constitution and the Eighth Amendment of the United States Constitution.

Specifically, he alleged that the CDCR acted with reckless indifference to the risk of substantial harm to inmates by failing to immediately reduce the population of San Quentin by releasing or transferring at least 50 percent of the population of the prison in accordance with the recommendation of public health experts who had been asked to advise the CDCR on measures to combat COVID-19 necessary to "protect the health of prisoners, the health of correctional facility staff, the health of health care staff and the health of the community as a whole." On the same basis, Von Staich sough declaratory relief for other similarly situated prisoners.
Shortly thereafter, Von Staich's petition was validated because San Quentin suffered a devastating outbreak of COVID-19, infecting 75% of the prisoners and many of the staff.
Von Staich suffers respiratory problems due to bullet fragments lodged in his left lung. Both he and his 65-year-old cellmate both tested positive for COVID-19. They were housed in a cell so small one can touch both walls at the same time by outstretching one's arms, which Von Staich said makes it impossible to "socially and physically distance" oneself from others to prevent being infected with the virus.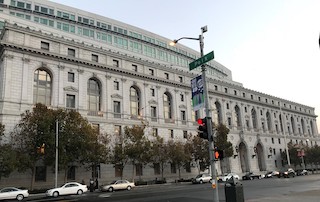 Court of Appeal First Appellate District San Francisco
The petition was filed in the First Appellate District Court in San Francisco, which ordered the Warden of San Quentin Prison to show cause why relief should not be granted to transfer petitioner to a suitable quarantine location.
After reviewing the Warden's response, the First Appellate District agreed with Von Staich that the CDCR acted with deliberate indifference and relief is warranted.
In coming to this ruling, the First Appellate District explained that the risks of COVID-19 had been known, or should have been known, at least no later than March 4, 2020 when Governor Newsom declared a state of emergency for California and a week later, the World Health Organization declared COVID-19 a pandemic, noting "the alarming levels of spread and severity."

Prisons and jails have long been associated with inordinately high transmission probabilities for infectious diseases. Indeed, early in 2020, physicians and public health officials sounded the alarm that prisons and jails could become the "epicenter of the pandemic." Prisons and jails often operate well beyond their capacities, and California's 35 adult prisons were no exception. Windows are often welded shut for security and ventilation is often quite limited for security.
Recognizing this risk, the CDCR did suspend the intake of prisoners from county jails and juvenile halls to adult prisons and did institute programs to expedite the release of certain classes of prisoners.

Despite these efforts, however, there have been more than 2,200 confirmed cases of COVID-19 among San Quentin inmates and 28 deaths as of October 16, 2020.

The catalyst for the outbreak of COVID-19 infections and deaths was the transfer by CDCR of 121 inmates from the California Institute for Men (CIM) in Chino to San Quentin, which was part of an effort to control the spread of the virus at CIM. The CIM inmates transferred to San Quentin had not been tested for up to a month before the transfer. Some of the transferred inmates immediately became ill after entering San Quentin and several tested positive shortly after arrival. For days, the transferred inmates used the same showers and ate in the same dining hall as the other San Quentin inmates, which numbered about 3,500.

After the outbreak of COVID-19 at San Quentin, with over 1,400 inmates infected, the prison sought guidance what to do and an "Urgent Memo" was created that outlined steps to take. However, implementing the Urgent Memo's recommendation was slow and haphazard, the prison acknowledged, but explained that it was due to safety issues, leading the First Appellate District to find that the CDCR treated inmates' medical needs with deliberate indifference.

The First Appellate District then ordered that Von Staich be "immediately" removed from San Quentin to another CDCR facility that can provide the necessary physical distancing and other measures to protect against COVID-19. The CDCR was also ordered to release on parole or transfer to another correctional facility enough prisoners to reduce the prison population to 1,775 inmates. The First District specified for special attention those inmates over age 60 and those who have served over 25 years of their sentence and are eligible for parole, including even life prisoners and second and third strikers, even if such prisoners are serving time for a violent offense.
The citation for the First Appellate District Court ruling discussed above is In re Ivan Von Staich (1st App. Dist., 2020) 56 Cal. App. 5th 53, 270 Cal. Rptr. 3d 128.
For more information about health issues in jail or prison, please click on the following articles: