Compassionate Release – Is Judge's Discretion Unlimited?
As the reader of this article may very well already know, the Board of Parole Hearings (BOPH) may recommend that a prisoner be granted a "compassionate release" under Penal Code § 1170(e) if it finds that the prisoner no longer poses a danger to society and has less than six months to live.

Such a recommendation, however, is not authority to release the prisoner. The judge assigned to the case has discretion to deny such a release despite the BOPH recommendation.

Summary in 50 Words or Less: A judge does not have full discretion to deny a prisoner compassionate release, which some may characterize as "unlimited discretion," as the following summary of a Fourth Appellate District Court ruling explains. If the Bureau of Parole Hearings recommends a person for compassionate release, it seems the judge must grant such a release.

What are the limits of such judicial discretion? The following published decision from the Fourth Appellate District, in reviewing a Riverside County judge's ruling denying compassionate release, is a good guidepost for understanding such judicial discretion.
In 1995, defendant Tony Flores Torres was sentenced to 29 years to life for first degree murder. In April 2019, he requested compassionate release under Penal Code § 1170(e). At that time, he was 76 years old and residing in the prison's hospice unit.
In response to Torres' request, the Department of Corrections and Rehabilitation's California Medical Facility prepared a Diagnostic Study and Evaluation Report. The doctor's report found that Torres "has been diagnosed with widely metastatic prostate cancer. He received 45 radiation treatments . . . Metastases to this neck compromised his spinal cord and necessitated surgical interventions to several vertebrae. He has left-side weakness because of his spinal disease. He requires a permanent hard cervical collar to stabilize his neck."

The report then stated, "[Defendant] does not retain the capacity to commit or to influence others to commit criminal acts that endanger public safety" . . . "and is permanently in a wheelchair due to left-side weakness." His daughter, the report went on to say, would care for him in her home under home hospice care should he be released.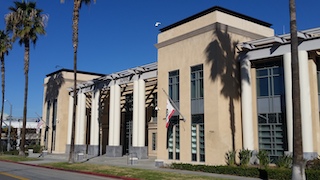 4th Appellate District Division 2 Riverside
The BOPH found that Torres was eligible for compassionate release under § 1170(e) because he had terminal cancer. Board physicians determined he had less than six months to live (§ 1170(e)(2)(A)) and that he could be released without posting a threat to public safety (§ 1170(e)(2)(B)).
Torres then filed a motion for compassionate release in the Riverside County Superior Court in June 2019. In July 2019, the judge denied it, noting that it was undisputed that defendant's physicians determined he had less than six months to live.
As to whether defendant would pose a danger to society if released, the judge found that it was a "close call" because elderly people in wheelchairs can still commit crimes, but "it would be a stretch to suggest that . . . he still poses a danger to society. The judge thus found he met the requirements for compassionate release".
Nonetheless, the judge concluded that whether to release defendant was "a discretionary call" because section 1170(e) indicates "that some people are going to die in prison," which is "why the court is given discretion." In the trial court's view, defendant was "not a nice person," "a brutal person," and "as far as expressing serious remorse . . . he came late to this party." Based on this, the judge denied defendant's motion "because of his extraordinarily violent nature and because of his extraordinarily callous behavior, and I find that his comments of remorse are basically when he was on death's door." The judge went on to comment that some people deserve compassionate release and "some of them don't. It's not mandatory, which means, I have to differentiate between those folks. Not this person."
Mr. Torres appealed the ruling to the Fourth Appellate District in Riverside, arguing that the trial court judge abused his discretion. The Fourth District agreed, reversing the trial court. The appellate court explained that "the trial court's discretion is not unfettered when evidence is presented satisfying 1170(e)(2)'s criteria." People v. Loper (2015) 60 Cal.4th 1155, at 1161, fn 3.
The appellate court then found that the trial court judge's denial of release based on the nature of the offense and the lack of remorse was an abuse of discretion. These were impermissible factors to consider.
The appellate court then remanded the matter to the trial court with an order directing the trial court judge to grant the motion and to re-sentence defendant or recall his sentence.
We consider this ruling quite significant in that the appellate court seems to say certain factors about defendant cannot be considered by the judge in his discretion. What factors then can the court consider if the doctors opine that defendant has less than six months to live and does not pose a danger to public safety? We believe there really are no other factors to consider unless the judge is to second-guess the public safety analysis of the doctors, which would probably also be considered an abuse of discretion. In other words, it appears, the BOPH recommendation appears to be binding on the judge, which may be good given the circumstances of a dying prisoner's request to leave prison before passing away.

The citation for the Fourth Appellate District Court ruling discussed above is People v. Tony Flores Torres (4th App. Dist., 2020) 48 Cal. App. 5th 550, 261 Cal. Rptr. 3d 844.


For more information compassionate release and other post-conviciton relief options, please click on the following articles: