Case Dismissed by Judge During Trial for Brady Violations
We receive many calls from folks who wish to appeal a verdict and/or sentence because, they tell us, the police and/or the prosecutor "sandbagged" them by refusing to give over videotapes or audiotapes that the caller believes "must exist," but he or she really is not certain they exist. Alternatively, the caller may claim he or she suffers from a mental condition that the police became aware of during the arrest, but this condition was not described in the police report at all. The caller says the judge should have just dismissed the case to punish the government.
Summary in 50 Words or Less: A judge may dismiss a case when there is a willful or flagrant violation of the prosecution duty to disclose evidence under Brady v. Maryland that substantially prejudiced defendant.

What is the legal standard for a judge to do so?
In the context of federal court, a U.S. District Court may dismiss an indictment for government misconduct if it finds a serious due-process violation. United States v. Kearns (9th Cir., 1983) 5 F.3d 1251, 1253. Dismissal for a due-process violation requires the government's conduct to "be so grossly shocking and outrageous as to violate the universal sense of justice." Id. "The [due-process argument] is usually raised in situations where law enforcement conduct involves extreme physical or mental brutality or where the crime is 'manufactured by the government from whole cloth.'" United States v. Green (9th Cir., 1992) 962 F.2d 938, 942.
Indeed, a district court may dismiss an indictment under its inherent supervisory powers "(1) to implement a remedy for the violation of a recognized statutory or constitutional right; (2) to preserve judicial integrity by ensuring that a conviction rests on appropriate considerations validly before a jury; and (3) to deter future illegal conduct." United States v. Stuckman (9th Cir, 2010) 611 F.3d 560, 574 (quoting United States v. Hasting (1983) 461 U.S. 499, 505).
Such an exercise of its supervisory power protects the integrity of the federal courts and prevents the courts from "making . . . themselves accomplices in the willful disobedience of the law." McNabb v. United States (1943) 318 U.S. 332.
One of the rights that is "sacred," we'd venture to so characterize, is that a defendant is entitled to evidence "both favorable to the accused and material to guilt or to punishment." United States v. Bagley (1985) 473 U.S. 667, 674 (quoting Brady v. Maryland (1963) 373 U.S. 83). "Brady evidence" can be favorable "either because it is exculpatory or impeaching." Milke v. Ryan (9th Cir., 2013) 711 F.3d 998, 1012.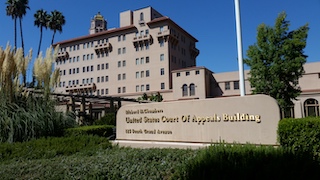 U.S. Ninth Circuit Court of Appeals Pasadena
For a Brady violation to occur, "the government must have willfully or inadvertently failed to produce the evidence" and "the suppression must have prejudiced the defendant." Id. But simply showing a Brady violation – withholding of evidence that caused prejudice – is not a sufficient basis to dismiss an indictment. Only where the government withheld Brady material through "flagrant misconduct," causing "substantial prejudice" to the accused, will justify the court's exercise of its supervisory powers to dismiss the case with prejudice." United States v. Kearns 9th Cir. 1993) 5 F.3d 1251, at 1253.
Cliven Bundy, two of his sons, Ryan and Ammon Bundy, and sixteen others were charged with obstructing federal law enforcement officials carrying out lawful court orders to impound Cliven Bundy's cattle for a twenty-four-year failure to pay federal grazing fees in Nevada for his cattle grazing on federal property. The land was in a 160-acre tract about 80 miles northeast of Las Vegas, near the Arizona border. It is rugged, Mohave-dry land.
The indictments followed a well-publicized effort by the Bureau of Land Management (BLM) to impound the cattle, sell the cattle at auction and then use the proceeds to satisfy the unpaid grazing fees owed by Bundy. Bundy and hundreds of armed supporters from around the United States forced federal officials to abandon the impoundment plan. Fortunately, no one was injured during the confrontation.
Days into the Bundys' trial, the government began disclosing information under its possession that, under Brady, was arguably useful to the defense and should have been produced to defendants well before trial.
As additional documents came forth, the district court held a series of hearings, essentially deciding that the trial could not go forward and that the indictments must be dismissed with prejudice.
The district court emphasized, that under Brady, "[t]he prosecution is trusted to turn over evidence to the defense because its interest 'is not that it shall win a case, but that justice shall be done.'" Amado v. Gonzalez (9th Cir., 2014) 758 F.3d 1119, 1133-1134.
Following the dismissal with prejudice, the government appealed the order to the United States Court of Appeals for the Ninth Circuit, which the Ninth Circuit affirmed in United States of America v. Cliven Bundy, et al. (2020 DJDAR 8235).
The citation for the U.S. Ninth Circuit Court of Appeals ruling discussed above is United States of America v. Cliven Bundy, et al. (9th Cir., 2020) 968 F. 3d 1019.

For more information about Brady issues, please click on the following articles: