Pitchess Data - Brady Alerts Are Permissible Again
In what some may consider a "watershed" ruling, the state Supreme Court recently reversed the Second Appellate Court of Appeal, which held earlier that law enforcement agencies were barred from disclosing the name of any individual deputy to anyone outside the department, "even if the deputy is a witness in a pending criminal prosecution," unless a judge grants a
Pitchess
motion. This ruling made the granting of a
Pitchess
motion the threshold event for law enforcement to disclose confidential officer information of police misconduct to the defense.
About This Article Briefly: Law enforcement may now, without a Pitchess motion being granted, disclose Brady material to prosecutors about particular officers who have potentially exculpatory information or impeachment material in their personnel files. This suggests that prosecutors now have a heightened duty to demand such material and defense attorneys a similar duty to push on prosecutors for this because it is now less burdensome to obtain such information.

Now, as of Friday, August 26, 2019, the ruling in Association for
Los Angeles Deputy Sheriffs v. the Superior Court of Los Angeles County
(2019 DJDAR 8165) restores the right of a law enforcement agency to make a "
Brady
Alert" to prosecutors.
Brady v. Maryland
(1963) 373 U.S. 83. Advising prosecutors of such relevant and impeaching material from within that officer's confidential personnel file would not, in other words, be a violation of Penal Code § 832.7(a).
Brady
, a U.S. Supreme Court case, created a duty of a prosecutor to disclose all information to the defense that would be favorable to the defense. In part to address this issue, some law enforcement agencies have created so-called
Brady
lists. These lists enumerate officers whom the agencies have identified as having potential exculpatory or impeachment information in their personnel files – evidence which may need to be disclosed to the defense under
Brady
and its progeny.
Disclosure of the fact that an officer is on a "
Brady
List" both signals that it may be appropriate to file a motion under
Pitchess
seeking in camera inspection and helps to establish good cause for inspection. The California Supreme Court described this "
Brady
Alert" practice as laudable (to prevent overturned convictions later based on prosecutor misconduct in hiding such discovery).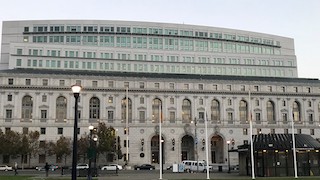 CA Supreme Court San Francisco
It merits mention that the "
Brady
List" for the Los Angeles County Sheriff's Department contains the names of approximately 300 sheriffs. There are approximately 7,800 deputy sheriffs within the Los Angeles County Sheriff's Department.
Some will agree with California Chief Justice Tani Cantil-Sakauye that this right to advise prosecutors of an officer's name who may be subject to discovery of his personnel file for
Pitchess
data mitigates the risk of a constitutional violation of
Brady
.
Pitchess v. Superior Court
(1974) 11 Cal.3d 531.
Such a violation refers to
Brady
, which held that a prosecutor has a constitutional duty to disclose information to criminal defendants under the defendant's due process right to know of all evidence, favorable and unfavorable, before trial in a criminal case, including information that relates to police misconduct of the officers involved. Such misconduct can include a history of "immoral conduct," taking bribes, rewards, gifts, loans or favors; misappropriation of property; obstructing an investigation / influencing a witness; domestic violence; using excessive force, engaging in racial profiling, fabricating material evidence, destroying or suppressing favorable evidence and other types of behavior that may be the subject of a sustained or founded civilian complaint against the officer.
However, police often are reluctant to share such confidential information with prosecutors because such information may include records concerning frivolous or unfounded civilian complaints, which if shared, may then unfairly undermine prosecution of a pending case. Moreover, sharing such information with prosecutors is seen as a privacy violation and often as a way for defense attorneys to drag a police officer's personnel file into the open, embarrassing him or her and perhaps causing the dismissal of a criminal case that was actually not tarnished by police misconduct at all.
This tension between law enforcement and prosecutors is resolved to some degree by the ruling on August 26, 2019.
The ruling was clear to limit itself to just ruling on whether law enforcement may share confidential information under Brady with prosecutors and did not express any opinion on whether it would then violate confidentiality for a prosecutor to then share such information with the defense.
The citation for the California Supreme Court ruling discussed above is Los Angeles Deputy Sheriffs v. the Superior Court of Los Angeles County (2019) 8 Cal.5th 28.

For more information about
Pitchess
issues, please click on the following articles:
Contact us.