When and Why Does a Judge Have to Grant a Pitchess Motion?
Pitchess v. Superior Court
(1974) 11 Cal.3d 531 (
Pitchess
) has been interpreted in many ways over the years, mostly associated with a criminal defendant's right to certain discovery of police officer personnel file materials to support a defense to defendant.
The Reader's Digest Version: A judge must grant a Pitchess Motion if a defendant shows such information in a police officer's personnel records concerning police officer misconduct in the past is material to the subject matter of the case against defendant. The judge's order, under Pitchess, can only order production of documents stretching five years back, not more.

It has often been said that the
Pitchess
procedure "operates in parallel with
Brady
and does not prohibit the disclosure of
Brady
information."
City of Los Angeles v. Superior Court
(2002) 29 Cal.4th 1, 14 (citing to
Brady v. Maryland
(1963) 373 U.S. 83 (
Brady
)). In other words, "all information that the trial court finds to be exculpatory and material under
Brady
must be disclosed, notwithstanding Evidence Code § 1045's bar on disclosure of police personnel records more than five years old."
People v. Superior Court
(Johnson) (2015) 61 Cal.4th 696, at 720.
But under
Brady
, evidence is "material" only if it is reasonably probable a prosecutor's outcome would have been different had the evidence been disclosed. Under
Pitchess
, defendant seeking police personnel information must only show that the information sought is material "to the subject matter involved in the pending litigation." Thus, the type of information discoverable under
Pitchess
is broader than under
Brady
and any information that meets
Brady
materiality standards must be disclosed under
Pitchess
.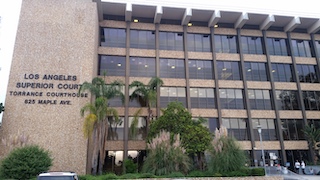 Torrance Courthouse
It is against this background that in 2016, the Los Angeles Sheriff's Department reviewed all its deputy personnel files and "identified approximately 300 deputies who had administratively founded allegations of misconduct involving moral turpitude, conduct which might be used to impeach a deputy's testimony in a criminal prosecution." Association for Los Angeles Deputy Sheriffs v. Superior Court (2017) 13 Cal.App. 5th 413, 423 (ALADS).

There were eleven categories of misconduct upon which the panel based its decision, based on various violations of the Sheriff's Manual of Policy and Procedures. The categories included (1) immoral conduct; (2) bribes, rewards, loans, gifts, favors; (3) misappropriation of property; (4) tampering with evidence; (5) false statements; (6) failure to make statements and/or making false statements during departmental internal investigations; (7) obstructing an investigation / influencing a witness; (8) false information in records; (9) policy of equality – discriminatory harassment; (10) unreasonable force; and (11) family violence. ALADS, at 423.

In early 2017, Los Angeles County Sheriff's Deputy Adam Halloran was driving his marked patrol vehicle northbound on I-5 when he spotted a Jeep in lane 2 "hugging the left side of the lane." When the Jeep passed a semitrailer, the rear tire of the Jeep crossed into lane 1 twice (a violation of Vehicle Code § 21658(a)), Halloran made a traffic stop.

Manuel Serrano was driving the Jeep, with his cousin, Homar Romero, being a passenger.

Halloran testified that Serrano was extremely nervous. He was breathing heavily and his hands trembled. Halloran then allegedly saw a FoodSaver box, which Halloran recognized from his training as a device used to vacuum seal narcotics.

Halloran then asked to search the vehicle and Serrano said no. Halloran then placed Serrano in the backseat of this patrol car and requested a K-9 unit. The dog then arrived and indicated the presence of narcotics in the FoodSaver box. When Halloran opened it, he found nothing but baggies. However, there was a wrapped present in the backseat, too, which Halloran unwrapped and found it was 2.5 pounds of cocaine. Halloran then took Serrano to the Santa Clarita station for booking and released his passenger.

Serrano was then charged with sale and transportation of a controlled substance (Health and Safety Code § 11352).

The public defender representing Serrano filed a discovery motion, seeking information that was potentially relevant in Halloran's personnel file for the judge's in camera review. In the motion, the public defender said, "the credibility of the arresting deputy is material to both a motion to suppress evidence and to trial. He is the arresting officer and the sole witness for the prosecution on all issues" and "depending upon the type of Brady evidence in this officer's personnel file, it may be used to impeach" his testimony and credibility at any hearing or trial. It was not a pure Pitchess motion.

The trial court denied the motion as to the items in Halloran's personnel file, ruling that the defense must allege how Halloran engaged in acts of misconduct in this case.

Serrano filed a writ of mandate up to the Court of Appeal and the Court of Appeal reversed in favor of Serrano. It said Brady imposes a sua sponte (by oneself) duty on the prosecution to disclose material exculpatory to the defense, including material concerning the police. The matter was remanded with an order for the court to conduct a Pitchess review of Halloran's personnel file and product this to Serrano.

We find this ruling extraordinary insofar as it extends Brady to police information, saying – we think – that essentially that a formal Pitchess motion is not always required, at least in LA County when there is ALADS information on a deputy sheriff.
The Second Appellate District Court ruling discussed above is People v. Manuel Jesus Serrano, however, under California Rules of Court, Rule 8.1115(a), it is not to be cited to as it is an unpublished decision.