Getting Police Records Via a Pitchess Motion Now Easier
One aspect of our country's criminal justice system is a distrust of too much government power. The concern traces itself back to our country's origin and a desire to escape British rule.
In a Nutshell: The Prosecutor Is Entitled to Direct Access to Police Personnel Records, However Defendant Must File a Pitchess Motion to See Such Records.

Due process became the concept designed to ensure procedural fairness. It was set forth in the Fifth Amendment to the U.S. Constitution and was made applicable to the individual states through the Fourteenth Amendment.
A big concern of those accused of any crime is that police had too much power. After all, police can gather evidence and documents, but then destroy such evidence. Police officers can also grow frustrated and use too much force or pull over people in traffic stops without reasonable suspicion. In fact, some officers may be "dirty cops" that really should not be trusted with enforcing our laws. Such police officers may even have a history of being administratively disciplined for being too aggressive, destroying evidence or falsifying police reports.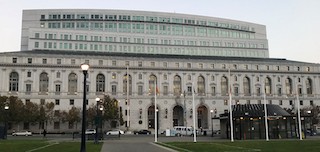 Court of Appeal First Appellate District San Francisco
Those accused of committing a crime will often believe or argue that they are not only innocent, but a victim of a "dirty cop" and the accused wants to prove it. Due process, however, does not allow defendants direct access to police personnel records, both for privacy concerns and for concern that disclosure of such records may be irrelevant. Penal Code § 832.7(a) codifies these concerns by providing that peace officer personnel files are confidential and not subject to disclosure in a criminal or civil matter except by a motion and court order. Such a motion is called a Pitchess motion and it is made under Penal Code § 1043 and 1045. Pete Pitchess was the Los Angeles County Sheriff when the case Pitchess v. Superior Court (1974) 11 Cal.3d 531 was decided.
In 1963, the U.S. Supreme Court ruled on a similar issue in
Brady v. Maryland
at 373 U.S. 83. In
Brady
, the court stated the prosecution is required to disclose evidence that is a favorable and material to the defense." Such material has become known as
Brady
material.
Since 1963, defendants have thus requested
Brady
material through
Pitchess
motions in California. When this request is made, the judge must first identify that material within the officer's personnel record that must be disclosed. This must be performed by the judge and cannot be accomplished by the judge delegating this duty to another person. Once such material is identified, it can be produced for the defendant.
In November, 2012, the San Francisco Police Department were summoned to the home of Daryl Lee Johnson. He was arrested for felony domestic violence (Penal Code § 273.5) and one count of misdemeanor injuring a wireless communication device (Penal Code § 591.5), a cell phone of the victim. Two officers were involved in the arrest.
In most cases, defendant will claim a police officer acted with excessive force, destroyed evidence of coerced a confession (or all three) and will seek the officer's personnel records to see if a citizen's complaint for similar conduct was made. In Johnson's case, however, police came to the prosecutor and advised that the police officers' records were a big problem in the case.
The prosecutor wanted to look at the records, but believed Penal Code § 832.7(a) required a judge's order before he or she could look at the records. The police also wanted this procedure to be followed to avoid a lawsuit from the officers for revealing the problems, which could involve a future civil rights action.
The prosecutor therefore filed a motion to get a judge to review the personnel records of the two officers and then determine if any of the records ("
Brady
material") were subject to disclosure. The motion was served on Defendant and his counsel then filed a similar motion asking for the court to order the material be produced for him.
In response, the judge directed the San Francisco Police Department to give the prosecution access to the police records so it could produce it for the defendant. The ruling was significant in that it removed the judge from any role in reviewing the files first. Instead, this duty was passed over to the prosecutor.
The prosecutor appealed the order, arguing that under Penal Code § 832.7, the judge must perform a review of the records, not the prosecutor. The First Appellate District, in
People v. Superior Court of San Francisco (Johnson)
(2014 DJDAR 10683), agreed with the trial court, concluding that 832.7 does not create a barrier between the prosecution and its duties under
Brady
to provide the defense with officer personnel files.
We think this is a watershed ruling insofar as it removes the usual prosecution foot-dragging that is common when a defendant files a
Pitchess
motion. Often, the prosecution will apologize that it cannot produce any records until the judge performs his or her review of the files. Now, that delay-creating excuse is gone. It will be very interesting to see if two years from now the courts can document an increase in
Pitchess
motions.
Update: The California Supreme Court subsequently handled this case on appeal, reversing the First Appellate District, stating that prosecutors must follow the same Pitchess process as defense counsel to review police records and that prosecutors do not have unfettered access and control over what records to release to defense counsel. We like this ruling because it prevents the prosecution, if unethical, from preventing such disclosure.
The citation for the Appellate District Court ruling discussed above is Superior Court v. San Francisco Cnty. (Johnson) (2015) 61 Cal.4th 696.
For more information about police misconduct, click on the following articles:
When a Pitchess Motion Is Granted, the Judge Must Review the Police Officer's Confidential Personnel Records Rather Than Delegate Such Review to Another Person
Contact
Greg Hill & Associates