Senate Bill 1421- More Public Overview of Police
It is refreshing to read the text of Senate Bill 1421, which was signed by then-Governor Brown on September 30, 2018 and passed into law to become effective on January 1, 2019.
In a Nutshell: Senate Bill (SB) 1421 provides more transparency in policing by making four categories of high-level police misconduct investigations a mandatory disclosure upon request within ten days or when there is good cause, up to fourteen days. While this new law has been the law for now almost two years, we have yet to see its effects on a broad scale.

The bill recognizes that "concealing crucial public safety matters such as officer violations of civilian rights, or inquiries into deadly use of force incidents, undercuts the public's faith in the legitimacy of law enforcement." Taking this issue one step further, the bill states that the public has a right to know about serious police misconduct as well as officer-involved shootings and other serious uses of force.
It makes the police accountable to those they are obligated to serve and those who pay them.
It also, we believe, prevents systemic police misconduct wherein officers routinely abuse their position to further an ulterior purpose or simply prevent a "bad cop" from ruining the life or lives of the public just because he or she is not taking his job seriously.
If one is charged with a crime and believes that police may have been dishonest in their investigation, including making false statements or destroying / concealing key evidence, then Senate Bill 1421 broadens a defendant's rights already existing under
Pitchess v. Superior Court
(1974) 11 Cal. 3d 531, Evidence Code § 1043 and Penal Code § 833.5. Such rights include the ability to "penetrate" the otherwise confidential privilege afforded to citizen complaints against police officers (to protect the police officers) when sufficient good cause is demonstrated to a judge and production of such complaints is found legally relevant in a particular case.
Senate Bill 1421 opens the door further toward giving the public access to the personnel records of police officers that otherwise needed judicial approval to produce. Now, it seems, the records can simply be demanded under the Public Records Act.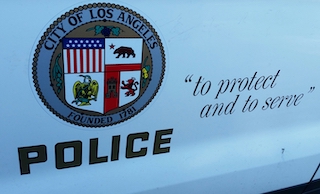 LAPD Door Emblem
Senate Bill 1421 makes four categories of internal investigation documents from high-level police misconduct subject to mandatory disclosure under the Public Records Act, Government Code § 6250,
et
seq
. These records include for both police officers and custodial officers. Such documents include reports, photographic evidence, audio recordings and video evidence, transcriptions or recordings of interviews and autopsy reports. While Senate Bill 1421 does not state over what period of time this may cover, we believe it is five years as provided in
Pitchess, supra
.
The first category is officer-involved shootings by amending Penal Code § 832.7 at § 832.7(b)(1)(A)(i). The issue here is whether the police officer is prone to use force, whether he has a history of being shot at my suspects and who he has shot at in the last five years.
The second category includes reports and internal investigations for an officer using force that resulted in great bodily injury or death. Penal Code § 832.7(b)(1)(A)(ii).
The third category of information now discoverable under the Public Records Act includes all documentation from sustained findings of dishonesty in reporting, investigation and prosecution of a crime. Penal Code § 832.7(b)(1)(C). This includes information on officers committing perjury, making false statements, destruction of evidence and concealing evidence. A sustained finding means the investigation is concluded. This also means that if there in an ongoing investigation into such conduct, those records would not be available to the public
The last category of the four is sustained findings of sexual assault against a member of the public, including against a cadet, explorer or other youth program, including by force, threat, coercion, extortion, offers of leniency or other official favor, or under the color of authority. Penal Code § 832.7(b)(1)(B)(i).
After a request is made for such records from the police under the California Public Records Act (CRPA), the police agency has ten days to advise the requesting party whether it has any such records. In certain "unusual" situations, the police agency can have up to fourteen days to respond, but no longer.
The next step is the police agency actually producing such records and for this, there is no time deadline yet established.

Contact us.