How Broad Is Brady? Exculpatory and Impeachment Material?
There are perhaps few cases as misunderstood by so many as Brady v. Maryland (1963) 373 U.S. 83, 10 L.Ed. 2d 215, 83 S. Ct. 1194. It is codified into California Penal Code § 1054(e), as well as numerous other state statutes outside California, yet remains something of an enigma.

About This Article Briefly: There are limits on the duties of the prosecution under Brady v. Maryland and Penal Code § 1054(e). While most attorneys are familiar with Brady understand that Brady furthers a broad due process right to know what facts and witnesses are going to be used by the prosecution against defendant, there is some material the prosecution is not obligated to provide the defense.
We believe Brady persists as an enigma is because courts have ruled that there are certain limitations on a prosecutor's duties under Brady, there is confusion. See, i.e. Izazaga v. Superior Court (1991) 54 Cal.3d 356, 377 n14, 285 Cal.Rptr. 231; Hubbard v. Superior Court (1997) 66 Cal.App.4th 1163, 1167, 78 Cal.Rptr.2d 819 (unless the information is exculpatory, the prosecution has no duty to disclose defense witness statements before their cross examination); see People v. Tillis (1998) 18 Cal.4th 284, 287, 295, 75 Cal.Rptr.2d 447 (unless otherwise discoverable under Penal Code §§ 1054 – 1054.10, prosecution has no duty to disclose evidence to impeach a defense witness). Disclosures of other types of evidence is also limited, i.e. child pornography evidence, unless by court order or upon a showing of good cause. Penal Code § 1054.10.
To be clear, most people understand that Brady and the statutes implementing Brady obligate prosecutors to inquire about and make available to the defense all relevant evidence seized or obtained as part of the investigation of the offenses charged, if it is in the possession of the prosecution or if the prosecution knows it is in the possession of the investigating agencies. Penal Code § 1054.1(c). This includes the names and addresses of the persons the prosecution intends to call as witnesses at trial, the statements of all defendants, the existence of a felony conviction of any material witness whose credibility is likely to be critical to the outcome of the trial, relevant written or recorded statements of witnesses who the prosecution intends to call at trial and any exculpatory evidence.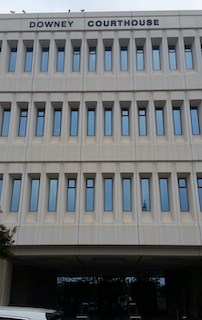 Downey Courthouse
The reasoning behind this disclosure obligation is that the defendant enjoys a due process right to know what facts and witnesses are to be used against him.
This obligation has been interpreted very broadly to include disclosure even of any pending criminal cases against prosecution witnesses. People v. Martinez (2002) 103 Cal.App.4th 1071, 1078, 127 Cal.Rptr.2d 305.
It also includes an obligation that the prosecution disclose material evidence favorable to the accused "that is material either to guilt or to punishment." U.S. v. Bagley (1985) 473 U.S. 667, 676, 87 L. Ed. 2d 481, 490, 105 S. Ct. 3375; Brady, supra, at 87. Evidence is "favorable" is it either helps the defendant or hurts the prosecution. People v. Coddington (2000) 23 Cal.4th 529, 589, 97 Cal.Rptr. 528, overruled on other grounds in Price v. Superior Court (2001) 25 Cal.4th 1046, 1069, 108 Cal.Rptr.2d 409.
This duty extends beyond the point when the trial is over, as such material may constitute grounds for appeal. "After a conviction, the prosecutor also is bound by the ethics of his office to inform the appropriate authority of after-acquired or other information that casts doubt upon the correctness of the conviction." Imbler v. Pachtman (1976) 424 U.S. 409, 427 n25, 47 L.Ed. 2d 128, 141, 96 S. Ct. 984. We have seen this post-judgement obligation become a significant issue when exculpatory information is found after the verdict and the prosecutor does not turn this over, but defendant finds out this independently and files an appeal, alleging prosecutorial misconduct.
However, it is worth noting that
Brady
discovery is a "one-way street," or like a diode, current only flows through it in one direction. There is no corresponding defense duty to provide such implicating evidence to the prosecution.
For more information about discovery issues, please click on the following articles:
Contact us.