Can Voluntary Intoxication Support Murder Self Defense?
Our office is often asked by clients if being intoxicated during the commission of a crime can help prove that he or she had no criminal intent to commit a crime.
About This Article Briefly: Voluntary self-intoxication can negate the specific intent required for first-degree murder, or even second-degree murder, making such a killing manslaughter instead, but as this case summarized below explains, it cannot support a defense of using unreasonable self-defense.se, the First Appellate District found compelling an SVP to testify was an equal protection violation.

In July 2012, Juaquin Garcia Soto got extremely drunk while high on meth. He grabbed a knife and kicked in the front door of Israel Ramirez's apartment in Greenfield, California. He walked into the apartment and saw a very startled Ramirez and his girlfriend sitting on the couch watching TV. Soto and Ramirez then engaged in a knife fight in which each man stabbed each other.

Soto then fled the scene. Ramirez died from wounds.

At trial, Ramirez's girlfriend testified that Soto started the knife fight by stabbing Ramirez first.
Soto also testified at trial, describing how he went to the apartment complex with Ramirez's apartment, looking for work. He explained that several years earlier, he had been offered work by someone who lived in the apartment complex, but he was not sure if that person still lived there or even which apartment he lived in. However, he decided (at night) no less to go look for this person to get some work.
He next claimed he did not know how he entered Ramirez's apartment. Once inside, however, he claimed that Ramirez came at him with a knife as he was leaving the apartment. Ramirez was swinging and "jabbing" the knife. Soto then claimed he was scared for his life, so he tried to defend himself. He and Ramirez then wrestled, pushed each other around and continued fighting in the hallway, all the while stabbing at each other. Soto claimed that finally, as he was leaving, Ramirez threw his body at him and Soto felt his body go limp. Soto claimed he did not know if he stabbed him.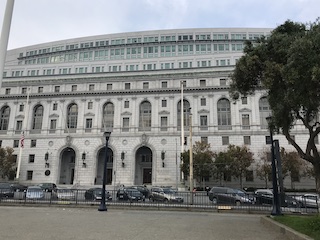 CA Supreme Court San Francisco
The jury then got the case to decide. The judge denied Soto's request to have the jury instructed that voluntary intoxication would be considered in deciding whether he believed he needed to act in self defense. The jury then convicted Soto of second-degree murder. He then appealed, arguing that the jury should have been allowed to consider his voluntary intoxication as affecting his belief that he needed to act in self-defense. The court of appeal denied his appeal, sustaining the lower court's conviction, so Soto appealed to the California Supreme Court.
In People v. Juaquin Garcia Soto (2018 DJDAR 3846), the California Supreme affirmed the ruling.
The Supreme Court began its analysis by noting that "malice aforethought" is one element of the crime of murder. This element can be express malice or implied malice. It further noted that one who holds an "honest but unreasonable belief in the necessity to defend against imminent peril does not harbor malice and commits no greater offense than manslaughter." In re Christian S. (1994) 7 Cal.4th 768, 771.

That person does not intend to kill unlawfully, so the most the person is guilty of is voluntary manslaughter, not murder. Id.
However, Penal Code § 29.4 states that "no act committed by a person while in a state of voluntary intoxication is less criminal by reason of his or her being in that condition." Voluntary intoxication evidence is only admissible as an exception to this for showing "whether or not the defendant actually formed a required specific intent, or, when charged with murder, whether the defendant premeditated, deliberated or harbored express malice aforethought."
The Supreme Court then pointed out that because specific intent and express malice are described in § 29.4, the statute is best understood as not allowing evidence of voluntary intoxication to establish unreasonable self-defense and negate the unlawful aspect of express malice murder. Moreover, the legislative intent clearly was "to prohibit voluntary intoxication from being an excuse for poor judgement when someone kills," as Soto really was suggesting.

We caution the reader to read this summary in the limited context of murder, but to be mindful that Penal Code § 29.4 makes no act less criminal just because someone is intoxicated, yet intoxication can be relevant toward whether defendant formed a required specific intent, which can apply to many crimes other than murder.
The citation for the California Supreme Court ruling discussed above is People v. Juaquin Garcia Soto (2018) 4 Cal.5th 968.

For more information about the elements of murder, please click on the following articles:
Contact us.