Can Silence After a Car Crash Be Used Against Someone?
In what only can be described as a ruling that will be criticized heavily, the California Supreme Court ruled on August 14, 2014 that a person can be convicted in part based on his post-accident failure to inquire about the well-being of the people in the other car.
Summary in 50 Words or Less: A suspect's silence after an alleged crime can be admissible evidence, especially when such silence is strange or unusual and suggests consciousness of guilt, callousness or impairment due to alcohol or a controlled substance. However, if someone refuses to talk and asserts silence under the Fifth Amendment, that silence should not be admissible.

The decision is remarkable because in the case,
People v. Tom
(2014 DJDAR 10881), the silence was before the suspect was given his
Miranda
rights.
As the reader of this article may know, the "
Miranda
Warning" is what television and movies frequently show. Police will tell a suspect that he or she has the right to remain silent and that if the person wishes to have the assistance of an attorney, they can stop the interview until an attorney is present.
Miranda v. Arizona
was a 1966 U.S. Supreme Court case that affirmed the constitutional Fifth Amendment right of a suspect not to be a witness against oneself and that police had a duty to advise a suspect of this right before questioning began and potentially gaining a confession to a crime.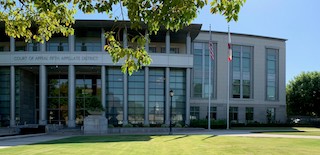 Court of Appeal Fifth Appellate District Fresno
The Tom case seems to undermine Miranda. Whereas the Miranda Warning marked a significant point in a police investigation, after which time a suspect's words became significant, Tom blurs that dividing line. Tom allows prosecutors the right to tell the jury what defendant did not say as an indication of guilt even before Miranda Warnings were given. As the cliché goes, silence can be deafening.
In
Tom
, Richard Tom was speeding through the town of Redwood City. He was drunk. He ran a red light and broadsided the car driven by Lorraine Wong. The impact killed Lorraine Wang's eight year old daughter.
Police arrived and held Tom at the scene. In his obviously drunken state, he repeatedly requested to be taken home, but otherwise said nothing. He did not ask about the well- being of the people in the car he broadsided although ambulances, paramedics and fire trucks were there with flashing lights and medical personnel were working frantically. This silence perhaps angered police, who commented upon Tom's silence in the police report.
Tom was charged in San Mateo Superior Court with violating Vehicle Code § 191.5 (vehicular manslaughter with gross negligence), as well as DUI with injury.
During trial, the prosecutor told the jury that Tom's failure to inquire about the well- being of the Wong vehicle occupants was proof of his guilt. The jury found Tom guilty and Tom appealed the verdict to the Fifth Appellate District.
The Fifth Appellate District ruled that the district attorney's argument about Tom's silence violated Tom's right to remain silent and therefore was improper. It reasoned that Tom was held at the scene for two hours and that the atmosphere toward Tom became "increasingly coercive." There were many police at the scene. They denied his request to leave. He was, in short, in a "de-facto" arrest and therefore
Miranda
warnings had to be given before his statements or silence could be considered by a jury as testimonial. Moreover, in
Tom
, the prosecutor's introduction of evidence of Tom's silence was unduly prejudicial and erroneous. The conviction was therefore reversed.
The prosecution then appealed to the California Supreme Court, which reversed the Fifth Appellate court and reinstated the conviction. The controversial rationale for the reversal was that "a defendant could easily eliminate any such risk by clearly and timely invoking the [Fifth Amendment] privilege." We might want to call this a "use it or lose it doctrine."
In other words, a defendant presumably knows about his constitutional rights and should have invoked this right even if quite drunk. We rhetorically must ask, are there signs posted about such rights in the back of police cars? In what language(s)?
We at Greg Hill & Associates further think this ruling will encourage police officers to not interrogate suspects so they can, too, note to prosecutors that a suspect was silent in the meantime. This silence, it could be argued, shows a consciousness that the suspect committed a crime or otherwise, the person would be eager to discuss his or her innocence.
We also note that the court really is holding that a legally drunk person, impaired by excessive alcohol, is expected to assert his rights in a manner that is counter-intuitive to what the leading and most well-known case in the U.S.,
Miranda
, suggests
Justice Goodwin Liu, however, brought out even better points in his dissenting opinion. In this dissent, Liu pointed out that the court is saying "against common sense expectations, that remaining silent after being placed under arrest is not enough to exercise one's right to remain silent." Moreover, Liu pointed out that while Tom was sitting in the back seat of the car, he was not being questioned by police. "To whom and how should he have invoked the Fifth Amendment privilege? Was he required to approach an officer on his own initiative and announce "I don't want to talk? And if so, how would that have been materially different from simply remaining silent?"
We agree with Justice Liu that the majority's ruling in this case opens up a Pandora's box of opportunities for police and prosecutorial conduct that will erode the Fifth Amendment right to remain silent.

The citation for the California Supreme Court ruling discussed above is People v. Tom (In re Tom) (2014) 59 Cal.4th 1210.

For more information about one's right to remain silent, click on the following articles:
If You Receive Miranda Warnings, Your Talking and Subsequent Silence to Certain Questions Can Be Used Against You as Adoptive Admissions
Contact
Greg Hill & Associates