Is the Fifth Amendment Violated If Silence Cited by DA?
In early 2007, Richard Tom, while speeding and running a red light, broadsided Lorraine Wong's vehicle. The impact tragically killed Wong's eight year old daughter.
Overview: Fifth Amendment rights violated when DA points to silence as evidence of guilt.

After holding Tom at the scene for about ninety minutes, during which time he remained silent except to ask if he could walk home, Redwood City Police Officers transported him to the police station. He was then asked to perform certain field sobriety tests and subsequently arrested. His blood alcohol content was taken more than three hours after the accident.
Tom was charged in San Mateo County Superior Court with vehicular manslaughter with gross negligence while intoxicated (Penal Code § 191.5), as well as felony DUI with injury to another (Vehicle Code § 23153(a)) and felony DUI with injury to another and having a BAC of .08% or higher (Vehicle Code § 23153(b)).
At trial, the prosecutor argued that Tom's silence at the scene was evidence of his guilt. The jury convicted Tom of vehicle manslaughter with gross negligence (Penal Code § 192(c)(1)), as well as gross negligence resulting in injury to another. However, the jury acquitted him of all alcohol-related charges. The exact reason for this is unclear from the reported decision, but most likely was because Tom's blood was not taken within three hours of his last driving. Tom was sentenced to four years for his conviction of vehicular manslaughter, plus an additional term of three years to the great bodily injury on Wong's other daughter in the car, who survived.
Tom appealed the judgment on many grounds, the most relevant of which being that the prosecution violated his Fifth Amendment privilege against self-incrimination by introducing evidence at trial of his pre-arrest, pre-Miranda silence as proof of his guilt. Miranda v. Arizona (1966) 384 U.S. 436. Tom objected to the introduction of such evidence at trial. On appeal, Tom argued that the trial court's error was not harmless beyond a reasonable doubt.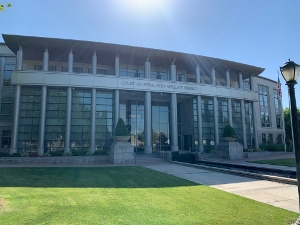 Fifth Appellate District Court in Fresno
The Fifth Appellate District, in
People v. Richard Tom
(2012 DJDAR 3595), agreed with Tom and reversed the conviction.
The Court explicitly recognized that its ruling certainly may seem callous in light of the traffic accident, but it made it clear that protecting the constitution was one of its duties (not playing God). It first noted that
Berkemer v. McCarty
(1984) 468 U.S. 420 controlled its analysis, but here, "the facts compel a different outcome."
Berkemer's
most well-known holding is that a simple traffic stop involving just one officer is not the functional equivalent to being in formal arrest and therefore,
Miranda
warnings are not required.
In Tom's case, he was held at the scene for an hour and a half and was not free to leave. The atmosphere "became increasingly coercive." There were many police at the scene. They denied his request to leave the scene. He was not given
Miranda
warnings while in the police car, waiting to leave the scene. The Court found that he was in "de-facto arrest" at this point and thus
Miranda
applied.
Once this was determined by the Court, it noted that silence in the face of law enforcement "may be nothing more than an arrestee's exercise" of his
Miranda
rights. Citing to
Doyle v. Ohio
(1976) 426 U.S. 610, the Court found precedent in prohibiting the prosecution from being able to comment upon an arrestee's exercise of his Fifth Amendment right to remain silent when he later testifies at trial. Analogizing the situation in Tom to
Doyle v. Ohio
, the Court found it clear that the prosecution's introduction of evidence of Tom's silence was thus erroneous and clearly prejudicial.
Thus, the Court found that the trial court had erred, compelling the reversal of the conviction.
The citation for the appellate court ruling is People v. Richard Tom (2012) 139 Cal.Rptr. 3d 71, rev'd (Cal. 2014) 331 P.3d 303.

For more information about one's Fifth Amendment rights, click on the following articles:
Suspect's Fifth Amendment Rights Not Violated When He Volunteered Statements About His Killing Another
Confession Is Inadmissible When Probation Officer Promised Shorter Sentence If Probation Is Waived Right to an Attorney
For case summaries of selected cases our firm has handled, click
here
.
Contact
Greg Hill & Associates