Can Penal Code § 12022.7 Apply to One Who Supplies Drugs?
Brief Synopsis: The three-year sentencing enhancement for personal infliction of great bodily injury (Penal Code § 12022.7(a)) can be added to the nine-year sentence for one convicted of furnishing or giving a controlled substance to a minor (Health & Safety Code § 11353) when the minor overdoses and dies.

In late June 2017, Treyvon Love Ollo, then 18 years old, invited his 16-year-old girlfriend Reina over to his house in Pomona. He told her that he had just bought some cocaine. She came over, they had sex and then he provided her with a white powdery substance that he thought was cocaine, "but had a weird smell."
Reina cut the powder into lines using Ollo's driver's license and snorted it up her nose. She passed out within 30 minutes.

The white powdery substance was not cocaine. It was fentanyl. It is an illegal, controlled substance like cocaine, but it is 50-100 times more potent than heroin.
Reina died that evening from a fentanyl overdose. When Ollo woke up the next morning, he found she was dead. At first, he tried to get a friend to help him load her corpse into an Uber to transport it to the hospital. However, his friend refused to help and so Ollo called 911.
Ollo was charged in the Pomona Superior Court with the crime of furnishing, giving or offering to furnish or give a controlled substance to a minor (Health & Safety Code § 11353), also alleging that he personally inflicted great bodily injury upon Reina (Penal Code § 12022.7(a)).
The jury found Ollo violated 11353 and found true the allegation that he personally inflicted great bodily injury upon Reina. The Pomona Superior Court judge sentenced Ollo to twelve years in state prison, imposing the maximum sentence for violation of 11353 (nine years), plus three years for the 12022.7(a) personal infliction enhancement.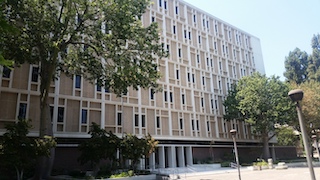 Pomona Courthouse
Ollo appealed the verdict and sentence on several grounds. This article will only address his argument to the Second Appellate District Court in Los Angeles that he did not personally inflict great bodily injury upon Reina because she voluntarily ingested the drugs. He did not, for example, hide the drugs in her food or a beverage.
The Second Appellate District Court addressed this argument by noting there can be more than one direct cause of a victim's great bodily injury. People v. Modiri (2006) 39 Cal.4th 481, 493 ("the term 'personally' . . . 'inflicts' . . . does not mean exclusively"). When the acts of more than one person combine to inflict great bodily injury, each of those persons has directly caused that injury and each has personally inflicted that injury. For example, in Modiri, there were multiple assailants in an attack and each personally inflicted great bodily injury. Id., at 486.
This can be true even when one of the persons contributing to the injury is the victim herself. People v. Elder (2014) 227 Cal.App.4th 411, 420-421 (victim injured while struggling and attempting to pull away from defendant; defendant personally inflicted injury).
Turning to Ollo's challenge, the appellate court held that the personal infliction sentence enhancement was correctly applied to Ollo for three reasons. First, it is consistent with the precedent cited above, which holds that when a defendant directly causes – and hence, personally inflicts – great bodily injury when his conduct, together with the victim's, accidentally produces that injury.
People v. Martinez
(2014) 226 Cal.App.4th 1169.
Second, this conclusion is consistent with the purpose of section 12022.7 to punish and hence deter those defendants who themselves directly cause the injury; indeed, "a contrary conclusion would mean that those who" personally furnish drugs that cause a fatal overdose "would often evade enhanced punishment." Modiri, supra, 39 Cal.4th at 486.
Third, this conclusion is consistent with the plain language of 12022.7(g), which spells out specific crimes to which the personal infliction enhancement is inapplicable, namely, murder, manslaughter, or arson as defined in Penal Code §§ 451 or 452. "Were we to conclude that a victim's voluntary ingestion of a drug furnished by another breaks the causal chain as a matter of law, we would effectively be adding to 12022.7(g) the crime of furnishing controlled substances. This we cannot do." People v. Treyvon Love Ollo (2019 DJDAR 11399).
We bring this summary to the reader's attention because we can see a similar argument being made in the future and this case simply says that it cannot be made.

The citation for the Second Appellate District Court ruling discussed above is People v. Treyvon Love Ollo (2d App. Dist., 2019) 42 Cal.App.5th 1152.

For more information about collateral issues involving dealing or supplying drugs, please click on the following articles: