Can I Expunge a Conviction If I Served Time in Prison?
Most criminal defense attorneys, if asked this question, will answer a quick, "no, sorry, that is not allowed."
However, the laws on expungement have recently changed to reflect the practicalities of Proposition 47, which reclassified certain felonies as misdemeanors and provided a mechanism for one seeking resentencing of a prior felony conviction as a misdemeanor, as well as Prop 64, which is legalized adult use of marijuana and reclassified certain marijuana felonies as misdemeanors.
What to Take Away: The knee-jerk response of "no, expungement is not available to anyone who served time in prison" used to be correct, but this is no longer true with Penal Code § 1203.42 to convictions reclassified as misdemeanors under Prop 64 and Prop 47, provided certain specific requirements (described below) are met and subject to the judge's discretion.
Under the new (2018) Penal Code § 1203.42, one may seek relief under Penal Code § 1203.4 ("expungement") if the conviction at issue is now punishable by a county jail sentence. This means that even if someone served time in state prison for a felony conviction, that person can seek expungement if the underlying conviction is now a misdemeanor.
There are a few more requirements under Penal Code § 1203.42. First, at least two years must pass after the applicant finishes his or her sentence, probation or post-release community supervision.

Second, the conviction cannot be for a serious or violent felony or certain sex offenses involving children. A serious felony is one listed under Penal Code § 1192.7(c) (including any felony accomplished with the use of a firearm). A violent felony is any crime listed under Penal Code § 667.5(c). The sex offenses at issue include, but are not limited to, Penal Code §§ 261.5(d) (statutory rape when defendant is over 21 and the victim is under 16), 288 (lewd acts with a child), 288a(c) (oral copulation with a child) and 286(c) (sodomy with a child).
Third, the applicant may not be currently charged with a crime, on probation or supervised release or serving a sentence for a crime. It merits mention that if someone was assigned parole recently, parole is reserved for those convicted of serious or violent felonies.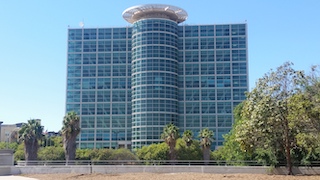 Airport Courthouse
Under 1203.4, which states that the court must allow a qualified petitioner with a qualified offense to withdraw their plea of guilty or no contest and then dismiss the complaint, relief under 1203.42 is discretionary. That means the judge can still deny expungement even if the felony is now a misdemeanor. So even if an applicant meets the three above requirements, the judge can still say no.
However, if the judge does grant relief under 1203.42, defendant is permitted to withdraw his plea and re-enter a "not guilty" plea. If defendant was convicted of the offense, the verdict is set aside and the case dismissed (expungement). This is the pot of gold at the end of the rainbow, so to speak.
The effects of "expungement" are mostly beneficial for employment insofar as one may legally answer "no" to an employment question that asks if one has ever been convicted (assuming the person has no other convictions), as long as the employer is not a governmental agency or government sub-contractor. One must still disclose the conviction in applying for any state license, or if seeking to operate a state lottery or run for public office.
It is important to note that under 1203.42, the conviction may still be considered for a job involving or requiring the use of a firearm (i.e. becoming a police officer or security guard) and it can be used to deny one admission to the United States if the person is not a U.S. citizen.
We enjoy bringing these types of articles to our readers' attention, as it is "exciting" to us to see our government attempting to give more people more opportunities if they have earned such rights. It is gratifying to see our government trying to remove the scars of a conviction and giving a person the right to compete again on equal footing with others after they have "served their time and paid the price," rather than paying the price for the rest of their life.
For more information about expungement and Prop 47, please click on the following articles:
Contact us.