Can Defendant's Inability to Pay Bar Restitution Order?
The recent Second Appellate Division Court opinion in People v. Duenas (2019) 30 Cal.App.5th 1157 has, as many predicted, triggered a series of appeals concerning court-ordered fees. However, in the following case, defendant challenges his court-ordered restitution under Duenas, so it merits a closer look because restitution is certainly not a fee if measured after a restitution hearing and if ordered as part of fines and fees at sentencing, it can seem similar to a court fee.
The Gist of this Article: The following Fourth Appellate District Court case suggests inability to pay can bar a restitution order, although in this case summarized below, defendant failed to raise the issue until on appeal, so it was deemed forfeited.

The restitution order that Donald G. Keene challenged was the type of restitution ordered at sentencing, without any hearing.
Mr. Keene pleaded guilty in San Diego County Superior Court to one count of failure to register as a sex offender (Penal Code §§ 290.012 and 290.18(b)). He also admitted a strike prior (Penal Code § 667(b)-(i)) and a prison prior (Penal Code § 667.5(b)). At sentencing, the judge agreed to grant defense counsel's Romero motion to strike the prior strike for purposes of sentencing. People v. Superior Court (Romero) (1996) 13 Cal.4th 497, 917 P.2d 628.
Before sentencing, Keene was released on his own recognizance. However, at the time for sentencing, he failed to appear and was ultimately arrested on a bench warrant.
At sentencing, Judge Polly H. Shamoon honored her earlier promise of striking the strike under Romero, but sentenced Keene to the middle term of two years in state prison for failing to register, plus one year for the prison prior. She also imposed a $1,500 restitution fine under Penal Code § 1202.4(b) and $224 in other fees and assessments. Keene (and his attorney) did not object to the fines, fees or assessments. He also did not request a hearing on his ability to pay any of the amounts under Duenas, supra.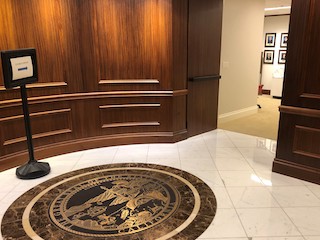 Fourth Appellate District Court of Appeal Div 1 San Diego
However, shortly thereafter, Keene appealed the restitution order to the Fourth Appellate District Court of Appeals, relying on Duenas. He argued that the judge made a mistake in imposing such fines and fees, including the $1,500 restitution order, without first holding a hearing on his ability to pay and thus, he was denied due process. He also contended that if the appellate court found he forfeited the issue for failure to timely raise it, his trial attorney was ineffective.
The Fourth Appellate District Court of Appeal addressed Keene's Duenas argument first, citing to People v. Frandsen (2019) 33 Cal.App.5th 1126. In Frandsen, the appellate court held that the issue of ability to pay fines and other court costs was subject to forfeiture. Forfeiture can be applied when the issue is raised for the first time on appeal, as Keene was doing here.
Moreover, the Fourth Appellate Court held that the burden of proof was on the defendant to show inability to pay the amounts assessed. People v. Kopp (2019) 38 Cal.App.5th 47, 95-97.
Turning to Keene's argument that if the appellate court found he forfeited his ability to pay by failure to raise it, his trial attorney was ineffective, the appellate court dismissed this argument as "somewhat of a throw-away argument." The appellate court noted that Keene bears the burden of proving counsel representation was defective and that he was prejudiced as a result. Strickland v. Washington (1984) 466 U.S. 668, 690.
Turning then to what Keene showed, the appellate court found that Keene had not satisfied either prong of the Strickland test. The appellate court commented, however, that it had no idea why defense counsel did not raise the ability to pay issue, but it was aware that defense counsel "was trying hard to overcome Keene's failure to appear and to get the trial court to eliminate the prior strike."

In People v. Mendoza (Tello (1997) 15 Cal.4th 264, 266-268, the California Supreme Court addressed the issue of finding ineffective assistance of counsel on a silent record. There, the Supreme Court found it difficult to establish error or prejudice without a full record. The court suggested that defendant's remedy, if any, may be by way of a petition for writ of habeas corpus.
We bring this case summary to the reader as somewhat of a cautionary tale on challenging fees and fines, including restitution. Keene's facts were bad for him, not just because he was being sentenced for a failure to register as a sex offender, but because he had an extensive criminal history and he failed to appear after being granted own recognizance release. Had the facts been better, the Fourth Appellate District Court may not have been so tough in its ruling.

The citation for the Fourth Appellate District Court ruling discussed above is People v. Donald G. Keene (4th App. Dist., 2019) 43 Cal. App.5th 861.

For more information about restitution and ability to pay fines, please click on the following articles: