Can Death Threats in a Rap Song Be Criminal Threats?
Rap is often seen as an escape from the pressures of daily life, the despair, the struggles and a way to express frustration, optimism, aggression and anger. Rap is celebrated as a voice of the inner city and its tough streets. Eminen frequently describes violence, as do other rappers. The lyrics are improvised rhymes. There is a form of rap called "gangsta rap" that celebrates gang violence.
Therefore, if someone threatens a crime victim with violence in rap song, is it a violation of Penal Code § 140, which makes it a crime to threaten a crime victim with violence?
Summary in 50 Words or Less: Death threats in a rap song can constitute criminal threats or threats against a crime victim (Penal Code § 140(a)) even if the victim never hears the song.

The following case seems to answer that question.
In April, 2012, two women told police in Santa Barbara County that Shane Villalpando had raped them. The two women were minors, so the report was taken very seriously. The two girls were even students at a private high school in Santa Maria.
About a year later, Villalpando was convicted of three counts of unlawful sex (statutory rape, Penal Code § 261.5) with one of the complainants and one count of the same offense with the other minor. During the pendency of the case, other students allegedly harassed the two girls and bullied them. The judge sentenced Villalpando to one year in county jail and five years of formal probation.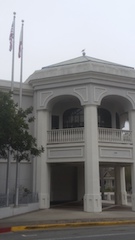 Second Appellate District Division 6 Ventura
After Villalpando went to jail, his close friend, Anthony Murillo, felt he needed to speak out about the situation. On his Facebook account, Murillo posted four messages about a new song he had created, "Moment for Life Remix" that he would release on his "Reverbnation" website later that day. In his posts, he stated that the song was dedicated to his "homie Shane" and that he missed Villalpando. In his posts, he stated, "fuck snitches."
In his song posted on his website, his song went much further. It referred to each complainant by their first and last names and described the girls as "hoes," as well as other derogatory terms. The song went on to say Murillo as "hunting down these snitches . . . shit, you know we have no fear . . . I'll have your head just like a deer. . . It will be hanging on my wall . . . go get the Feds . . cuz you gonna' end up dead. . . cuz I'm coming for your head bitch."
Murillo's Reverbnation page included a picture of him holding a shotgun. His song was downloaded 1,089 times and played 23,468 times. The song was on the website for 26 days.
A few days later, one of the women saw a like to Murillo's new song on her Facebook newsfeed. She opened the link and listened to the song. She was alleged frightened by the lyrics. Murillo was then arrested by police and charged with two counts of threatening to use force or violence against a crime victim (Penal Code § 140(a)).
A complaint against Murillo was filed, but upon Murillo's request by his attorney, the judge dismissed the complaint, saying it did not meet the definition of criminal threats against a crime victim and that is was protected speech under the First Amendment.
The prosecutor appealed to the Second Appellate District, which ruled (at 2015 DJDAR 8401) that the lyrics did meet the elements of the crime. The appellate court noted that Section 140 is a general intent crime and that the alleged victim need not even hear or read the threat.
People v. McLaughlin
(1996) 45 Cal.App.4th 836, 842. The court also found that the lyrics saying "you're gonna end up dead," and "I'm coming for your head, bitch" did threaten unlawful violence.
The appellate court then issued an order directing the superior court to reinstate the complaint against Murillo.
The citation for the Second Appellate District Court ruling discussed above is People v. Anthony Murillo (2d App. Dist., 2015) 238 Cal.App.4th 1122.

For more information about criminal threats, click on the following articles:
Contact us.