Can DA Assert Facts Not in Evidence in Closing Argument?
If anyone reading this article has gone to trial and contemplated what to argue in a closing argument, there is a strong urge to argue things that one wants the jury to consider, but which were never presented to the jury earlier in trial.
Most attorneys recognize that if evidence was not admitted into evidence, it cannot be argued to the jury. It is just that simple. Moreover, the purpose of a closing argument is to review the evidence and argue what evidence the jury should give the most consideration.
The temptation to argue things that were not properly into evidence proved too difficult to avoid to one district attorney in Kings County prosecuting David Phillip Rodriguez.
The Gist of this Article: A DA may not argue facts not in evidence in closing argument or try to introduce evidence in the closing argument that was not previously admitted into evidence (as one DA in Torrance recently did).

Mr. Rodriguez, while an inmate at the Substance Abuse Treatment Facility in Corcoran, was involved in a fight with several correctional officers. He went to trial and was found guilty of battery by an inmate on a non-inmate, attempted battery by an inmate on a non-inmate, attempted interference with an officer's performance on duty and two counts of assault with a deadly weapon (a chain) by an inmate. The judge sentenced Rodriguez to fourteen years and eight months, which reflected doubling of one sentence on the first count due to Rodriguez having a prior conviction for a strike offense.
Mr. Rodriguez appealed the verdict on multiple grounds, but this article will only address his argument that the prosecutor committed prejudicial misconduct by "vouching" by arguing to the jury that the correctional officer witnesses would not lie because lying would destroy their careers and lead to their prosecution for perjury, even though no evidence of such consequences was presented.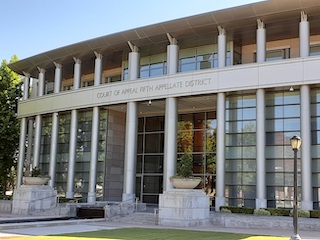 Court of Appeal Fifth Appellate District Fresno
During the rebuttal phase of closing argument, the prosecutor pointed out that the testimony of Rodriguez and the correctional officers was in conflict, so jurors would have to decide who to believe. The prosecutor pointed out that one officer had served over twenty years as a correctional officer, so he would not jeopardize his career by lying. The other officer had over seventeen years of service. The prosecutor argued then that their honesty would be likely because they had so much to lose by lying. Defense counsel objected to this form of argument by objecting "assumes facts not in evidence," to which the judge did not sustain or overrule the objection.
The Fifth Appellate District in People v. David Phillip Rodriguez (2018 DJDAR 8796), began its analysis by noting that under the federal Constitution, a verdict is reversible if a prosecutor's comments "so infect the trial with unfairness as to make the resulting conviction a denial of due process." People v. Cunningham (2001) 25 Cal.4th 926. However, under California law, "conduct by a prosecutor that does not render a criminal trial fundamentally unfair is still prosecutorial misconduct . . . if it involves the use of deceptive or reprehensible methods to attempt to persuade either the court or the jury." Cunningham, supra, at 1000.
The Fifth Appellate District further noted that the prosecutor's behavior need not be in bad faith, intentionally deceptive or otherwise reprehensible in order to constitute reversible error; the impact on the defendant can be just as prejudicial if the conduct is inadvertent. People v. Bolton (1979) 23 Cal.3d 208, 213-214. For this reason, some prefer to use the term prosecutorial error rather than misconduct.
The appellate court then acknowledged that "closing argument presents a legitimate opportunity to argue all reasonable inferences from evidence in the record, . . . statements of facts not in evidence by the prosecuting attorney in his argument to the jury constitute misconduct." Bolton, supra, at 212.
However, "vouching" for a witness by relying on facts outside the record is not proper argument, as "it may be understood by jurors to permit them to avoid independently assessing witness credibility and to rely on the government's view of the evidence. In People v. Woods (2006) 146 Cal.App.4th 106, the prosecutor vouched for certain officers in a drug case and it was held to be reversible prosecutorial misconduct.
Therefore, the court of appeals reversed the judgement. We appreciate this ruling because vouching does take place more frequently than one might think and it is rarely challenged as it was here.
The citation for the Fifth Appellate District Court ruling discussed above is People v. David Phillip Rodriguez (5th App. Dist., 2018) 26 Cal.App.5th 890.

Contact us.