Can Cop Opening Car Door Be an Unconstitutional Search?
Brief Synopsis: A police officer opening a car door without the owner's permission and then conducting a search of the inside of a car can be an unconstitutional search under the Fourth Amendment, as was found in the case summarized below.

In the early morning hours of May 6, 2018, San Francisco Police Officer Kolby Willmes noticed a man sitting in the driver's seat of a parked car at a gas station. The car had no license plates, in apparent violation of California Vehicle Code § 5200(a).

The man in the parked car was Malik Ngumezi, who had recently purchased the car. A bill of sale was taped to the lower passenger side corner of the windshield as is commonly done by car salesmen.
Willmes approached the car to investigate and because a gas pump blocked access to the driver's side, he instead went to the passenger side. According to Mr. Ngumezi, Willmes then opened the passenger side door, leaned into the car, and asked Ngumezi for his driver's license and registration.
Willmes agreed that he did ask for Ngumezi's driver's license and registration, but denied that he first opened the door and leaned inside.
Ngumezi produced a California identification card, but not a driver's license. Willmes asked Ngumezi if his driver's license was suspended and Ngumezi admitted it was. Another police office at the scene ran a license check and confirmed that Ngumezi's license was suspended and that he had three prior citations for driving on a suspended license.
Pursuant to San Francisco Police Department policy procedures, officers were then required to inventory and tow a vehicle when a driver lacks a valid license and has at least one prior citation for driving without a valid license.

Accordingly, officers prepared to have the car towed and first performed an inventory search of the car, during which they found a loaded .45 caliber handgun under the driver's seat. The officers then ran a further background check on Ngumezi and found that he was prohibited from possessing a firearm due to a prior felony conviction.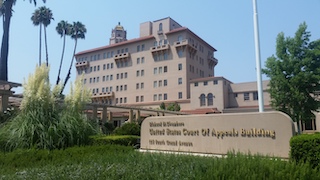 U.S. Ninth Circuit Court of Appeals Pasadena
In U.S. District Court, Ngumezi was charged with being a felon in possession of a firearm in violation of 18 U.S.C. § 922(g)(1). He moved to suppress the evidence of the firearm as the fruit of an unlawful search, because Willmes was in eyesight of the proof of sale affixed to the front right-side windshield and that bill of sale dissipated reasonable suspicion that the car was not registered. Consequently, "no Fourth Amendment exception permitted the officer's further interrogation, pulling the defendant out of the car, or searching the car."
The District Court denied the motion, pointing out that even assuming Nguzemi's version of the facts was true. However, it emphasized that reasonable suspicion is based upon what the officer is aware of "and cannot be dispelled by facts unknown to the officer."

After the District Court denied the motion, Nguzemi entered into a plea bargain to 18 months in federal prison, followed by two years of supervised release.
He then appealed the motion to suppress ruling to the United States Court of Appeals for the Ninth Circuit. The Ninth Circuit noted from the outset that its review was de novo (United States v. Ped (9th Cir., 2019) 943 F.3d 427, 430), which is significant because it allowed the Ninth Circuit to consider all facts from the very start and not be bound by any prior factual findings.
In so doing, the Ninth Circuit reversed the District Court, finding that Officer Willmes' opening the car door and leaning in constituted an unlawful search not protected by any exception to the Fourth Amendment. There was no justification in this case, see also, e.g., United States v. Meredith (5th Cir., 2007) 480 F.3d 366, 367 (upholding opening of door for 'minimally invasive visual inspection' of driver who claimed to be unable to exit the vehicle after being ordered to do so); United States v. Colton (11th Cir., 1983) 721 F.2d 350, 352 & n. 1 (officer permissibly opened door to effect arrest when faced with a clear possibility of danger).
Therefore, the exclusionary rule applied to suppress any evidence obtained as a result of an illegal search. Utah v. Strieff (2016) 136 S. Ct. 2056, 2061 (quoting Segura v. United States (1984) 468 U.S. 796, 804).
Therefore, the Ninth Circuit reversed the denial of the motion to suppress, vacated Ngumezi's conviction and remanded for further proceedings.

The citation for the U.S. Court of Appeals for the Ninth Circuit discussed above is United States v. Malik Ngumezi (2020) 980 F. 3d 1285.

For more information about search and seizure issues, please click on the following articles: