What Is the Law on Challenging the Search of a Vehicle?
A common fact pattern is that police make a traffic stop and then search the car without a warrant, finding drugs, drug paraphernalia, a firearm, ammunition, alcohol or stolen items. Our office is then called to defend the owner of the items found, or the owner of the car.
The Gist of this Article: Challenging the admissibility of evidence seized from inside a car after a traffic stop follows a certain analysis and in doing this, it is good to know some of the more important case holdings on such stops and searches, as this article presents below.

How does one go about challenging the admissibility of such evidence, hopefully to have a judge issue an order suppressing it under Penal Code § 1538.5?
The first step in our analysis is wanting to know the reason for the traffic stop? Was it a legal stop or pretextual because the officer had a hunch that the car would contain contraband? It is good to keep in mind that if an officer does not observe any violation of the law, he may not make a traffic stop.
Whren v. United States
(1996) 517 U.S. 806. Even if such driving were deemed unusual, an officer may not make a traffic stop simply based upon unusual driving.
Taylor v. DMV
(1995) 36 Cal.App.4th 812 (the officer's subjective belief that a suspect's driving is unusual is insufficient to support a traffic stop).
Depending upon the reason for the stop, different standards will apply. If it is found that the traffic stop was illegal, then the "fruit of the poisonous tree" would be suppressed.
Wong Sun v. United States
(1963) 371 U.S. 471.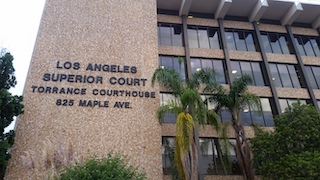 Torrance Courthouse
Assuming the traffic stop was legal, the next step is finding out if the warrantless search was consensual. If the vehicle owner permitted the search, obviously all grounds for fighting the search are limited unless the officers exceeded the scope of the consent.
If the owner of the car did not consent to the warrantless search, the next analysis is whether the suspect had a reasonable or legitimate expectation of privacy in certain areas of the car, either because of his status or because of the area searched.
People v. Ayala
(2000) 23 Cal.4th 225, 254 n.3, 96 Cal.Rptr.682. One's status may be of a probationer or parolee.
The caselaw on who and who does not have a reasonable expectation of privacy can seem logical and, at the same time, perplexing. To exemplify this, we list a series of nine cases both showing there was and was not such a legitimate or reasonable expectation of privacy:
1.
People v. Bell
(1996) 43 Cal.App.4th 754, 51 Cal.Rptr.2d 115 (passenger in car was detained when police stopped the driver, so the passenger could claim that the search was unlawful of his property);
2.
People v. Valdez
(2004) 32 Cal.4th 73, 121, 8 Cal.Rptr.3d 271 (passenger had no reasonable expectation of privacy in area under the driver's seat and could not challenge seizure of gun found there);
3.
People v Carter
(2005) 36 Cal.4th 1114, 32 Cal.Rptr.3d 759 (driver of stolen vehicle lacked legitimate expectation of privacy to contest the search of the vehicle);
4.
People v. Carvajal
(1988) 202 Cal.App.3d 487, 249 Cal.Rptr. 368 (evidence that defendant was driving truck with owner's permission and possessed keys to both ignition and camper shell was sufficient to demonstrate reasonable expectation of privacy to challenge search of camper shell);
5.
People v. Reyes
(1998) 19 Cal.4th 743, 80 Cal.Rptr.2d 734 (particularized suspicion not required by police for parole search, so search conducted under parole search condition does not intrude upon on any reasonable expectation of privacy;
6.
People v. Cervantes
(2002) 103 Cal.App.4th 1404, 127 Cal.Rptr. 468 (evidence will be excluded if search and seizure was arbitrary, capricious or harassing);
7.
People v. Hill
(2004) 118 Cal.App.4th 1344, 13 Cal.Rptr.3d 719 (a search is lawful when police had mistaken belief that defendant was on parole when he was really on probation);
8.
People v. Bowers
(2004) 117 Cal.App.4th 1261, 1264, 13 Cal.Rptr.3d (probation search condition did not justify warrantless search when police officer who conducted search was unaware of condition); and
9.
Rawlings v. Kentucky
(1980) 448 U.S. 98, 65 L.Ed. 2d 633, 100 S. Ct. 2556 (no expectation of privacy in goods put in another's purse).
For more information about search and seizure issues, please click on the following articles:
U.S. Supreme Court Rules Dog Sniff of Car Improper After Officer Makes Routine Traffic Stop for Driving on the Shoulder of the Road
Contact us.