Can Chelsea's Law Mandate a Fifth Amendment Rights Waiver?
It is unconstitutional to grant probation on the condition that the probationer surrender his or her Fifth Amendment privilege against self-incrimination. However, under the doctrine of constitutional avoidance, a statute should not be construed to violate the Constitution "if any other possible construction remains possible."
Moreover, while the Fifth Amendment does not protect against the compelled disclosure of information, it does "preclude the use of such evidence in a criminal prosecution against the person from whom it was compelled."
In a Nutshell: Chelsea's Law can legally mandate a Fifth Amendment waiver, however, anything the probationer does say to a therapist or probation officer in a polygraph test or otherwise cannot be used against him in a criminal prosecution.

Against this legal framework across the case of sixteen-year old Ignacio Garcia. Garcia repeatedly forced his younger cousin to perform oral sex on him.
He was arrested and charged as an adult with six counts of forcible lewd conduct with a child (Penal Code § 288(b)(1)). He pled no contest to two counts of non-forcible lewd conduct (Penal Code § 288(a)).
The trial court judge suspended imposition of the sentence and placed Garcia on probation for three years with one year in jail. He also had to register as a sex offender under Penal Code § 290 and ordered him to participate in approved sex offender management program.
Over defense counsel's objection, the court also ordered that Garcia waive any privilege against self-incrimination and participated in polygraph examinations, which would be part of the sex offender management program (pursuant to Penal Code § 1203.067 (b) (3)). Under the same section, defendant had to waive any psychotherapist-patient privilege to enable communication between the probation department and the sex offender management professional.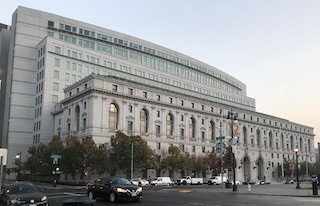 California Supreme Court San Francisco
Garcia appealed the coerced waiver of his privilege against self-incrimination and the required participation in polygraph examinations, alleging the waiver violated his Fifth Amendment right against self-incrimination and was overbroad.

The case made it all the way to the California Supreme Court, which denied his appeal (People v. Ignacio Garcia (2017 DJDAR 2596)).

The California Supreme Court looked closely at Penal Code § 1203.067(b)(3), also known as Chelsea's Law, named after Chelsea King, a victim of a child sexual predator. In looking at the legislative history of Chelsea's Law, the Supreme Court explained that the California Sex Offender Management Board (CASOMB) found sex offender treatment differed in important aspects from ordinary psychotherapy. To be effective, the therapist had to be more intrusive to properly supervise programs. Polygraph tests would further this goal.

This finding was then implemented in Chelsea's Law as a required waiver of the Fifth Amendment to help promote rehabilitation. The Supreme Court then also noted that "despite rising incarceration rates, the majority of known sex offenders at any given time are not in prison and most sex offenders who are imprisoned will eventually be released." Today, over 850,000 sex offenders are registered throughout the United States. California alone has over 75,000, more than any other state. How to manage supervise such offenders is a major challenge.

In response to Garcia's challenge, the Supreme Court noted that Garcia's compelled responses could still not be used against him in a criminal proceeding. Minnesota v. Murphy (1984) 465 U.S. 420, 435, fn. 7; accord, People v. Rackin (2011) 195 Cal. App. 4th 872, 880.

The Supreme Court also rejected Garcia's claim that the probation condition was over broad and violated his constitutional right of privacy. The Supreme Court found that such a probation condition was closely tailored to the purpose of allowing "the state to discover the full extent of the risks created by the sex offender's freedom so the state can respond with additional treatment, closer monitoring and other measures to protect the community."

Prior to the appeal being heard, Garcia had completed his probation, which made the appeal moot. However, because the case had implications to many other similar probation conditions, the Supreme Court issued a filing, denying Garcia's appeal.
The citation for the California Supreme Court ruling discussed above is People v. Ignacio Garcia (2017) 2 Cal.5th 792.