Can a Mentally Disabled Offender (MDO) Waive a Jury Trial?
When someone is found to be a Mentally Disordered Offender, or MDO, the person is referred to a year of outpatient treatment upon completion of the person's prison sentence.
About This Article Briefly: After a person designated an MDO (mentally disordered offender) is released from prison, he or she must undergo a year of outpatient therapy. At the end of the year, a judge decides, by considering a recommendation from the program, if the person will stop such therapy, continue it or be committed to a state hospital. If the person does not agree with the program recommendation, he or she can have a jury trial on this issue, however that right to a jury trial can be waived by repeatedly failing to appear in court.

At the end of the year, a judge must hold a hearing to determine whether to "discharge the person from commitment, . . . order the person confined to a treatment facility, or renew its approval of outpatient status." Penal Code § 2972.1 (a)
Prior to such an important hearing, the community program director must prepare a report and recommendation to the judge, with copies provided to the prosecutor, defense counsel, the medical director of the facility that is treating the person and the person on outpatient status. Penal Code § 2972.1 (b)
If the recommendation is that the person either continue on outpatient treatment or is confined to a treatment facility, the judge orders defense counsel to meet and confer with the MDO to explain the recommendation. Penal Code § 2972.1(c)(1). Defense counsel and the person must then sign a form indicating that they either: (1) reject the recommendation of continued treatment and demand a jury trial on the issue; or (2) accept the recommendation.
Id
.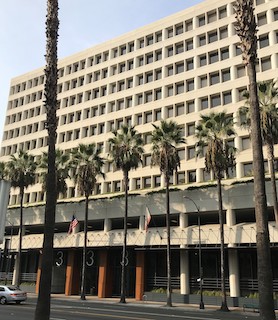 Court of Appeal Sixth Appellate District San Jose
This form must be returned to the judge no less than ten days prior to the hearing. Where the person either requests or fails to waive the right to a jury trial, "a jury trial meeting all the requirements of section 2972.1 shall be set within 60 days of the initial hearing." Penal Code § 2972.1 (d)

What if the MDO on outpatient status fails to complete treatment and cannot be found? Is such conduct an implied waiver of a jury trial for continued commitment? What if the MDO cannot be advised his rights because he has been lost or refuses to participate in the process?

Defendant Ecclesiastes Presley was certified as an MDO and placed into an outpatient conditional release program (CONREP) in August, 2013. He was housed at a board and care facility where he underwent regular drug testing, group therapy and individual counseling.

After about six months he was allowed to continue with the outpatient program, but live at home.

In April, 2014, the People asked the judge to extend Presley's outpatient treatment for one year pursuant to Penal Code § 1606. The hearing was continued upon the request of Presley's counsel to July 8, 2014 and a court trial set for August 15, 2014.

Presley then failed to appear at the July 8th hearing. At the hearing, the judge noted that he had received a report from CONREP recommending that Presley's outpatient treatment be continued another year.

The judge continued the July 8th hearing to August 5th, but kept the August 15th court trial on calendar.

A second CONREP report was then sent to the judge, saying that Presley was still an MDO. A third CONREP report was then filed, saying Presley no longer was an MDO and his commitment could be terminated.

Trial then started and went on for several months, one day at a time separated by a month or so. Before trial concluded, CONREP reported that Presley had "gone AWOL" (absent without leave, or permission) and recommended that he be committed. The judge issued a bench warrant for him and revoked his outpatient status.

At the next court appearance, Presley did not appear and the judge ordered that he be confined to a state hospital, once found.

Presley appealed the order, arguing that he was unlawfully deprived of a jury trial.

The Sixth Appellate District, in People v. Ecclesiastes Presley (2017 DJDAR 1357), agreed that he was entitled to a jury trial, but held that his absconding prior to the trial court rendering a decision meant he forfeited this right.

The Sixth Appellate District looked at Penal Code § 2972.1 and noted that a fugitive defendant does not have the right to a speedy trial in absentia (In re Gere (1923) 64 Cal. App. 418,422-423). Thus, the trial court had properly revoked Presley's outpatient status in his absence.

We find this ruling significant, but not for those representing MDO's, as there are not many people who are MDO's. The significant thing about this case is that a judge would find a waiver of the right to a jury trial by a person who has been found mentally disordered. For those who are not mentally disordered, it would seem far more certain that being absent from court is more obviously a waiver of the right to a jury trial, or other hearings that are less consequential, i.e. a restitution hearing.
The citation for the Sixth Appellate District Court ruling discussed above is People v. Ecclesiastes Presley (6th App. Dist., 2017) 214 Cal. Rptr. 3d 85.
For more information about jury trial and MDO issues, please click on the following articles:
Contact us.