Can a Judge Halt Trial Part Way If Defendant Acts Odd?
About This Article Briefly: A judge certainly may halt trial part way if defendant acts oddly, particularly if defendant demonstrates mental illness of lack of competency such that the judge believes defendant cannot understand the nature of the proceedings and cannot participate in his or her defense in a rational manner.

The following article is about the duty of a judge to ensure a fair trial, not about how someone can avoid a conviction by acting up in trial. The fundamental concept at issue is that a person cannot stand trial who is not mentally competent to understand the nature of the criminal proceedings or to assist in his or her defense in a rational manner. People v. Jones (1991) 53 Cal.3d 1115, 1152.
"Both the due process clause of the Fourteenth Amendment to the United States Constitution and state law prohibit the state from trying and convicting a criminal defendant while he or she is mentally incompetent." Penal Code § 1367; Drope v. Missouri (1975) 420 U.S. 162, 181. Even if an accused appears competent at the beginning of criminal proceedings, the judge must remain alert to any circumstances that suggest a defendant's mental health has changed and that he or she is unable to meet the standards of competence to stand trial. People v. Lightsey (2012) 54 Cal. 4th 668, 690.
This can be a tough standard to meet if the judge suspects a defendant is feigning mental illness to stop a trial and prevent a conviction.

The case of Derek Antonio Johnson in San Joaquin County exemplified this difficult type of situation. Defendant was charged with domestic violence causing injury, assault with force likely to inflict great bodily injury, and mayhem. There were sentencing enhancements alleged due to his serving prior time in prison. The alleged victim was his then-girlfriend. Both Johnson and his girlfriend were drug addicts.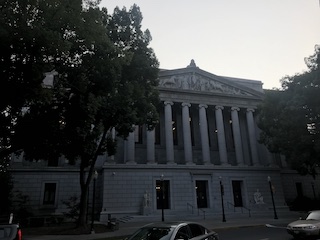 Court of Appeal Third Appellate District Sacramento
The incident at issue took place on Valentine's Day, 2016. Johnson and his girlfriend went bar hopping at various bars, but eventually they got into an argument and the girlfriend left. She noticed Johnson had left his cell phone in her car, so she went through the cell phone and found he had been texting with another woman.
She went to deliver the cell phone back to him and the two began arguing. Johnson then jumped on his girlfriend and began biting her face and hitting her. He bit her eyelid just underneath her eyebrow. As she tried to push him off her, he repeatedly punched her. He then bit her lips. The victim could feel the blood from her eyelid ooze down her face. An emergency room doctor was able to glue her eyebrow back together.
During the first stages of the case and the first part of trial, Johnson at first seemed calm and capable to contributing to his defense. However, he then began acting bizarre. He would defecate in his pants in the courtroom, engage in multiple acts of self-mutilation, shout to voices in his head ("Ouch! Ouch! Ouch!" very loudly), bang his head on the counsel table, slap and punch the side of his face, would rock back and forth, could not be quieted during court proceedings and often refused to come from jail to the courtroom.
His public defender declared a doubt about his mental competency multiple times under Penal Code § 1368, but the judge refused to suspend proceedings to hold a competency hearing.
The jury found Johnson guilty of domestic violence, but the jury was divided on great bodily injury. The jury also found him guilty of mayhem.

Johnson then appealed the verdicts to the Third Appellate District Court of Appeal, arguing that the trial court's refusal to hold a competency hearing violated his federal and state rights to due process and necessitated a reversal of the judgment against him.
The Third Appellate District agreed. While it did not disagree that defendant's conduct may have been a manipulative ploy to delay the proceedings, it held that the trial court judge should have referred the matter for a psychological assessment by a mental health professional and a competency evaluation.
The citation for the Third Appellate District Court ruling discussed above is People v. Derek Antonio Johnson (3d App. Dist., 2018) 21 Cal.App.5th 267.

For more information about competency issues, please click on the following articles:
Contact us.