Can a Homeless Person Violate PRCS by Not Having a Home?
It is not uncommon for the family of someone in custody to abandon that person so that when the person is released from custody, he or she has no home or place to go. This is a very sad way for a family to turn their back on a family member, but it happens. The person may not have any money, either, so the person sadly becomes homeless.
In a Nutshell: A homeless person cannot be held to violate PRCS if he or she cannot provide a home address. The Second Appellate District held this was so, not out of sympathy for homeless people, but because the PRCS act omitted any definition of a homeless person and did not address the issue of a homeless person's reporting obligations while on PRCS.

Being homeless can be a problem if the person is placed on parole, post release community supervision (PRCS) or formal probation. After all, such programs require the parolee, probationer or person on PRCS to provide an address at which the person resides or receives mail so that the county in charge of supervising the person can do so.
Oswaldo Ivan Gonzalez was convicted of violating Penal Code § 273.5(a), felony corporal injury to a spouse or cohabitant, and was sentenced to two years in state prison. He entered prison in January, 2012 and was released to PRCS in July, 2012.
The terms and conditions of Gonzalez's PRCS required him, upon release from prison, to report to his Orange County probation officer within two working days. He was also required to inform his probation officer in advance of any change in residence or employment.
In July, 2015, the Orange County Probation Department filed a petition to revoke Gonzalez's PRCS. The petition noted that Gonzalez last was released from the Orange County Jail on April 5, 2015 after serving 160 days in custody for his seventh violation. He then reported to probation upon release from jail, but was later admitted to a Penal Code § 5150 evaluation at a hospital and released on May 9, 2015.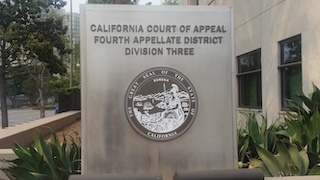 CA 4th Appellate District Division 3 OC
He thereafter failed to contact Orange County probation as directed and the probation department did not know his whereabouts. The court then issued a bench warrant.
On July 9, 2015, he was arrested by the Stanton Police Department and held on the bench warrant.
The trial court judge, Kimberly Menninger, found Gonzalez to have violated the terms of PRCS and sentenced him to 180 days in county jail.
Gonzalez appealed the judge's finding, arguing that he was homeless and thus could not report his residence, as the PRCS Act of 2011, at Penal Code §3450,
et
.
seq
., does not define "residence." The appeal was filed in the Fourth Appellate District in Santa Ana.
The Fourth Appellate District court agreed that the PRCS Act indeed did not contain such a definition, so the court turned to the definition of "residence" in Penal Code § 290.011(g), which is part of the Sex Offender Registration Act and defines "transient" and sets forth a method by which transients can comply with registration requirements. This seemed to be the analogous context of such a reporting protocol, the court decided.
The appellate court characterized the PRCS' omission of reporting requirements for transients and a definition of residence a "glaring omission."
The appellate court urged the Legislature in Sacramento to amend the PRCS Act to define "residence" and to address the reporting obligations of homeless persons subject to PRCS.
The appellate court also criticized the trial court for essentially holding Gonzalez to a legal standard that did not exist. It also found that consideration of the prosecutor's opposition was unnecessary, that the issue was moot since Gonzalez already served his 180 days in county jail, was incorrect because the order may yet have "disadvantageous collateral consequences."
People v. Ellison
(2003) 111 Cal. App. 4th 1360, 1368-1369.
We think this is a good ruling, but caution that it should be expected for the state legislature to amend the PRCS Act soon, most likely to add the same definitions of residence and transient as in the Sex Offender Registration Act. We would suggest that the legislation obligate a homeless person to identify someone and that person's address (not a phone number) who can be contacted by PRCS to find the parolee, probationer or person on PRCS.
The citation for the Fourth Appellate District Court ruling discussed above is People v. Oswaldo Ivan Gonzalez (4th Cal.App., 2016) 7 Cal.App.5th 370.
For more information about PRCS and probation conditions regarding one's home, please click on the following articles:
Contact us.