Can a Defendant Choose the Judge for a Marsden Hearing?
About This Article Briefly: Defendant does not have the right to choose the judge who will hear his Marsden motion, as the following case explains.

There is no doubt that if a judge has presided over a trial, he or she has a good idea whether an attorney is diligent and competent. That judge is thus more likely to make a proper ruling on a
Marsden
motion made by defendant.
People v. Marsden
(1970) 2 Cal.3d 118.
However, if there are remaining events in the case following trial, i.e. sentencing or post-trial motions, there is a good reason to have a different judge rule on the motion, to avoid prejudice to defendant.
However, some defendants do not recognize this. Michael James Jackson was charged with committing sex crimes against four different women to whom he provided massage services. He was also charged with possessing child pornography.
As the case approached trial in Orange County, Judge James Rogan granted Jackson's motion to sever the pornography charge and Jackson waived his right to jury trial on that charge. A jury trial then proceeded on the first four charges.
The trial did not go well for Jackson. Three of the four victims testified that he digitally penetrated their vaginas while massaging them. When each of them objected to this, Jackson reassured them that it was for therapeutic purposes of breaking up scar tissue or to "work out knots in their genitalia. Other evidence indicated he had sexual intercourse with another patient.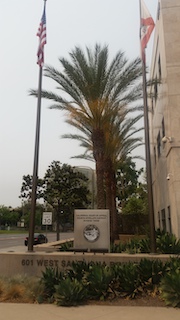 CA 4th Appellate District Division 3 Orange County
The jury found Jackson guilty of five counts of sexual penetration by fraud, one count of sexual battery by fraud and three counts of simple battery.

Following the verdict, Jackson made a Marsden motion to replace his public defender. The public defender suggested the motion be heard by another judge to prevent prejudice to defendant. In reviewing Judge Rogan's response to this motion and the public defender's suggestion, the Fourth Appellate District described Rogan as "exercising uncommon common sense." He transferred the hearing duties to another judge, "guaranteeing defendant would not have to face the beggar's crossroad of having to choose between revealing damaging information to the judge about to hear his bench trial or giving up his chance at a new attorney. This sagacity is assigned to us as error."

The new judge assigned to the hearing, only for purposes of the motion, advised Jackson, "Judge Rogan has asked me to hear this Marsden hearing so you can feel free to speak freely with me about your concerns without any concern that it might come back to haunt you at some later stage of these proceedings." Jackson was apparently unreceptive to this, indicating he wanted Judge Rogan to hear the motion "because the moral turpitude and dishonesty was done in his court." The new judge went ahead with the hearing and denied the motion.

The case was then sent back to Judge Rogan for the bench trial. Jackson was found guilty of the child pornography charge. Rogan then sentenced Jackson on all counts to fifteen years in state prison.

On appeal to the Fourth Appellate District, Jackson claimed that Rogan erred by assigning the Marsden hearing to another judge.

The astute reader of this summary will realize that what Jackson really wanted, most likely, was an opportunity to argue new facts and new defenses in the disguise of a Marsden motion, to the judge (Rogan) who would ultimately sentence him. Jackson, in other words, wanted to present mitigating evidence and appeal to sympathy by claiming his public defender was incompetent.

The Fourth Appellate District, in People v. Michael James Jackson (2017 DJDAR 1784), found no error in what Rogan did, saying it made sense to protest Jackson as he did. Moreover, trial courts "operate according to norms that confer substantial discretion in the conduct of judicial business." People v. Rodriguez (2016) 1 Cal.5th 676, 682. It is "well-established that courts have fundamental inherent equity, supervisory, and administrative powers, as well as inherent power to control litigation before them. Id., quoting Rutherford v. Owens-Illinois, Inc. (1997) 16 Cal.4th 953, 967.

While we understand quite well why Jackson requested what he did and the basis for his appeal, we also recognized that the courts must treat all defendants fairly and have broad discretion in this regard. Moreover, no defendant should be placed in a "beggar's crossroad" by any judge.

The citation for the Fourth Appellate District Court ruling discussed above is People v. Michael James Jackson (4th App. Dist., 2017) 8 Cal.App.5th 1310, 214 Cal.Rptr.3d 643.
For more information about issues, please click on the following articles:
Contact us.