California Supreme Court & Mental Health Diversion
On June 18, 2020, the California Supreme Court affirmed the Fourth Appellate District's earlier ruling in People v. Eric Jason Frahs that a judge may impose mental health diversion under Penal Code § 1001.36 in any case where the judgment is not final.
Summary in 50 Words or Less: The California Supreme Court has ruled that Mental Health Diversion may be requested and granted in any case with charges eligible for this and a defendant also eligible as long as the judgment is not final.

The lower court's ruling in the Frahs case, summarized at Article 958 on this website, was rather earth-shaking insofar as Mr. Frahs had been already convicted of certain serious crimes, second-degree robbery (Penal Code § 211, 212.5(b)), both felonies, and a misdemeanor for throwing a substance at a motor vehicle without intent to cause injury (Vehicle Code § 23110(b). He had a prior conviction for a serious felony (Penal Code § 667(a)(1)).

The underlying case facts were that in March 2016, Mr. Frahs went into a small market in Santa Ana. The store owner, remembering Frahs had tried to steal a pack of cigarettes a week earlier, told Frahs to leave.

Defendant left the store, but was frustrated. He picked up some rocks and threw them at passing cars. He struck the windshield of one car, shattering the glass. Defendant then went back in the small market and grabbed a can of beer and an energy drink. The store owner and his son stood at the front door to block defendant from leaving.

When defendant saw this, he rushed at the store owner and punched him in the head and eventually pushed his way out of the store. The store owner and his son then detained defendant in the parking lot and called police.

Defendant proceeded to a bench trial, during which he testified that he often experienced hallucinations and delusions beginning in his early twenties and had been hospitalized at least eight times for mental health issues, including schizophrenia. In 2015, a conservator was appointed to care for him for about seven months.

Defendant had stopped taking his medication about four days before the incident at the small market. He further testified that an angel flew by on a horse and talked to him just before he entered the market.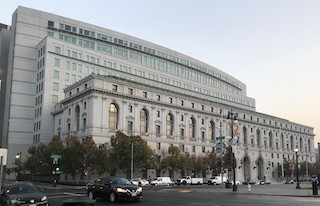 California Supreme Court San Francisco
After trial and while his appeal was pending in August 2018, the California Legislature enacted Mental Health Diversion at Penal Code §§ 1001.35 and 1001.36. Frahs and/or his attorney became aware of this new statute and requested referral of Mr. Frahs to the program.
The appellate court agreed with Frahs that the trial court judge could refer Frahs to the program if he met the six criteria for the program because his judgement was not yet final. People v. Frahs (4th App. Dist., 2018) 27 Cal.App.5th 784.
The prosecution appealed this ruling, arguing that a pre-trial diversion program such as Mental Health Diversion, should not be available to someone who opted to proceed to trial and then, after losing at trial, to request referral to such a program. It should be noted, however, that this argument was more of a general argument meant to apply to future cases and not only Frahs because in Frahs, mental health diversion had not been established as a program when Frahs went to trial. It only became available while his appeal was pending.

The California Supreme Court then affirmed the appellate court, citing first and foremost to In re Estrada (1965) 63 Cal.2d 740, a case that has received a great deal of reliance in many of the recently enacted new diversion programs and sentencing enhancement reduction legislation passed in the last two years.
In In re Estrada, the California Supreme Court held that an amendatory statute lessening punishment for a crime was presumptively retroactive and applied to all persons who judgments were not final at the time the statute took effect. Later in 2018, the California Supreme Court then decided People v. Superior Court (Lara) (2018) 4 Cal.5th 299, wherein it applied Estrada to legislation (Prop 57) that lessened the punishment for a class of persons (juveniles whose judgments were not final).
The California Supreme Court thus held that the inference of retroactivity applies because the legislation setting forth Mental Health Diversion does not exclude retroactive application.

The court was deliberate is stating that it had no view whether defendant will be able to show eligibility on remand for the trial court to exercise its discretion to grant diversion.

The citation for the California Supreme Court ruling discussed above is People v. Eric Jason Frahs (2020) 9 Cal. 5th 618, 264 Cal. Rptr. 3d 292, 466 P. 3d 844.

For more information about mental health diversion being retroactive, please click on the following articles: