Burbank, 73 Grams of Meth, on Parole, 2 Years County Jail
Our client, age 37 and on parole from a recent prison stint for residential burglary, was pulled over for allegedly swerving across the center double line of Colorado Boulevard on Christmas Eve. It was about 4:30 p.m. on Christmas Eve, so this traffic stop was certainly conducted by officers perhaps resentful for even being on duty at the time.
In a Nutshell: Burbank, our client on parole and with many prior convictions, found with 73 grams of meth, case resolved for two years county jail.

When pulled over, our client admitted that he was on parole. Officers then undertook an extremely thorough search of his car, using screw drivers and their hands to pull seats out of the car, remove the center console, and, for all practical purposes, destroy its entire interior. This exercise took about 45 minutes on the side of Colorado Boulevard while our client stood nearby, watching.
Officers did find what they hoped they would find. They found a baseball-sized ball of methamphetamine, later determined to weight 72.7 grams. They found no indicia of sales, such as pay-owe sheets, baggies to break up the meth into smaller quantities, no scales, no text messages or e-mails indicating customers eager for purchases and only two cell phones in the car (our client's and his girlfriend's). Yet relying solely upon the large quantity found, our client was charged with felony possession of a controlled substance with intent to sell, a violation of Health and Safety Code § 11378.
Our client first opted to use the services of the office of the public defender, but the offer was four years, or the low term doubled for our client's prior strike under the Three Strikes Law. However, even that offer seemed reasonable, as our client had a rap sheet of several pages spanning back to when he was a juvenile. With the prior strike and the parole violation, he faced a maximum sentence of twelve years.
When speaking with our client, he insisted that he was merely looking for a gas station at the time, so he may have veered across the center line, but insisted he never affected opposing traffic.
Our office then drove up to the Eagle Rock area where our client was arrested. We were pleasantly surprised to find that the center divider area of the street was a left turn lane that was almost ten feet wide. In other words, the police report may have been correct that our client crossed the double yellow line, but it was false and misleading in suggesting it was unsafe.
In fact, our research found a Vehicle Code section, section 21460(a), that when read in context with 21460.5, made his brief venture into the center left turn lane entirely legal if one was using the center area to prepare for a left turn across opposing traffic, after yielding thereto. In other words, the traffic stop was illegal. It was not properly based on a reasonable suspicion or probable cause.
Therefore, our office filed a Motion to Suppress (Penal Code § 1538.5) all evidence gained from the illegal traffic stop, submitting the photographs from our scene inspection and explaining the Vehicle Code sections that seemed to make our client's driving innocent.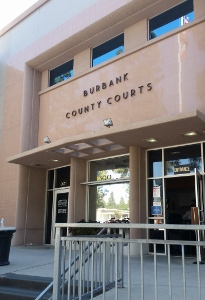 Burbank Superior Courthouse

The District Attorney complimented our motion to the judge and dropped his offer to two years of county jail. We then explained to our client that he really should not have the judge rule on the motion, as he might deny it, making the offer remain solid at four years. Our client prudently agreed to accept the offer, knowing there was a chance the whole case might be dismissed, but also knowing four years might be the best offer thereafter.
Our client was extremely happy to have two years subtracted from the sentence, as he avoided a possible twelve-year sentence. With AB109, the realignment of our prisons so as to shift more defendants to county jail, it was very possible our client could be released within three months due to custody credits and jail overcrowding.
For more information about serving time and suppression of evidence, click on the following articles:
Traffic Stop Ruled Improper and Evidence Seized by Police Suppressed When Officer Lacked Reasonable Suspicion to Stop Driver
Watch our Video about Drug Offenses by clicking
here
.
Contact us.