Brady Motion Denied When Not Related to Any Defense
It is not uncommon, we find, for clients to clamor for "dirt" about a particular officer involved in an arrest. The client will earnestly tell us that he or she knows that the officer has a history of racial profiling or fabricating confessions. Our follow up question is always how this is relevant to a defense in this case, which may be unknown.
Nonetheless, our client urges us to "get the dirt" on the officer "because somehow it may help." Our response is lukewarm at best. We appreciate how judges are skeptical of "fishing expeditions" that have no relevance to an officer's credibility or evidence that is part of a defense for our client.
The Gist of this Article: Before filing a Pitchess motion to get records of a police officer's personnel file and disciplinary record for misconduct, one must be able to articulate whey such records are relevant to a material defense or determinative issue, i.e., the credibility of the officer or another material witness or admissibility or destruction of critical evidence, in the case.

The following summary of a recent Second Appellate District Court ruling arising from a Los Angeles County juvenile matter underscores the problems with having no purpose in seeking such "dirt" and the loss of credibility with the judge, and perhaps resulting in a longer sentence for requesting it.
On the morning of March 22, 2019, Eldwin Lum was at home and heard his doorbell ring and knocking at the front door. He lived in a rough neighborhood and looked at his video monitor of his front door. He saw a woman walk away from his front door back to a parked car.
Lum thought something was suspicious, so he called 911 and continued to watch the woman and the parked car. Suddenly, two men got out of the car and ran toward his house. One man wore red shoes and the other one wore blue shoes. They were otherwise dressed in black with black hoodies with the hoods up to obscure their faces.
Lum then heard his downstairs sliding glass door break and he called 911 again to report he was being burglarized. He then got his gun and yelled "get out of my house. I got a gun." Lum then fired his pistol and ran down the stairs to see the two men running out of his house.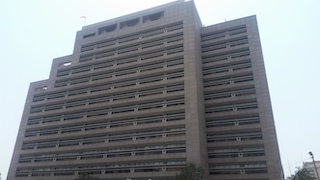 2nd Appellate District Court of Appeals
Police came to the scene and found the two men, who were juveniles, nearby. Deputy Sheriff Navarro was one of the officers who took part in the response. M.C., a juvenile, was found hiding in a cardboard box in the garage of a nearby house. He wore red shoes and Lum identified him as one of the burglars. He also had all black clothes and a hoodie.
M.C. filed a Brady / Johnson motion to inspect the confidential personnel file of Deputy Sheriff Navarro. Such a motion is also known as a Pitchess motion. Under Pitchess v. Superior Court (1974) 11 Cal. 3d 531, as well as Brady and Johnson, Evidence Code § 1043 and Penal Code § 833.5, a defendant has a right to review a police officer's confidential personal records if those files contain information that is potentially relevant to the defense.
The trial court judge, Fumiko H. Wasserman, denied the motion, finding that M.C. did not explain how Deputy Navarro was an essential witness in the case or even his role in the case. Navarro was not the officer who found M.C. hiding in the cardboard box. M.C. did not explain the nature of Navarro's expected testimony or how the deputy's credibility was at issue.
M.C. then appealed this ruling to the Second Appellate District court in downtown Los Angeles.
The appellate court first reviewed the law under Brady v. Maryland (1963) 373 U.S. 83 and People v. Superior Court (Johnson) (2016) 61 Cal.4th 696, explaining that a judge may order the production of confidential personnel file documents finds good cause for the inspection and disclosure.
Brady requires that the prosecution disclose "evidence favorable to the accused" (U.S. v. Bagley (1985) 473 U.S. 667, 676) that is material either to guilt or to punishment. Brady, supra, at 87. "Evidence is 'material' within the meaning of Brady when there is a reasonable probability that, had the evidence been disclosed, the result of the proceeding would have been different." Cone v. Bell (2009) 556 U.S. 449, 469-470.
In Johnson, supra, the appellate court noted, the California Supreme court noted that a defendant may file a Pitchess motion for the disclosure of Brady material in an officer's personnel file. There, the defendant submitted a declaration stating that the officers' personnel files may contain "sustained allegations of specific Brady misconduct, reflective of dishonesty, bias, or evidence of moral turpitude . . ." It stated the records "are material to the pending litigation in that they pertain to the credibility of a necessary and material prosecution witness, and could either impeach said witness or lead to evidence exonerating the defendant."

Here, however, unlike in Johnson, M.C. failed to show how Navarro's personnel file had Brady material relevant to the case.

There was no scenario of officer misconduct alleged or even any discussion of Officer Navarro's credibility or role in the case or how his credibility was linked to some defense or disputed issue, which is why the trial court denied the motion and the appellate court affirmed this.

We present this article to show an example of why such a motion cannot serve as a fishing expedition to disclose confidential personnel files that have no link to the issues or defenses in the particular case.
The citation for the Second Appellate District Court ruling discussed above is In re M.C. (2nd App. Dist., 2020) 58 Cal. App. 5th 1138, 272 Cal. Rptr. 3d 903.

For more information about Pitchess issues, please click on the following articles: