Beware of Who You "Friend" on Social Media – It May Be a Cop
In this day and age of social media with folks boasting of how many Twitter followers one has, or how many Facebook Friends one has, such riches certainly carry with them a price and legal issues that perhaps no one could foresee.

The Reader's Digest Version: Defendant accepted a Facebook friend request from a detective, who then looked over Defendant's Facebook postings. One showed Defendant wearing a gold chain that was recently reported stolen. The detective then arrested Defendant and he was later convicted of robbery. Due to prior convictions, a gang enhancement and prior prison stints, he was sentenced to 21 years.

This was no more true than in the case of Mr. Chaz Pride. On the evening of May 25, 2017, D.C. was robbed at the Imperial Avenue trolley stop near Petco Park. D.C. was from out of town and was lost. He had decided to get off the trolley and just take a taxi back to his hotel. He was wearing red Jordan shoes, a hat, a gold chain and two watches.
D.C. spoke to several men who were looking for a party. D.C. said he was looking for marijuana and invited the men to his hotel to hang out. He followed the men into a parking lot, where he was then confronted with another group of men. D.C. asked where he could buy some marijuana. One of the men then yelled, "This is West Coast!" (this is short for West Coast Crips) and the group proceeded to rob D.C. of his shoes, hat, I-pad, money, two watches and his gold chain.

D.C. then called 911 and told police he had just been robbed. He described what the other males had taken from him. He also stated that they took $2,700 in cash from him. D.C. also described one of the assailants as having a large scar along his jawline, which police recognized as possibly involving Chaz Pride.
Security cameras from the trolley stop were then reviewed, which showed D.C. wearing red shoes and a baseball hat. He was also seen talking with a group of males on video, corroborating his story to police. He was also seen holding an I-pad tablet. About twenty minutes later, D.C. is seen walking back into the scope of the video wearing no shoes, no watch and not having the tablet.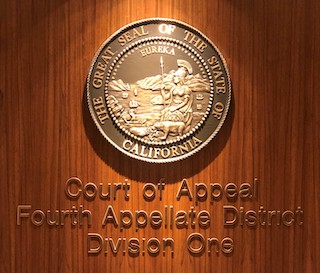 Fourth Appellate District Court of Appeal Division 1 San Diego
Detectives then searched online social media for Chaz Pride and found a recent posting he made with himself wearing a gold chain around his neck and saying "Check out the new chain, dog. Ya feel me? Ya feel me? All on this thang."
The facts were that detectives did not log into or hack into Pride's account. Instead, Pride accepted the detective as a friend to see Pride's account (and the video).
Detectives then showed D.C. a photographic lineup of possible suspects. Chaz Pride's photo was included and D.C. pointed at him as one of the assailants.

Detectives then showed D.C. a still photo taken from the social media posting by Mr. Pride, showing someone wearing the gold chain.

Detectives cropped out the face of Mr. Pride so D.C. would just look at the chain and not be influenced by who was wearing it (after all, he had already identified Chaz Pride as a suspect). D.C. confirmed it was his gold chain in the photo.
A few days later, officers executed a search warrant at Pride's home, where they recovered D.C.'s debit card in the top shelf of Pride's closet and D.C.'s jacket. When Pride was arrested, he was wearing D.C.'s gold chain.
The San Diego District Attorney's Office charged Pride with robbery (Penal Code § 211) and further alleged that he did so for the benefit of a criminal street gang (Penal Code § 186.22(b)(1)). He was also alleged to have two prison priors for sentencing enhancements (Penal Code § 667.5(b) and § 668). It was further alleged that he had suffered a conviction for a strike offense (Penal Code § 667(b)-(i), 1170.12) and a prior serious felony (Penal Code § 667.5(b)).

The jury convicted Pride and found true all the allegations as to his criminal history. The judge sentenced him to 21 years based upon six years for the robbery (mid-term of three years, doubled for his prior strike), plus ten years for the gang enhancement and then five years for the prior serious felony conviction. The sentence could have been longer by five years, but the court struck one of the prior prison allegations and stayed punishment on the second prison prior.

Pride appealed the finding of guilt because he claimed his Fourth Amendment rights were violated by the police detective seeing his video, depicting him wearing the chain from D.C., posted on social media shortly after the attack and robbery. The gist of the argument was that the detective portrayed himself as a friend to gain access to Pride's social media account, as it was intended for private message and private viewing only. He argued that he had an expectation of privacy in such postings.
The Fourth Appellate District, in People v. Chaz Nasjhee Pride (2019 DJDAR 268), denied the appeal, noting first and foremost that Pride voluntarily granted access to his social media account by "friends." One such "friend" was the undercover profile for a police detective. There was no Fourth Amendment violation because Pride consented to the viewing of the video by his "friends."

We post this short summary as a warning that social media, for all its entertainment value, can also be revealing in ways one may not intend. Here, Mr. Pride found that out the hard way.
The citation for the Fourth Appellate District Court ruling discussed above is People v. Chaz Nasjhee Pride (4th App. Dist., 2019) 31 Cal.App.5th 133.

For more information about crimes committed on social medial, please click on the following articles:
Contact us.