Cyber Gang - Banging, a Murder, the SCA and Facebook Posts
On January 24, 2013, Jaquan Rice, Jr., was shot in a drive-by shooting and died. B.K., a minor, was also shot and seriously injured. The incident happened in the Bayview area of San Francisco.
In a Nutshell: The Stored Communications Act, or SCA, can bar production of information demanded via subpoena duces tecum (SDT) from a social media server or company such as Facebook, even when such documents may provide a defense to murder, as the following case summary explains.:

Three individuals were identified as suspects: Derrick D. Hunter, Lee Sullivan and a fourteen year old juvenile, who was Hunter's younger brother.
Police questioned the fourteen year old, who confessed to the shooting, but claimed his conduct was defensive in nature. He claimed that the decedent had repeatedly threatened him in person and on social media postings on Facebook and Instagram. The decedent had also "tagged" the boy on a video clip posted on Instagram that depicted guns.
The prosecution, however, believed the case involved a gang conflict, rather than an individual versus individual issue. Indeed, Defendants Sullivan, Hunter and Hunter's younger brother were members at Big Block, a criminal street gang. Defendants had killed Rice because he was a member of West Mob, a rival gang, claimed the prosecutor.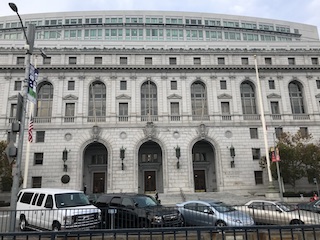 Court of Appeal First Appellate District San Francisco
The prosecutor conceded that Mr. Rice had indeed provoked Hunter's younger brother, or at least angered him. A police officer, presented as a gang expert, testified that gangbangers "do something called cyber banging." The police officer explained that "they will actually be gangsters on the Internet. They will issue challenges; will show signs of disrespect, whether via images or via the written word… Facebook, Instagram, Social cam, Vine . . ." The police officer then described a video posted by Rice on Facebook in which he described his gang neighborhood and where he could be found, which was where he was indeed found by Defendants and killed in the drive-by.
The adult defendants, Hunter and Sullivan, were charged with the murder of Rice and the attempted murder of B.K., the juvenile, (Penal Code §§ 187, 664). Gang and firearm enhancements were alleged as to both defendants (Penal Code §§ 186.22(b)(1), 12022(a, 12022.53(d) and (e)(1)). The juvenile defendant faced similar charges in juvenile in juvenile court.
Sullivan's counsel served subpoenas duces tecum under Penal Code § 1326(b) on Facebook, Instagram and Twitter, seeking records from the social media accounts of Rice and the driver of the get-away car, a lady named Lee. Lee was the former girlfriend of Sullivan, but the two had broken up before the shooting.
The subpoenas sought everything basically that had been posted to each account, including associated e-mail addresses, photographs, videos, private messages, status updates, location data and comments, including information deleted by the account holder.
The three social media companies moved to quash the subpoenas, arguing that disclosure was barred by the Stored Communications Act (SCA), which is at 18 U.S.C. § 2701,
et seq
. Under § 2702(a) of the SCA, electronic communication services "shall not knowingly divulge" the contents of a user communication to anyone, with limited exceptions under § 2702(b).
Sullivan's attorney argued that the information was necessary to properly defend against the pending charges and that the SCA's provisions must yield to a criminal defendant's constitutional right to presentation of a complete defense, cross-examine witnesses. More specifically, Sullivan alleged that his client was not involved in the shootings and that Lee was the only witness who implicated him in the shooting, but Lee was lying because she was in a jealous rage since Sullivan had begun seeing another woman. Sullivan also argued that it was Lee who actually did the shooting and not Sullivan and that Lee's social media accounts would show this was probable.
The trial court judge ordered the social media companies to produce the requested items, denying their motion to quash.
The social media companies then appealed the ruling to the First Appellate District. In a ruling dated September 8, 2015 (2015 DJDAR 10405), in
Facebook, Inc., et al., v. Superior Court
, the appeals court reversed. In other words, the appeals court said the SCA did protect the social media companies from producing such social media information to Sullivan.
The ruling emphasized that a defendant's right to discovery before trial was limited, hinting that if had the subpoena been a trial subpoena under 18 U.S.C. § 2703(b)(1)(B)(i), production of such documents may be required under
People
v. Hammon
(1997) 15 Cal.4th 1117 and
Davis v. Alaska
(1974) 415 U.S. 308, two cases which broadly interpreted the right to confront a witness under the Sixth Amendment, specifically insofar as to impeach the witness' credibility.
The citation for the First Appellate District Court ruling discussed above is Facebook, Inc., et al., v. Superior Court (1st App. Dist., 2015) 240 Cal.App.4th 203.
For more information about discovery issues and special types of evidence, click on the following articles:
Sex Crime Defendant Has Right at Trial to Present Evidence of Alleged Victim's Prior False Sexual Assault Claims.
Is It Illegal For the Government to Use an Informant with A Lengthy Criminal History in a Drug Investigation?
Contact us.