Bench Warrant, Felony Transportation, Reduced to Misdemeanor
In 1984, our client (then 21 years old), had been arrested for transportation of marijuana (Health and Safety Code § 11360(a)) after he was found with 42 grams of marijuana in his car. At the time, the law did not require that the transportation be for purposes of making a sale. However, our client did have over $750 in cash on him and pay-owe sheets, so it appeared he was selling the marijuana. The marijuana was also neatly organized into eight baggies of about five grams each.
This arrest took place in Torrance and the case was filed in the Torrance Superior Court. Our client entered into a plea bargain to resolve the case quickly, as he was unable to post bail at the time and the prosecutor offered him a deal where he would be placed on three years of formal probation, given credit for time served (22 days) and otherwise only have to pay some court fines of $220. The plea bargain did not require our client to attend any drug treatment program or even Narcotics Anonymous classes.
Our client accepted the plea bargain to a violation of Health & Safety Code § 11360(a) and dutifully reported to his probation officer. He remained on formal probation for two years and six months before just stopping to see his probation officer. He then moved to Waco, Texas for work. This was 1987.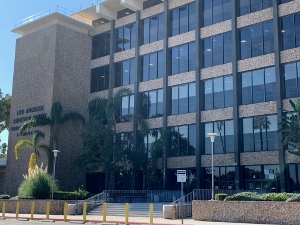 The probation officer reported to the judge that the Client had absconded and had failed to report to probation.
The judge issued a bench warrant with no bail.
Thirty-two years later, in 2019, our client's boss told him that he would be asked to leave his job as a manager in a fertilizer manufacturing company if the bench warrant remained outstanding.
The client was surprised that the bench warrant had existed for 32 years and he never knew it was pending. He had renewed his Texas driver's license multiple times without ever being told about the warrant. He had been pulled over by the police a few times and they had checked out his criminal history without ever notifying him of the bench warrant.

The client called Greg Hill & Associates and spoke to Greg. Greg went to the Torrance Courthouse to get the docket on the case, but none existed due to the file being converted to microfiche and no docket report was ever produced. Instead, Greg was able to photocopy about ten pages of documents from the file and see the general case history.
Greg then called the client back to report on what he found. Greg explained that since the case was a felony (although Prop 64 had now made his felony a misdemeanor), he would have to come to the Torrance Courthouse in person to have the bench warrant withdrawn in most situations. Greg further explained that there is a provision under California Penal Code § 977(b)(2), wherein a judge can allow an attorney to appear for a person charged with or convicted of a felony if the person executes a special waiver form in court.
Greg further explained that since the client was trying to stay in Waco and not come to court, Greg could prepare such a waiver form and have the client sign it, have his signature notarized in Waco and photocopy his driver's license to attempt to have the judge allow Greg to appear for him, although such a consent form really was not proper because it was executed outside court.
The client, now age 57, then did so and Greg explained that his plan was to not only appear for the client to have the bench warrant recalled, but to also request that the judge reclassify the felony as a misdemeanor under Proposition 64, the Adult Use of Marijuana Act.
Greg then appeared in the Torrance Superior Court with the signed Penal Code § 977(b)(2) consent waiver. The prosecutor argued that the case could not be reduced to a misdemeanor until the client actually appeared in court and therefore, the judge really could do nothing because the waiver was not executed in court either.
The Torrance judge, however, did not listen to the prosecutor and first, reduced the charge to a misdemeanor and then, with the case being a misdemeanor, allowed Greg to appear under Penal Code § 977(a) (which is allowed under a misdemeanor without the client present in court) and recalled the bench warrant.
The client was very happy to not only have the bench warrant recalled, but have his felony conviction reclassified as a misdemeanor.
For more information about bench warrants, wobblers and expungement, please click on the following articles:
Contact us.